TheArtro will present a Korean visual arts fund and provide support information to international readers. Currently, quite a number of notable exhibitions and art projects are offered with the support of public funds in the Korean visual arts world. As the Korean art world has become internationalized, many exhibitions and projects involve international exchange programs too. A variety of opportunities including invitations for research, international seminars, publication support, and art competitions planned and run by public institutions or art museums of Korea are open to international artists, as well as residency programs and exhibitions that international artists and professionals themselves can apply for. TheArtro will cover such opportunities including various support programs for international artists offered by Korean public institutions in a series of articles, topic by topic. The first article will feature a chart that illustrates Korean public art institutions. Major research platforms in English will also be shared to help interested international artists make inroads in the Korean art world.
[The list of public institutions that run international exchange programs in the field of visual arts]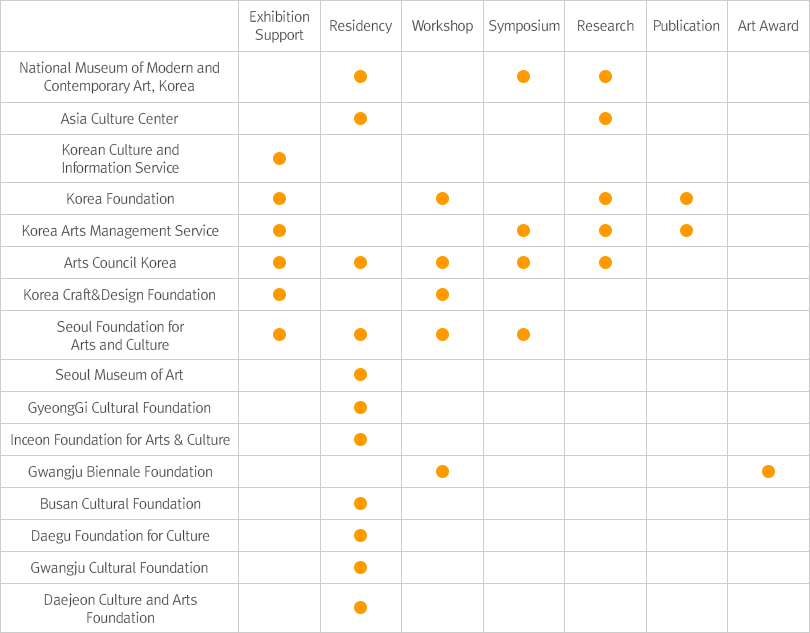 Many visual arts artists and professionals will look through various public support programs to gain opportunities and receive direct and indirect help for their planned art projects before they apply for international exchange programs run by public and private art institutions. Visual arts institutions aiming to promote public interest are mainly run by public departments and local governments. In the field of modern art, the Ministry of Culture, Sports and Tourism, a governmental department whose main aim is to promote culture and arts, currently runs the National Museum of Korea, National Museum of Modern and Contemporary Art (MMCA), Asia Culture Center, and Korean Culture and Information Service. It also supports a variety of projects by placing art institutions under its auspices such as Arts Council Korea, the Korean Arts Management Service, and the Korea Craft & Design Foundation. The Korea Foundation, an organization under the Ministry of Foreign Affairs, offers various programs to promote the internationalization of Korean content and provides exhibition spaces. It also provides support for traveling exhibitions held through diplomatic offices across the world. Local governments usually run public art museums in the area and residency programs open to domestic and international artists. Many biennales held in Korea are also organized by local governments.
[Online English research platform for Korean art information]
The Artro www.theartro.kr
Run by the Korean Arts Management Service, theArtro is Korea's one and only comprehensive English platform that provides Korean art information. Through the collaboration with several domestic and international institutions and media, it offers a variety of articles and video content. The website provides an online magazine on Korean art, an exhibition calendar, an art space directory, indexes of artists and useful related sites, and archives that contain chronicles, charts, and publications on Korean art.
Korean Artist Project www.koreanartistproject.com
The Korean Artist Project run by the Korean Art Museum Association provides virtual exhibitions, interview videos, and artworks by established Korean artists along with critiques and reviews. Its archive includes the materials of 28 private art museums covering 98 Korean artists.
Akive www.akive.org/eng
Akive is an English platform launched by Reflexion Ltd., which serves to promote digital-based communications about the Korean modern art world. It provides archives of 300 Korean artists, most of whom launched their careers in the 2000s, and a directory of major art spaces in Korea. High-quality digital images of current exhibitions are also offered.
Artsy's Korea Art Month https://www.artsy.net/feature/korea-art-month-2017
Korea Art Month has been launched as a micro site within Artsy, a global visual arts platform, to provide information on exhibitions held by more than 40 art institutions and galleries and art event such as biennales. For international visitors to the Korean art scene, a map and guide are offered as well.