When she first performed A Needle Woman in 1999 in Japan, Korean artist Kimsooja was standing still in the middle of a crowd in a busy street of Tokyo. Later, she repeated this performance many times in different cities of the world, describing herself metaphorically as a needle passing through the fabric of a place and its people.
This year(2017), and in the middle of hectic Art Basel, she did not perform but installed a peaceful artwork that stood out as well for its serenity. Entitled Deductive Object (2016), it is composed of an ovoid structure sitting above a mirrored plinth. Not a needle, thus, but an egg that also seemed to absorb, impassively, all the surrounding chaotic energy.
Kimsooja Kimsooja, born Kim Soo-Ja, adopted her nom de plume in 2003 when she picked a domain name for her first website; she was struck by the conceptual implications of combining her family name and given name, and memorialized the act as a conceptual piece titled A One-Word Name Is An Anarchist's Name (2003). This musing on identity and its social implications is characteristic of Kimsooja's performance works, in which she photographs or films herself in crowded city streets around the world with her back facing the camera. In these, she adopts different personae: the Needle Woman, the Beggar Woman, the Homeless Woman. Kimsooja is also known for her performances, sculptures, and installations using the bottari—the traditional Korean bed cover used to wrap and protect personal belongings—as a symbol of structure and connection.
Born in 1957 in Daegu, Korea, Kimsooja had a residency at PS1 in 1992-1993. Since then, she has continued to work mainly from abroad, as she felt she were more able to source elements of her native Korean culture from a distant perspective. Her work is indeed imbued with Korean traditions and references. In particular, the bottari is at the core of her practice, both as an object and as a metaphor for her relationship with the world. It is with a traditional Korean colourful bed cover used to wrap and protect personal belongings, which Kimsooja presents mainly in the form of bundles. What is inside these richly patterned bundles remains a mystery as the artist only shows them tied. For travellers, they contain all their belongings.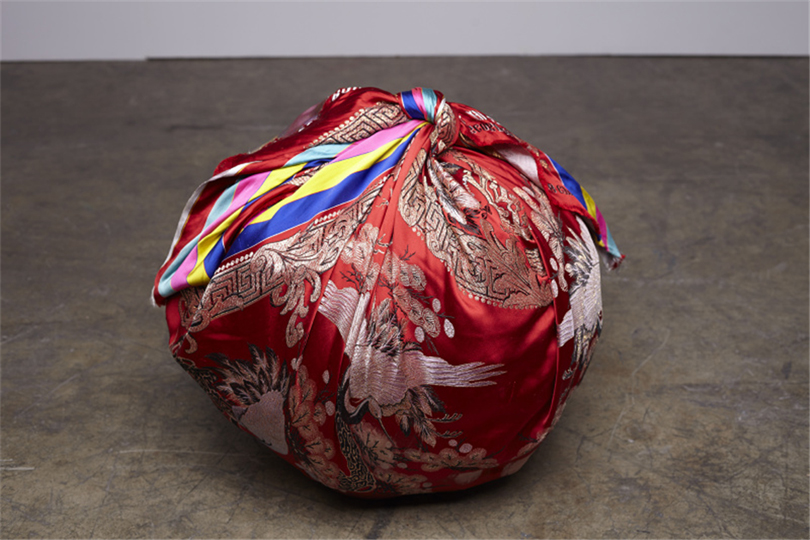 ​
Here, the installation represents the merging of a mythological motif and this notion of bottari as a wrapped fabric: the egg standing above the polished base becomes the wrapping encompassing the totality of the universe. Kimsooja has been actually inspired by sacred Indian stones known as Brahmanda, which signifies 'cosmic or expanding egg'. In Hinduism, as well as in many cultures and civilizations, the egg symbolizes the source of life and the entire creation. It constitutes the womb of the universe from which everything originates. The surface of this Hindu cosmic egg is usually black, and its brightness comes from the repetitive gesture of the believers, who are polishing it continuously. Hence, it becomes a mirror, both reflecting the outside world and absorbing it.
Kimsooja was initially trained as a painter, and she actually conceives mirrored surfaces as canvases. Unceasingly searching to unfold her 2D paintings into the space, she transformed the fabric from the clothes she used into sculptural-paintings. From 1999 she starts using mirrors as a way to fold and enfold space, just as she did with fabric. As a painter, she saw herself wandering into the canvas, in search of herself. Accordingly, her canvas has been demultiplied years after years and transformed into a spatial kaleidoscope. In 2013, during the 55th Venice Biennale, she covered the entire Korean Pavilion with a translucent film and mirror panels in order to diffract and reflect the sunlight. Originally, the installation exhibited at Basel was created for the MMCA (Museum of Modern and Contemporary Art, Korea). It was displayed outdoor and surrounded by a similar film that caused the sunlight to diffract into a radiant colour spectrum. The multiplication of the light reflections together with the hues from the mirrored surfaces creates a feeling of infinite depth and strengthens the artist's idea of embracing the Totality into open physical shapes.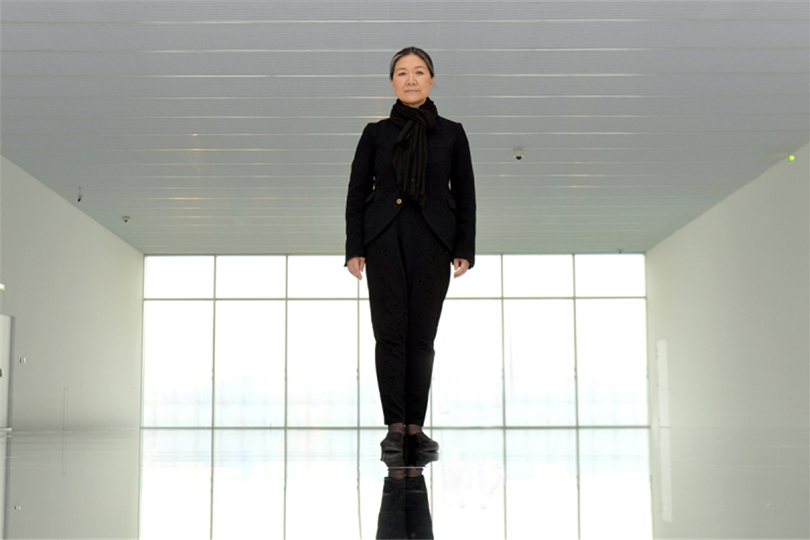 The natural colour spectrum evokes another Korean tradition that occupies an important place in Kimsooja's practice: the obangsaek, which is the colour scheme of the five Korean traditional colours of white, black, blue, yellow and red. This spectrum is very rooted in Korean daily life, used for weddings or funerals as well as for textile patterns and cardinal directions. Kimsooja draws her inspiration from the mundane and based her research on this spectrum to explore the creation of space through colours and geometrical shapes.
The title of the piece comes from a series of ready-made objects that the artist started to create in the early 90's. She used to wrap clothing fragments on daily objects such as a fork, farm tools, a drum or a clothing rack. Today, she wishes to come back to this series as she questions her process of creation, and her relationship with the world: for a long time she focused on a 'non doing, non making' attitude, but she feels now she needs to reinvestigate the making of objects.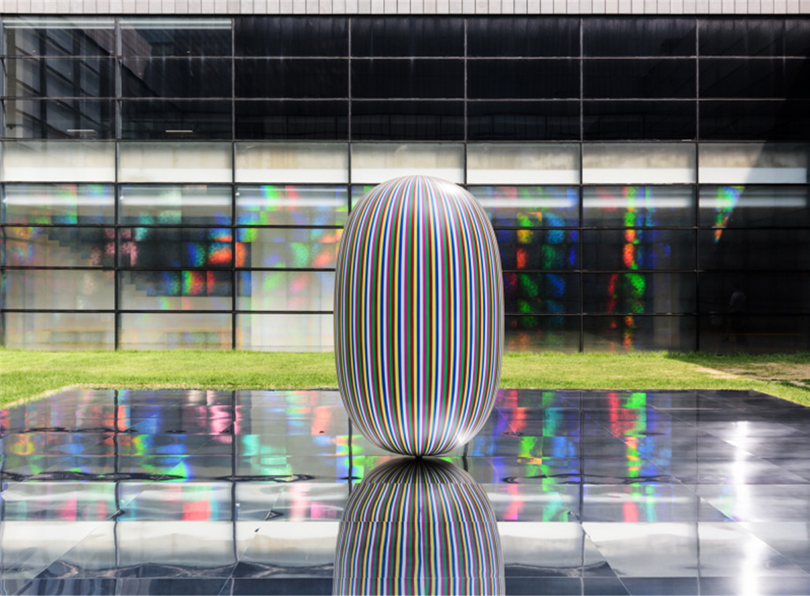 The artist plays with the idea of creation and her celebration on the duality of everything in unique visions. Time is obviously at stake as it orchestrates this eternal cycle of metamorphosis: will the egg hatch and reveal a hidden layer beneath, or is it the flat mirrored surface that will be folded to wrap one more time the ovoid structure?
Yet the ovoid structure looks like it has been there forever, standing like a stone in the middle of a lake as if the whole installation was an oriental garden.
The concept of Totality can be found in Taoism and in many philosophies. Yet Kimsooja insists she did not intend to convey any specific spiritual message: her approach is more formal, even though she acknowledges the spiritual dimension of the piece. For her, everything is spiritual, including stones and objects. She does not expect anything for the viewer either, but hopes the work will trigger emotion and inspire people.
During our interview, Kimsooja confessed that she was anxious about showing her installation inside an art fair. The artwork functions very well as a place for quietness, though. The mirrored plinth delimits an unusual territory, both working as a protection for the egg and as an open surface for people to extend the space. As a Korean female artist, she felt it is important to be present in such an event in order to increase the visibility of Asian women artists in an art world still dominated by male Westerners.
Text: Caroline Ha Thuc​
Images: Courtesy of Kimsooja Studio provided by Kukje Gallery
※ This article was originally published in CoBo Social(https://www.cobosocial.com/) on 13 April 2017 and reposted under authority of a partnership between KAMS and CoBo Social.
https://www.cobosocial.com/dossiers/kimsooja-cosmic-egg/​
​

To read more about Kimsooja:​
Korean Artist Kimsooja Breathes Life (and Light) into the Centre Pompidou-Metz (Artsy)
Kimsooja Harnesses Light and Color at Centre Pompidou Metz (Artnet)
An Artist Invites Viewers to Attain Stillness of Mind Together (Hyperallergic)​
Kimsooja's thought-provoking 'Archive of Mind' blurs artistic boundaries (Yonhap News)

Caroline Ha Thuc
Caroline Ha Thuc is a French Hong Kong based art writer and curator. Specialized in Asian contemporary art, she contributes to different magazines such as ArtPress in France and Artomity/Am Post in Hong Kong. Prior to moving to Hong Kong, Ha Thuc spent two years in Tokyo and published Nouvel Art Contemporain Japonais (Nouvelles Editions Scala 2012) about the post-Murakami Japanese art scene. Her book Contemporary Art in Hong Kong (Asia One, 2013), which was first published in France (Nouvelles Editions Scala, 2013) provides essential keys to apprehend the city's vibrant contemporary landscape and exposes the countless links between art, history, culture and identity. She recently published a book about Chinese contemporary art analysing the interactions between the art scene and China's rapidly changing society (After 2000 : Contemporary Art in China published in French language Nouvelles Editions Scala, France 2014 & MIP, Hong Kong 2015 for the English and comprehensive version). As a curator, she focuses on promoting dialogue between artists from different cultures, while reflecting on social and political contemporary issues. Her recent exhibitions include Radiance (French May, Hong Kong, 2014), Hong Kong Bestiary (Platform China, Hong Kong, 2014), Shelters of Resistance an in-situ installation by Kacey Wong in the courtyard of the City Hall (YIA Art Fair Paris, 2015), The Human Body : Measure and Norms (Blindspot Gallery, Hong Kong, 2015) and Carnival (Hong Kong February 2017). She is on the International Curatorial Advisory Board of the Open Sky Gallery in Hong Kong and curated the 5th Large-scale Urban Media Arts Festival, 2016.