Video and performance artists played an important role in the globalization of Korean contemporary art. Young artists who studied abroad in the 1990s returned home a few years later, and alternative spaces such as the Gwangju Biennale helped to create a new front on the Korean art scene. Here, we review how Korea's video and performance art movements have unfolded until today.
Korean contemporary art reflects the complex structure of consciousness held by Koreans, a perspective that continues to change rapidly with the country's unique sociopolitical circumstances. In a society where democracy developed through the struggles of an extremely authoritarian and capitalist system, contemporary art is both a form of liberation and a subject that needs resolving.
The 1988 Olympic Games in Seoul were a catalyst for young people to travel abroad, and in the mid 1990s the first flow of young artists returned to Korea from Western art universities in North America, Europe, and Australia. Among this generation of creative minds were three video artists who brought back with them fresh new perspectives. Sungmin Hong, Young-Jin Kim, Hwa-Young Park were responsible for an array of installation works with performative and theatrical elements. Together with the first Gwangju Biennial in 1995, they added international scope to the Korean contemporary art world.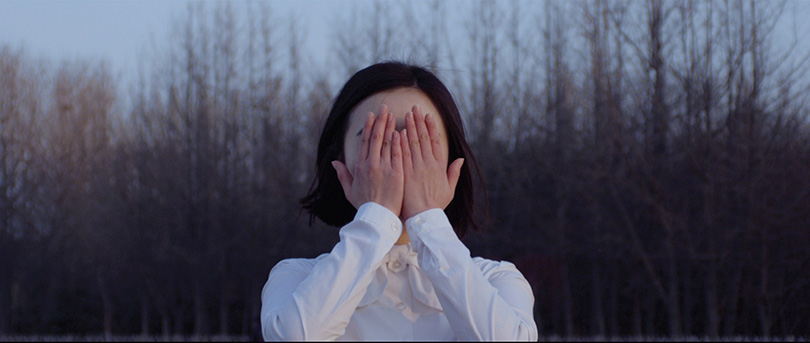 Though the genealogy of Korean video art may be officially traced back to Nam June Paik in the 1960s, his influence – from the satellite transmission of Good Morning, Mr. Orwell in January 1984 to Paris, Tokyo, New York and Seoul – was more immediately felt outside of Korea. Hyun-ki Park (1941–2000) was the first Korean peninsula artist of the video art scene. In 1974, before video art was known there, Park encountered Nam June Paik's work in Daegu and went to Japan in 1978 to study video mechanics, inaccessible in Korea at the time. From 1979 onward, Park presented monumental works in the genre of "video sculpture" that were based on silence and contemplation, a focus of Eastern philosophy. This history of autonomous and philosophical video art in Korea continued with Tae-jin Yook (1961–2008), Hae-min Kim and Keun-Byung Yook, the latter participating in the Kassel Documenta in 1992. This new breed of artist went on to create outstanding video sculpture and installation works throughout the 1990s.
Performance art in Korea began with Collateral Exhibitions of Young Artists in 1967. Ku-Lim Kim formed The Fourth Group which made a historical and legendary performance and after him the first generation performers such as Kun- Yong Lee, Neungkyung Sung and others emerged with experimental and political works in the early 1970s; in the 1990s major projects combining sculpture, video, installation and performance were made by Lee Bul and Yum Yee among others.

After the success of the second Gwangju Biennial in 1997, new types of creative environments started to emerge. Alternative art spaces such as Ssamzie, Sonje, Loop, and Pool forged a new path, challenging the older generation's academic monopoly over exhibition spaces and accelerating overall change. As a result, young artists who studied in Europe and the United States began to appear on stage, including Gimhongsok, Sora Kim, Beom Kim, Seo-Young Chung, Yiso Bahc, Yeondoo Jung, Kyungah Ham, and Yang- Ah Ham, merging sculpture, installation, performance and video. Using their own individual aesthetics to take on Korean political issues, they went on to establish themselves and are now some of the most prominent artists in Korea. Video art was starting to become a more accessible genre, expanding beyond its highly specific and self-referential paradigm. With the expansion of digital editing devices, narration became a significant theme, as well as both non-linear and multilayered time and space – all major topics to be grappled with. This direction had a profound impact on the way video artists would present their work, which had begun to extend into multimedia performance.
The mid-2000s brought a new flow of digital video and media art. Kim Seong-Hee, producer of MODAFE (International Modern Dance Festival, Seoul) from 2002 to 2005, played a major role in the launch of the Springwave Festival in 2007, a platform for international contemporary performance art. Renamed Festival Bo:m in 2008 (bom can be translated as "spring" or "perspective" in Korean) in 2008, the festival brought about a massive transformation. Through Festival Bo:m's programs viewers were offered an introduction to artists such as Romeo Castellucci, Jerome Bel, William Forsythe, and Rimini Protokoll, while Korean artists Sungmin Hong and Hyun-Suk Seo expanded their projects from video art to stage production, encouraging the exploration of many interesting themes. Sungmin Hong's Juliettttttt (2013), for example, had seven producers presenting Romeo and Juliet on stage simultaneously, with seven performers playing Juliet. A result of its uniqueness, the company was invited to perform the piece at Austria's Wiener Festwochen (Vienna Festival) and Hyun-Suk Seo's From the Sea was shown at Festival Tokyo. Festival Bo:m is currently directed by Seung-hyo Lee, an industry veteran who is well networked throughout Asia and has had an active role in the Japanese art scene.

In 2004, video artists Sungmin Hong, Hyun-Suk Seo, and Hwa-Young Park used performance within the context of contemporary art at the Multimedia Experimental Theatre. Sungmin Hong, who openly acknowledges the influence of Artaud's Theatre of Cruelty on his work, directly appropriated non-linear and multi-track video editing into his pieces Cult Robotics (2004), Total Theater Alice (2005, 2006), Palimpsest: Operalara (2006), and Revolving Sashimi (2008), establishing a radical and challenging large-scale theatre experience. Emerging around the time of Festival Bo:m, they introduced a new wave in performance art. Alternative art spaces such as Hamilton, which featured Sungmin Hong as a main artist, turned their focus to performance art. Although Hamilton was short lived, it was responsible for creating significant programs such as the Not Allowed 19 Project, a groundbreaking experimental under-19-minute performance relay program, incorporating festivals, current events, and a wide variety of relevant issues. As performance art became an increasingly influential genre, the alternative projects in question inspired young artists to create community- based projects with various participatory performances in the form of groups such as Collective Part-Time Suite and Okin Collective. During this period, artist residency programs in Nanji-do district, Geumcheon-gu, Mullae-dong, Chang-dong in Seoul, as well as Incheon and elsewhere in Gyeonggi-do, reinforced community-driven programs. One of the consequences of these initiatives was a large influx of international artists.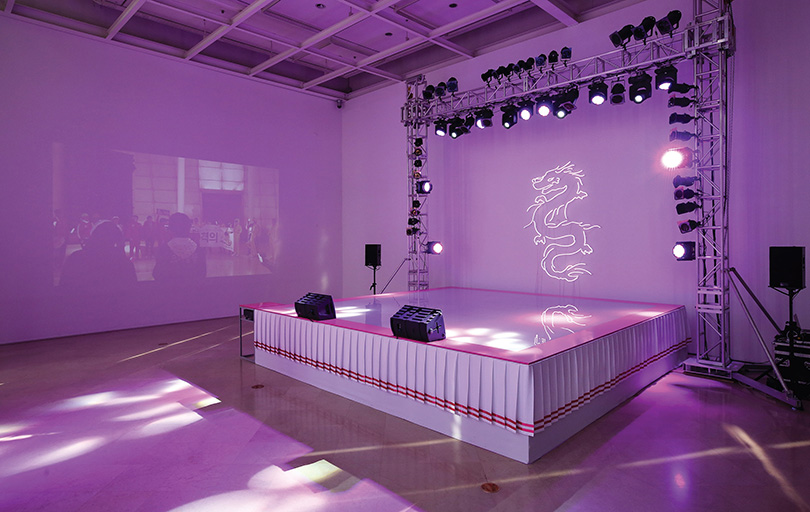 During this era, some of the rising stars of the performing arts world were Minouk Lim, Hwayeon Nam, and Geumhyung Jeong. Minouk Lim is well known for her performance video New Town Ghost (2005) where she performed a concert on top of a pickup truck crossing a demolition site. S.O.S–Adoptive Dissensus (2009) is a performance with light on the riverside for riders of the Han River ferry as they ride along the waterway in the evening. Her FireCliff series brought together psychiatrists and victims of torture on stage. At the opening exhibition of the 2014 Gwangju Biennial, her Navigation ID (2014) involved searching to form a new community that included the families of the victims of both the 1980 Gwangju Uprising massacre and the 1950 civilian massacre.
Hwayeon Nam's Operational Play, premiering in 2009, was a performance that attempted to create a scene resembling military action based on a discontinuous, self-written script. The codes the artist used are war codes used in actual military conflicts, an example of Nam's tendency to use real-life data, secondary interpretation and appropriation in her work. In the 2015 Venice Biennale The Botany of Desire (2014) focused on tulipomania in the Netherlands in the 17th century. In this work the collapse of stock markets, the speculative auctioning of artworks, and Dutch society's passion for the tulip were translated into choreography that communicated the multilayered nature of sociopolitical conflict.
The 2015 awardee of an Hèrmes-sponsored art award, Geumhyung Jeong, is a choreographer and performer whose 2005 piece Oil Pressure Vibrator brought her widespread attention. Her works, including Pygmalion (2005) and 7 ways (2009), consist of sensual performances in which she connects everyday objects with her body. The resulting voyeuristic, self-conscious, schizophrenic, and animistic movement presents a new domain in performance art.
The launching of the Nam June Paik Art Centre in 2008 opened up the field to a rapidly evolving and experimental performance art, promoting the careers of art directors such as Youngchul Lee, Seong-Hee Kim, Namsoo Kim, and Haeju Kim. The latter three, alongside Hyun-Suk Seo, collectively published the non-periodical magazine Ob-Scene, creating a new theoretical horizon for the implem6entation of contemporary art. This movement continues with the success of programs for the Asia Arts Theatre (AAT) following the grand opening of the Asia Culture Complex in Gwangju in 2015. With Seong-Hee Kim as art director, the AAT is expected to play a key role in supporting the promotion, exchange, and circulation of new works and discourses. It opened its doors with Tsai Ming-Liang's The Monk from the Tang Dynasty in collaboration with international festivals such as the Wiener Festwochen, Kunsten Festival des Arts, and the Taipei Festival, and will be presenting Ho Tzu Nyen's Ten Thousand Tigers in collaboration with Esplanade in Singapore, Carriageworks in Sydney, and the Wiener Festwochen.
Single-channel video works of Koreans confronting sociopolitical issues are often made into semi-documentary works such as Heung Soon Im's Factory Complex, a recipient of the Silver Lion award from the 2015 Venice Biennale. Heung Soon Im created a tribute to low-income workers in Asia by blending interviews, records, and surrealistic performances about the realities faced by young female workers performing high-intensity labour.
In such works, contemporary art significantly contributes to the freedom of the individual as an autonomous subject, inspiring individuals to see themselves as actors on the world stage. Performance and video art are two genres that demonstrate how this mission is being executed in the most direct manner, as the Korean cultural scene becomes more active and adventurous than ever.
※ This article is published as part of a collaboration between Artlink magazine and Korean Arts Management Service. It first appeared in Artlink's special bilingual issue KOREA contemporary art now,V.35:4, Dec. 2015 for which KAMS provided advisory and translation services. Copyright the author and Artlink.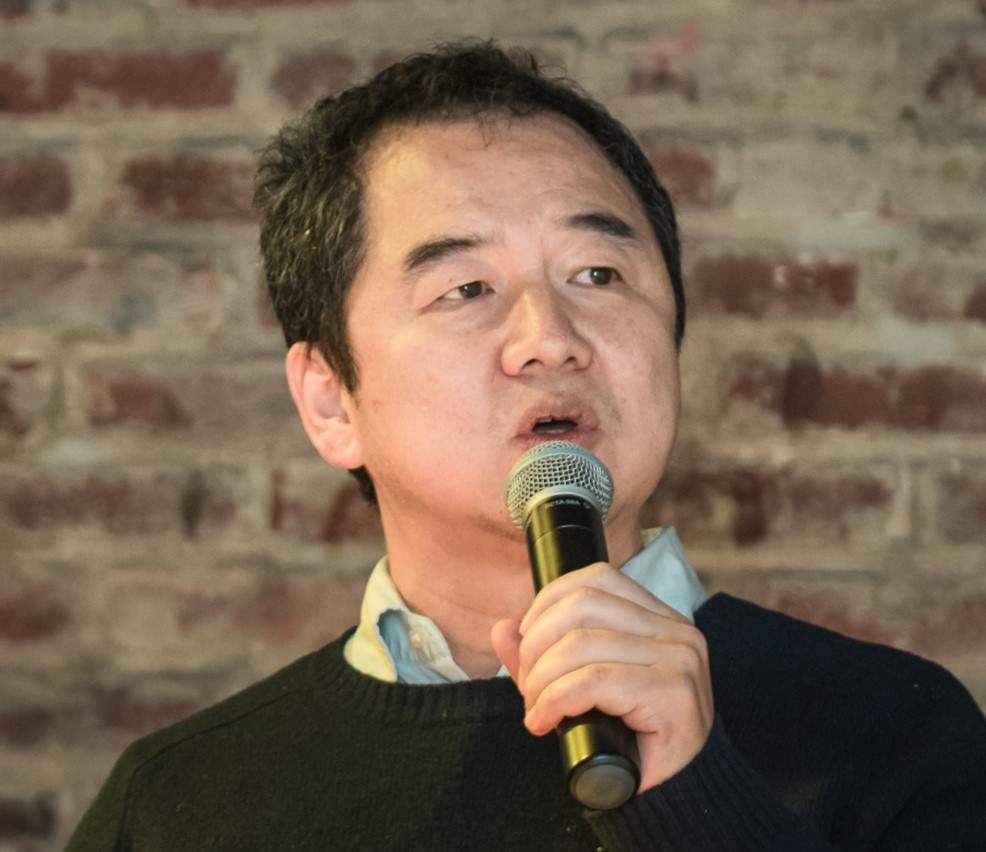 Yoo Jin Sang / professor, Kaywon school of art and design
A professor at the Kaywon School of Art and Design, an art critic and former artistic director of Media City Seoul (2012). Recent curatorial activities includes the 2014 Super Romantics, for the Daegu Art Factory; Better Than Universe, with ZKM for the Daegu Media Art Festival 2013. He was a juror on the TV Show Art Star Korea in its first season in 2014. His PhD is from University of Paris VIII, Saint-Denis.