---
---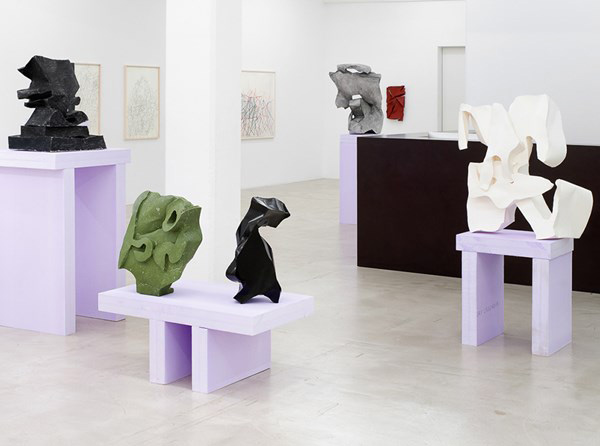 Exhibition view of 《Josef Herzog, Simone Holliger》, Nicolas Krupp, Basel (16 May–31 August 2019). ⓒNicolas Krupp. Photoⓒ Serge Hasenböhler
---
To coincide with Art Basel 2019, which opens to the public from 13 to 16 June, galleries and institutions across the city are presenting a range of stellar exhibitions. From Rebecca Horn at Museum Tinguely to Geumhyung Jeong at Kunsthalle Basel, here is a selection of what to see.
---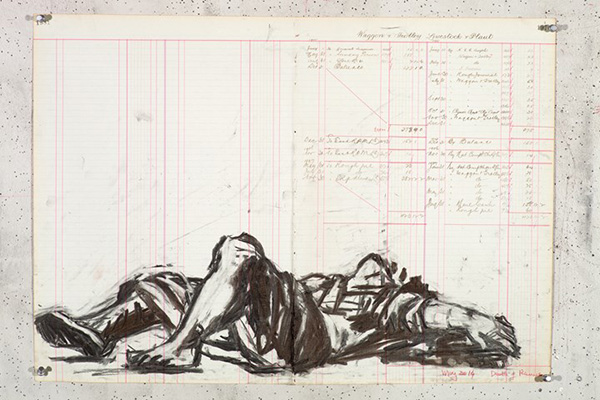 William Kentridge, 〈Dead Remus〉, 2014-2016. Charcoal on found ledger pages, 47x66.5cm. ©the artist.
---
William Kentridge: A Poem That Is Not Our Own
Kunstmuseum Basel | Gegenwart, St. Alban-Rheinweg 60, 4052
8 June–13 October 2019
---
After the debut of the 〈Head and the Load〉 at Tate Modern in the summer of 2018, William Kentridge's immersive installation graces the Kunstmuseum Basel | Gegenwart. The 〈Head and the Load〉 is an adaptation of what was originally unveiled as a performative piece combining dance, mechanised sculptures, film projections, and a score composed by Philip Miller and Thuthuka Sibisi, which acquaints audiences with the untold involvement of Africanporters and carriers in British, French, and German forces during the First World War. The work forms part of this exhibition at Kunstmuseum Basel | Gegenwart, which spans the artist's career, dating back to early graphic works of the 1980s and 90s. On loan from South African collections, these early graphic works—most of which were created before the end of Apartheid—capture themes that remain key to Kentridge's practice, from postcolonial memory to the aftermath of war.
---
Kentridge's skill in creating all-encompassing environments is also highlighted in the transformation of an entire room of this exhibition with stage decors designed for 〈Sophiatown〉(1986-1989), a play directed by Malcolm Purkey that dramatises the forced removals in Sophiatown that started in 1955, before the Johannesburg neighbourhood was demolished in 1963.
On Monday 10 June at 6:30 pm, Kentridge will present performance based on the poetic and musical work by dada artist Kurt Schwitters, 〈Ursonate〉.
---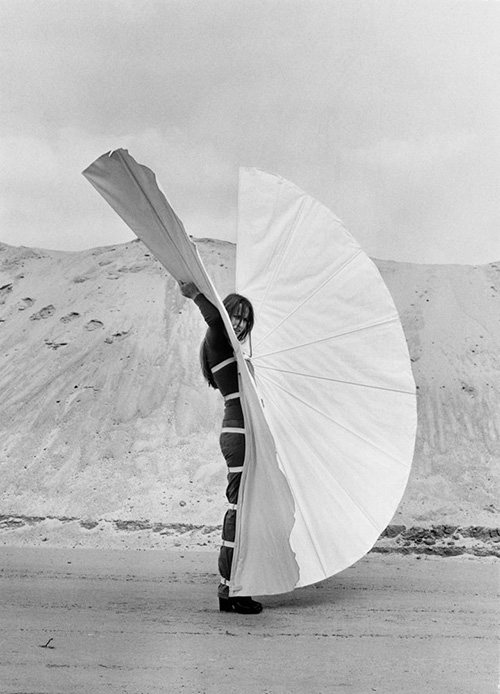 Rebecca Horn, 〈White Body Fan〉, 1972. ©Rebecca Horn Collection.
---
Rebecca Horn: Body Fantasies
Museum Tinguely, Paul Sacher-Anlage 2, 4002
5 June–22 September 2019
---
Presented in collaboration with the Centre Pompidou-Metz, 《Body Fantasies》 is the first extensive exhibition of work by Rebecca Horn in Switzerland for more than 30 years. In line with the legacy of kinetic artist Jean Tinguely, this exhibition spans four key themes—Flapping Wings, Circulating, Inscribing, and Touching—that consolidate the key developments of Horn's practice over nearly five decades. Born in 1944 in Michelstadt in Germany, Horn contracted a lung condition in 1968 that marked a significant turn to the bodily in her practice. Restricted from using certain sculptural materials as a result of this condition, softer elements found their way into her practice, resembling bandages or prostheses. In the performance piece 〈White Body Fan〉(1972), for example, Horn reimagined early aviation fantasies by attaching white fabric, semi-circular wings to her body that flutter open with a raising of the arms.
---
The first group of works in this exhibition are derived from the performance, while later works take a mechanic turn, with movement remaining key. Since the 1980s, Horn's practice has primarily comprised kinetic machines and large-scale installations that are mechanically activated and contrast with the softer materials of her early works. In 〈El Rio de la Luna〉(1992), for example, the exhibition space is consumed by sprawling lead pipes through which mercury is pumped into 'heart chambers'.
---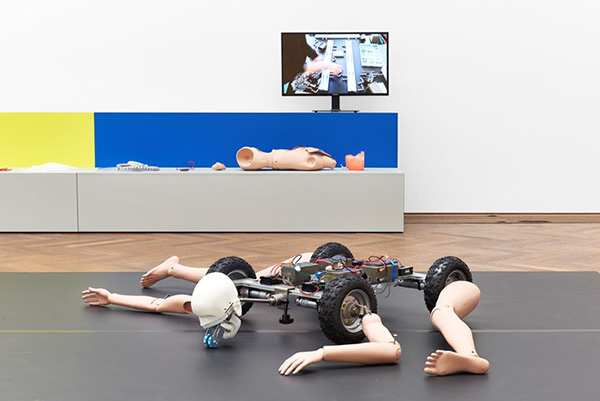 Exhibition view of Geumhyung Jeong, 《Homemade RC Toy》, Kunsthalle Basel (3 May–11 August 2019). Photo© Philipp Hänger / Kunsthalle Basel
---
Geumhyung Jeong: Homemade RC Toy
Kunsthalle Basel, Steinenberg 7, 4051
3 May–11 August 2019
---
Seoul-based artist and choreographer Geumhyung Jeong bridges the divide between the body and the technological 'other' through intimate performances that involve inanimate collaborators including vacuum cleaners, sex toys, and dummies. In 〈CPR Practice〉(2013), for instance, the artist slowly, intimately performed physical rehab manoeuvres on medical dummies, as if tenderly attempting to bring them to life. Uncanny in her approach to objects, Jeong has proceeded to construct meticulous installations in which items are arranged in almost fanatical order, with sex toys, inflatable mannequins, medical test devices, and other bodily constructs assigned categories or types, while accompanying videos illustrate their use in matter-of-fact demonstrations.
---
Assemblies of objects such as wires, cables, and home-repair parts are laid out on plinths at Kunsthalle Basel, forming part of an installation that centres on five sculptures constructed from disassembled mannequins, their torsos replaced by ungainly machines with rubber wheels at their joints, and their heads—derived from dental study props—with jaws ajar and playing host to small rollers. On 6 June, Geumhyung Jeong awoke these sculptures from their mechanic slumber with the first of a series of performances that will take place throughout July and August, conjuring life from imagined realms to portray an all-too-near future of life and technology intertwined.
---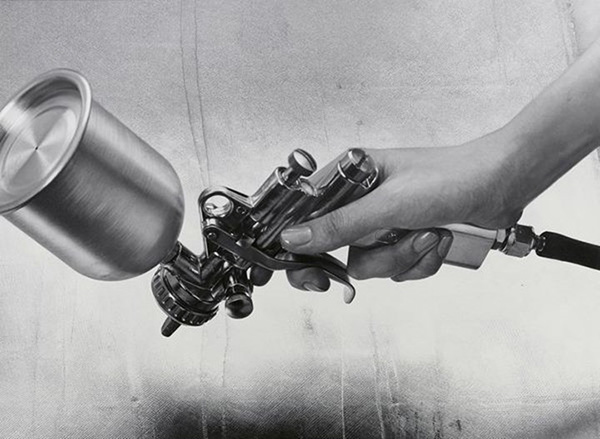 Rudolf Stingel, 〈Untitled〉, 2019. Oil on canvas, 335.3x457.2cm. ©Rudolf Stingel. Photo© John Lehr
---
Rudolf Stingel
Fondation Beyeler, Baselstrasse 101, 4125
26 May–6 October 2019
---
This summer, Fondation Beyeler presents the first major presentation of Rudolf Stingel's work since his exhibition at Palazzo Grassi in 2013 in Venice, curated by Udo Kittelmann. Removing any thematic chronology, this exhibition centres on the artist's challenging of form and material, with each work to be viewed as per its own, distinct construction in response to Fondation Beyeler's Renzo Piano-designed galleries. Since the 1980s, Stingel has moved between the canvas to all-encompassing environments, as seen in his first solo exhibition at Daniel Newburg Gallery in New York, where the artist covered the floor with a bright orange carpet, while the walls remained bare. The orange carpet of his exhibition at Daniel Newburg Gallery finds itself once more at Fondation Beyeler in an all-new work, this time displayed horizontally on one of the gallery walls.
---
However disparate the subject matter may seem between each work, Stingel is artful with compositional threads. In one instance in this Fondation Beyeler show, a hand holding a cold, metallic spray gun from one of the black-and-white photographs in his famed artist book 〈Instructions〉(1989), is rendered as a photorealistic painting that provides an entry point to the exhibition. The abstract paintings within the show have been constructed as per the guidelines in 〈Instructions〉, which comprises a collection of photographs and entries illustrating the composition of Stingel's abstract paintings, laying bare the artistic process in a manner that invites readers to create their own 'Stingel'. —[O]
---
---
Click to Read the Full Article on OCULA:
https://ocula.com/magazine/reports/art-basel-lowdown-shows-to-see/
---
※ This article was originally published in OCULA(https://ocula.com) on 6 JUN 2019 and reposted under authority of a partnership between KAMS and OCULA.
Tessa Moldan
Editorial Associate, [Ocula]