Taiwan's collateral event at the Biennale ("3x3x6" by artist Shu Lea Cheang, curated by Paul B. Preciado) and Korea's Pavilion ("History Has Failed Us but No Matter" by siren eun young jung, Hwayeon Nam and Jane Jin Kaisen, curated by Hyunjin Kim) both encourage discussion of society's marginalization of non-binary identities. There are divergences in themes, however, and the approaches differ radically. The first muses on dystopic technological incarceration, the second presents an uplifting reappraisal of the world around us, with an implicit exhortation to start again.
---
Shu Lea Cheang's "3x3x6" (the name inspired by the standard measurements of a prison cell) is a bold spectacle, inviting visitors inside the circuitry of the surveillance state. In the entrance hall, humans dance like mere marionettes controlled by machine. In the next room, diverse screens spool through living sexual transgressions, infractions against societal norms at different points in history and within varied cultures. Visitors become part of the machine by uploading selfies, which may then be morphed into another gender or race, thus, presumably, frustrating the patriarchy's drive to assign criminal suspicion to specific groups. The show is book-ended by a creepy fairground-show mannequin who is the entrance sentinel, and a glimmering mother-board/command centre on the way out.
---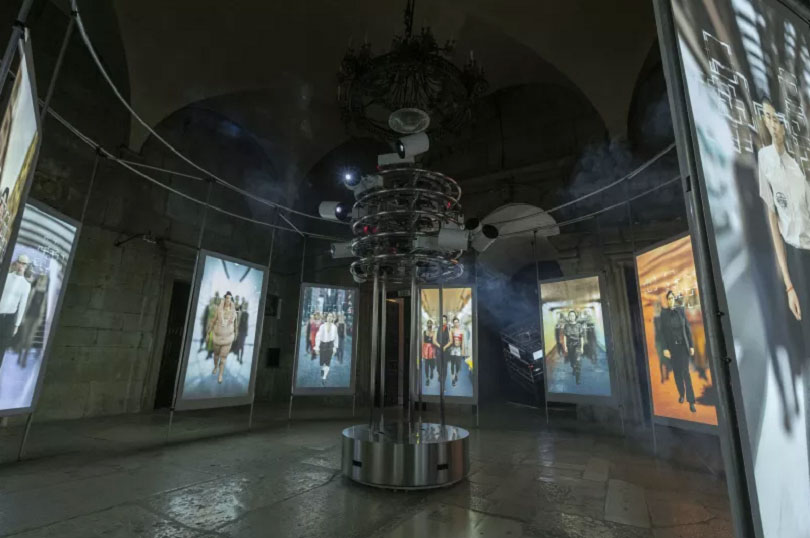 Shu Lea Cheang, 3X3X6, mixed media installation c Shu Lea Cheang. Courtesy of the artist and Taiwan in Venice 2019.
---
The colourful imagery and staging of the show are imaginative, channelling Fritz Lang, Philip K. Dick and some of the language of 1980s pop videos. The visuals will be a challenge for some, and parents bringing children are likely to beat a hasty retreat when confronted by a middle-aged woman pleasuring herself from behind with a glass dildo. The show is provocative, but isn't exactly a call to arms. Shu Lea Cheang's twin interests of web-based art and gender boundaries are hard to conjoin in a way which offers the casual visitor instant meaning and easily digested conclusions.
---
Tying in modern facial recognition systems into the law's shameful history of meddling in sexual preference is a juxtaposition of the emotional with the technological, the known past with the unknown, inhuman future. In this show, however, the messages seem far from simple. The real-life cases which are highlighted include Casanova and the Marquis de Sade, and also that of a German cannibal who arranged, by mutual agreement, to murder and eat his willing victim. Are we asked to believe that a miscarriage of justice has occurred here? Many of the cases depicted probably require more knowledge of the individual circumstances and prevailing legal climate before such a conclusion could be reached. This gives the visitor the chance to enact some of their own research at a later date, but does dampen some of the show's immediate impact. In the first Biennale since Taiwan's landmark decision to legalize gay marriage, some visitors may wonder whether Taiwan might have considered a more inclusive, more optimistic offering than this.
---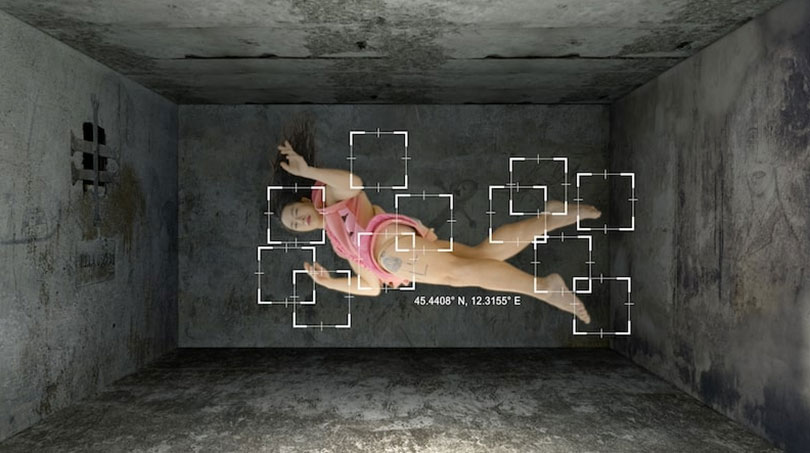 Still from CASANOVA X, 4K video, 10'00'', from the film series for the installation 3x3x6./소제목/ Tina Keng, Founder of Tina Keng Gallery & TKG+
---
The Korean Pavilion, an official presence here (situated next to Germany's in the Giardini section of the Biennale), is entitled "History Has Failed Us, but No Matter". The premise is that history's lens has ignored large sections of the population for too long. Technology is harnessed, but only as a tool (the show is largely composed of moving images from its three artists). As the title implies, there is an emphasis on rectifying historical oversights through a determination to do better, one story at a time. The result is one of the more nuanced, moving and intriguing presentations at the Biennale.
---
There are three artists at work here: Jane Jin Kaisen, siren eun young jung and Hwayeon Nam. Kaisen's Community of Parting offers a glimpse into Korean mythology and the shamanism of rural communities, combining video testimony of a shaman comforting the bereaved artist, herself on the precipice of loss and emptiness. The video also injects documentary-style vignettes on the legacy of conflict, discussing the continued presence of land mines in parts of Korea, for example. This stunning, involving work is somehow deeply personal, national and universal all at once.
---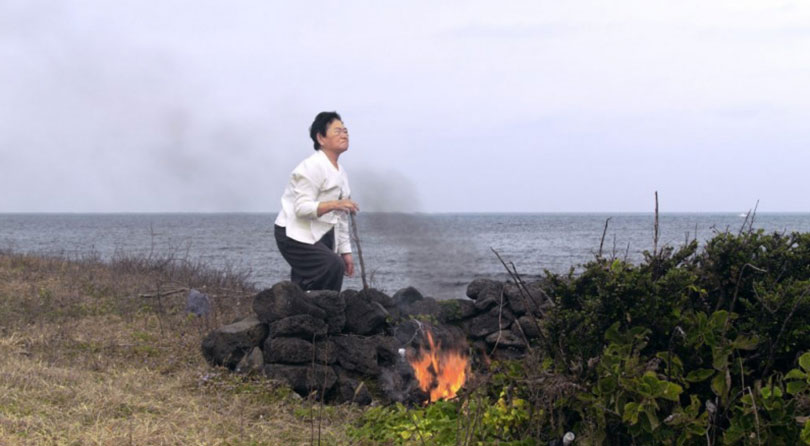 Jane Jin Kaisen, Community of Parting (still), 2019. Photo by Francesco Galli.
---
Another treasure is Hwayeon Nam's Dancer from the Peninsula, which re-examines the life of Korean dancer Choi Seung-hee (also known as Sai Shoki in Japanese), de-emphasizing the politically controversial aspects of her biography (she entertained Japanese troops during World War II and ultimately defected to North Korea) and examining instead her love of dance and devotion to her craft. This was a love not free of outside influence (the video documents how Westerners insisted she focus on Eastern rather than European dance styles) but wholly genuine and true to herself. Any visitor sitting here will likely want to linger: the backdrop to the Pavilion is the sun-flecked waters of the Grand Canal seen through the windows around the screen.
---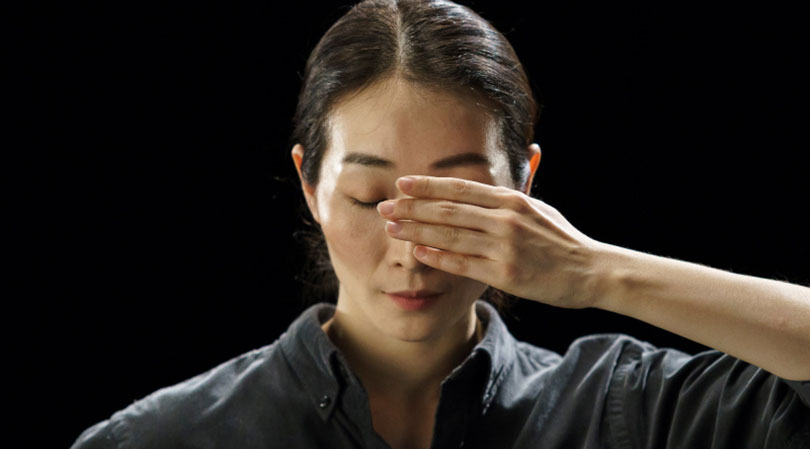 Hwayeon Nam, Dancer from the Peninsula, 2019, multi-channel video installation, dimensions variable. Photo: GIM IKHYUN. Jinyangjo, taken from Choi Seung-hee.
---
Finally, siren eun young jung's ongoing Yeoseong Gukgeuk Project, riffing on an established Korean tradition of women performing as men, presents several mesmerizing queer performances. In one, a drone hovers above a gyrating performer in a cold, isolated forest clearing; in another, a three-wall projection immerses the visitor in rhythms, sounds and visuals which are an instant escape from any kind of history, an aural, visual exhortation of a tabula rasa.
---
Korea's Pavilion offers a departure point for a journey into a new, more inclusive kind of history. Taiwan's show also lingers on in the mind, perhaps for other reasons.
---
---
Shu Lea Cheang: 3x3x6
11 May – 24 November, 2019
The 58th International Art Exhibition – La Biennale di Venezia
---
---
History Has Failed Us, but No Matter
11 May – 24 November, 2019
The 58th International Art Exhibition – La Biennale di Venezia
---
---
About the Artist: Shu Lea Cheang, Taiwan
---
Shu Lea Cheang is an artist and filmmaker working with various art mediums and film formats, including installation, performance, internet art, public art, video installation, feature length film, and mobile web series. Her artistic pursuits demonstrate an imagination and the desire to cross the boundaries of society, geography, politics, and economic structures, thus redefining genders, roles, mechanisms, etc. As a net art pioneer, her BRANDON (1998–99) was the first web art commissioned and collected by the Solomon R. Guggenheim Museum in New York. Other notable works include UKI (2009–ongoing) and UNBORN0x9 (2019).
---
---
About the Artist: siren eun young jung, Korea
---
Born in 1974 in Incheon, South Korea, siren eun young jung currently lives and works in Seoul. Within her projects she explores how the yearning desires of anonymous individuals merge with events of the world, and how such contacts become sites of resistance, history, and politics. Seeking an artistic practice that would expand feminist artistic language, she began the Yeoseong Gukgeuk Project in 2008; the project traces the lives of surviving actors of the genre that emerged in the newly independent nation in the 1950s and waned during the military dictatorship. In her work, the artist employs various media, performance, and video in order to question the concept of gender and critically analyze the construction of tradition and history. She has been particularly active within Asia, participating in Tradition (Un)Realized (Seoul, 2014), Ghosts, Spies, and Grandmothers (SeMA Biennale Mediacity Seoul, 2014), Discordant Harmony (Hiroshima, 2015/2016), Asia Pacific Triennale (2015), Gwangju Biennale (2016), Taipei Biennial (2018), Shanghai Biennale (2018), TPAM – Performing Arts Meeting (Yokohama, 2014/2018), and Serendipity Arts Festival (Goa, 2018). She is the winner of the Hermes Foundation Missulsang Prize (2013), Sindoh Art Prize (2015), and Korea Artist Prize (2018).
---
---
About the Artist: Jane Jin Kaisen, Korea
---
Jane Jin Kaisen is a visual artist born in Jeju Island, South Korea, and adopted by Danish parents in 1980. She currently lives in Berlin and Copenhagen. Working across different media—film, video installation, photography, and performance—she engages themes of memory, migration, and gender through poetic modes of storytelling and non-linear montages of image, sound, voice, and embodiment. Recent exhibitions include 2 or 3 Tigers (Haus der Kulturen der Welt, Berlin, 2017), Forum Expanded (68th Berlin International Film Festival, 2018), Decolonizing Appearance (CAMP: Center for Art on Migration Politics, Copenhagen, 2018), Asian Diva: The Muse and The Monster (Buk Seoul Museum of Art, 2017), Art Spectrum 2016 (Leeum, Samsung Museum of Art, Seoul), Interrupted Survey: Fractured Modern Mythologies (Asia Culture Center, Gwangju, 2015). She was awarded the Montana Enterprize at Kunsthallen Brandts in Denmark, and has participated in the Liverpool Biennale, the Gwangju Biennale, and the Jeju Biennale, among others. Kaisen has an MFA from UCLA (University of California, Los Angeles) and an MA from the Royal Danish Academy of Fine Arts, and participated in the Whitney Museum Independent Study Program.
---
---
About the Artist: Hwayeon Nam, Korea
---
Born in 1979, Hwayeon Nam lives and works in Seoul, South Korea. Nam has worked on choreographic movements through archive materials, capturing the various phenomena surrounding social systems, time, and space. She is also interested in rethinking the structures of cultural reproduction related to human desires, delving into the stories contained in artefacts, the history of colonial annexations, and the advent of the natural sciences, especially astronomy, flora, and fauna. With a focus on performance and video, her work lies in the linguistic performativity of questioning contemporary values and temporal notions of the present. Nam's solo exhibitions include Imjingawa(Audio Visual Pavilion, Seoul, 2017) and Time Mechanics (Arko Art Center, Seoul, 2015). She has participated in group exhibition Reenacting History (MMCA, Gwacheon, 2017), wellknown unknown (Kukje Gallery, Seoul, 2016), All the World's Future (56th International Art Exhibition of La Biennale di Venezia, 2015), and Nouvelle Vague (Palais de Tokyo, Paris, 2015). Her performances include Orbital Studies (MMCA, Seoul, 2018), Dimensions Variable (Festival Bo:m, Seoul, 2013), and A Garden in Italy (Festival Bo:m, 2012).
---
---

---
---
---
※ This article was originally published in CoBo Social(https://www.cobosocial.com) on 16 SEP 2019 and reposted under authority of a partnership between KAMS and CoBo Social.