Features / Focus
[SERIES: Korean Contemporary Art Guide] Ⅳ. The Korean Art Market
posted 07 Oct 2014
theArlro Featured Series, Korean Contemporary Art Guide offers an introduction to the Korean art market Here is a brief overview of Korea's auction market and art fairs, including market size, major auction records, and the development of the Korean art market amid fast-changing trends in Asia and around the wofld.
Not even 20 years have passed since the Korean art market first starting gaining momentum, with art fairs and auction markets giving it a more modern look. The auction market kicked off with the arrival of auction houses in the 1990s before experiencing rapid growth in the mid-'00s. Korea's leading art fair event, the Korea International Art Fair, made its debut in 2002. The booming art market of the mid-'00s, especially in London and New York, was a boon for the global market as a whole. Korea's art market also grew quickly over this period, despite murmurs about a bubble. The peak came in 2007, followed by a slump in the wake of the 2008 global financial crisis. Prolonging the slide were other factors contributing to a less favorable market environment, including a high-profile slush fund case involving artwork and the introduction of a transfer tax on art. According to the Ministry of Culture, Sports and Tourism the annual value of the art market for the six years from 2008 to 2013 remained between KRW 390.3 billion and 483.6 billion – never once reaching the KRW 604.5 billion recorded in 2007.1 It was a very different situation from other markets around the world, which were relatively quick to escape the effects of the global financial crisis that erupted in 2008 and start growing anew. But improved numbers for 2014 added hope for the market's revitalization.
The Auction Market
Korea's art auction industry is quite young, with a history dating back about 15 years. The number of auction houses has increased steadily since the mid- to late '00s; the current count is over ten. The two dominant forces in the Korean auction market are Seoul Auction (founded in 1998) and K Auction (founded in 2005). Both were established by major Korean galleries – Seoul Action by Gana Art Gallery, and K Auction by Gallery Hyundai. Both offer auctions in a wide range of areas, from Korean and international modern and contemporary art to classical Korean art (including paintings, calligraphy, and pottery), decorative art, jewelry, and timepieces. The biggest of these areas, in terms of both number of artworks on offer and auction turnover, is Korean modern and contemporary art. National treasures sometimes go for more at classical Korean art auctions, but that is the exception. Some houses focus mainly on classical art (including My Art Auction, Auction Dan, I Auction, and A Auction), while others, like Herald Artday, specialize strictly in online auctions.
Market Scale
The scale of the Korean auction market peaked at KRW 207.5 billion in 2007 before entering a slide the following year; as of 2013, it was an estimated KRW 68 billion.2 After a brief boom between 2005 and 2007, the market has been in a persistent slump.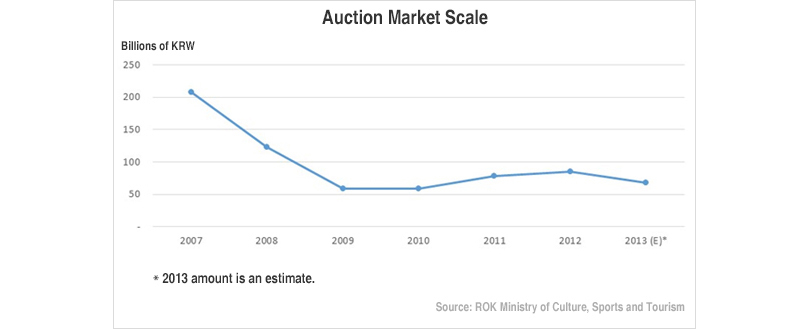 Together, Seoul Auction and K Action hold down a virtual monopoly on the Korean auction market, and their major auctions are a barometer for trends in the market as a whole. Both hold one major auction per quarter in Seoul (in March, June, September, and December). The major auctions focus on three areas: Korean modern and contemporary art, international modern and contemporary art, and Korean classical art. A look at major auction trends for the two houses over the past four years shows sluggish performance in terms of turnover and sell-through rate for late 2012 and all of 2013, followed by a growth period in 2014. Strong auction results for both houses in September have stoked hopes that the growth will continue for some time.




Auction Record
Most of Korea's top bids have been at major auctions by Seoul Auction and K Auction. The works tend to be by artists who have long been prized by collectors: Kim Whan-ki (1913–74), Park Soo-keun (1914–65), Lee Joong-seop (1916–56), Lee Dai-won (1921–2005), Kim Tschang-yeul (b.1929), Lee Ufan (b. 1936), Kim Chong-hak (b. 1937), and Oh Chi-gyun (b. 1956). Many of the auction records for these artists were set in the art market boom year of 2007; none have been broken since. The record holder for the highest bid at a Korean modern/contemporary art auction is Park Soo-keun's Wash Place(1950), which went for KRW 4.52 billion in 2007
<Top Bids for Major Korean Artists>
| Artist | Work | Bidding Price (KRW) | Auction House | Auction Date(m/d/y) |
| --- | --- | --- | --- | --- |
| Park Soo-keun | Laundry (1950) | 4,520,000,000 | Seoul Auction | 5/22/2007 |
| Lee Joong-seop | Bull (date unknown) | 3,560,000,000 | Seoul Action | 6/29/2010 |
| Kim Whan-ki | Flower and Urn (1957) | 3,050,000,000 | Seoul Action | 5/22/2007 |
| Lee Ufan | From Line (1978) | 1,600,000,000 | Seoul Action | 9/15/2007 |
| Lee Dae-won | Farm (1987) | 660,000,000 | Seoul Action | 12/18/2013 |
| Kim Jong-hak | Landscape (2006) | 580,000,000 | Seoul Action | 9/15/2007 |
| Oh Chi-gyun | Road (1999) | 500,000,000 | Seoul Action | 9/15/2007 |
| Kim Chang-yeol | Drop of Water No. L1(1977) | 370,000,000 | K Auction | 9/252014 |
* Auction data from Art Price (www.artprice.com), Seoul Action, and K Action.
Working toward Sustainable Growth
Since the late '00s, Hong Kong has held a very important place in the world auction market. By 2007, China was the world's third largest art market after the U.S. and Great Britain, and Christie's Hong Kong played an especially key role in that growth, with auction turnover reaching as high as USD197 million.3 Soon other Asian auction houses were entering the Hong Kong market. By 2008, both Taiwan's Ravenel and Japan's Est-Ouest were holding auctions in Hong Kong.
Seoul Action joined the fray in 2008, becoming the industry's first-ever house listed on KOSDAQ. Together with Christie's, it accounts for the most auctions of Korean art in Hong Kong. It also sets itself apart with its focus on Western contemporary art. Christie's and Sotheby's both focus on Asian art in yearly spring and fall auctions, while the Asian houses have their own auctions centering on Asian art. Lee Ufan's From Point(1977) went for HKD 15.2 million (about KRW 2.1 billion) in fall 2012 for Seoul Auction in Hong Kong, setting a record for highest auction record in that market for modern or contemporary Korean art.

K Auction also held its first overseas auction in Macau in fall 2008. It went on to organize a partnership in Hong Kong with Shinwa Art Auction and Larasati, titled United Asian Auctioneers in Hong Kong (UAA). Because of the three different houses participating, the works cover a broad spectrum of Korean, Japanese, Chinese, Southeast Asian, and Western modern and contemporary art.
One major trend in the auctions industry recently has been a stronger push toward online business. Sotheby's announced plans to hold live auctions through eBay, with bidders able to watch and place bids over the internet rather than going to the auction house4. Korean houses have also been working hard on online auctions. Seoul Auction rebranded and relaunched its existing online auction in August 2014 as "eBidNow." K Auction began its online sales in 2006, with five to six auctions held per year. The scale of the auctions has also grown: steady improvements in the level of work on sale mean that auctions include not only mid-price items, but high-ticket ones as well
Art Fairs
Around the world, art fairs are booming. Today, they represent arguably the premier platform for art transactions. The number of fairs increased from just seven worldwide in the 1980s to double that in the 1990s.5 Between 2000 and 2005, it reached 68; by 2011, it stood at 189.6
The competition has been heating up in Asia, with different cities battling to bring in their own art fairs. Art HK was launched in Hong Kong in 2008; in 2013, it was reborn as Art Basel Hong Kong. In Singapore, the Art Singapore fair was held between 2000 and 2010, and Art Stage Singapore has been taking place since 2011. Fairs can also be found in most of Asia's other major cities, including Art Taipei in Taiwan, Art Fair Tokyo in Japan, and Art Beijing in China. The trend is also visible in Korea, where art fairs have been proliferating at a fast clip since the mid-'00s. Four were founded in the 1990s. Another nine were added between 2000 and 2005, and 21 more between 2006 and 2010.7 The number of fairs held on an annual basis rose from 29 in 2008 to 35 in 2012.8
Most of the Korean art fairs focus on contemporary art, with items representing a wide range of media. Some, like Seoul Photo and Art Edition, specialize in specific genres like photography and prints. Several fairs have also been breaking away from the traditional gallery-driven format, with artists themselves appearing to run their own booths. More than half the fairs taking place today are in Seoul, although the number outside the capital has been growing.

Korea's premier fair event may be the Korea International Art Fair (KIAF). Launched in 2002, it is the biggest art fair in the country. It takes place every fall in Seoul under the auspices of the Galleries Association of Korea. One of its biggest features is the selection of a guest country each year, with galleries invited in from that region. A steady rise in visitors has helped KIAF grow into Korea's leading art event. But for all the international packaging, some argue that the galleries and collectors participating are still very much Korea-centered.
Other art fairs are held throughout the year in Seoul. One of the major ones in the first half of the year is Korea's oldest, the Korea Galleries Art Fair, which started in 1979. Organized by the Galleries Association of Korea, it exclusively features Korean member galleries. The Seoul Open Art Fair, which began in 2006, has a stronger focus on mid- and lower-price work than KIAF or Korea Galleries Art Fair. G-Seoul, which was launched in 2011, has stated the goal of becoming a "premium art fair": the number of participating galleries is small, but they are assigned relatively spacious booths, with mostly larger, high-ticket items on display.
A wide assortment of fairs can also be found in the second half of the year. The Asia Hotel Art Fair has been held once per year in Seoul and Hong Kong since 2009. The concept for this event involves using hotel rooms as galleries, with visitors viewing and purchasing items amid a homey atmosphere. Art Edition is an event that deals exclusively in editioned works, including prints, photography, and sculpture. Its previous incarnation was as the Seoul Print Art Fair, which was launched in 1995. The MANIF Seoul International Art Fair ("MANIF" for short) has artists running their own booths as solo exhibition spaces. MANIF was established 20 years ago with the goal of popularizing art. The Asian Students and Young Artists Art Festival (ASYAAF)has a format where young Asian artists compete to have their work selected for exhibition and sale.

New art fairs keep emerging outside of Seoul as well. First on the list is Artshow Busan, held in Korea's second city of Busan. It's a relatively new event launched in 2012, but its growth in program management and sales has been swift. The Busan International Art Fair has also been held continuously since 2008. Gwangju, famed for its eponymous Biennale event, has also hosted the Art Gwangju fair since 2010, while the Daegu Art Fair has been held in Daegu since 2008.
Not all art fairs announce their sales numbers, so it is difficult to tally their performance. But a 2012 art market survey showed artwork sales reaching KRW 48.4 billion in 2010 before gradually sliding to about KRW 42 billion as of 2012.9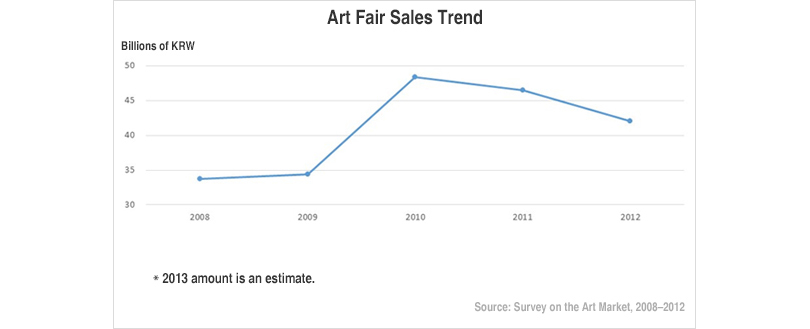 Recently, some new experiments have been under way with Korea's art fairs. In addition to existing features like guest country invitations and talk programs, they've also started bringing non-profit art spaces on board and organizing feature exhibitions to show the kind of large-scale installation pieces often seen at biennial events and art museums. The goal is to draw more visitors and expand a base of art lovers. But the end goal of any art fair is to promote artwork sales. Many today continue arguing for strategies to build the base of collectors – the end users.
Korea's art market has been called "local" and "limited"when compared to the country's economic scale and the size of its art community. The "Mid- to Long-Term Arts Promotion Plan" announced by the Ministry of Culture, Sports and Tourism in September 2014 includes a commitment to building the market to a scale of KRW 630 billion by 2018. With government policy support added onto the recovery the market has been experiencing this year, expectations continue to grow.

Park Soo-kang / Co-founder/director, AMCompass
Park Soo-kang is co-founder and director of AMCompass, an art market research company based in Seoul, Korea. AMCompass provides comprehensive and responsive research on the Asian art market, with a special focus on Korea, Hong Kong and Singapore. www.amcompass.net