---
Part-time Suite is an art collective which started out in 2009 as a trio of Byungjae Lee, Miyeon Lee, Jaeyoung Park and switched to a duo consisting of the latter two artists in 2013. 《Air》 (31 August - 29 September 2019 / Hapjungjigu, Seoul) is their second solo exhibition and the first to open in South Korea, following 《The Ballad of Real Estates》 (2017 / ARTZONE, Kyoto) and multiple group exhibitions before it. Their work centers on the ways in which art reflects social realities and attempts to reframe the conundrums within those realities through video productions, installations, and performances. Since 2010, the collective has also been active as a band called Part-time Suite Sound (P-tss), a side project with two EPs under its belt.
---
Now 10 years into its existence, Part-time Suite's roots trace back to an understanding of reality shared by three art majors fresh out of college back in 2009. The collective was born out of their determination as a group to acknowledge and grapple with the precarious sustainability of any artist's work or exhibition, though its members never settled for venting in the confines of personal predicament. Choosing instead to interpret their own experiences as the nodes of a broader network of social issues, they have always endeavored to discover themes and methodologies which encompass the microscopic within the macroscopic. The collective spent its early months shedding light on the particular spaces and places which go unseen within the urban landscape, and in so doing, created a metaphor for their own state of affairs. Their first piece of work, 〈Under Interior〉 (2009), occupied a basement filled with water up to the ankles; 〈off-off-stage〉 (2009) took a nighttime stroll through an empty lot in the middle of Seoul. Through spaces which incontrovertibly exist with the city despite their shortcomings and limitations—such as locations unoccupied for the time being or fractured interiors riddled with humidity and mold—both Under Interior and off-off-stage evoke countless circumstances and individuals pushed to the margins of a complex urban ecosystem. Part-time Suite's first year was performative in the sense that it revolved around these particular places and the transitory events which occurred within them.
---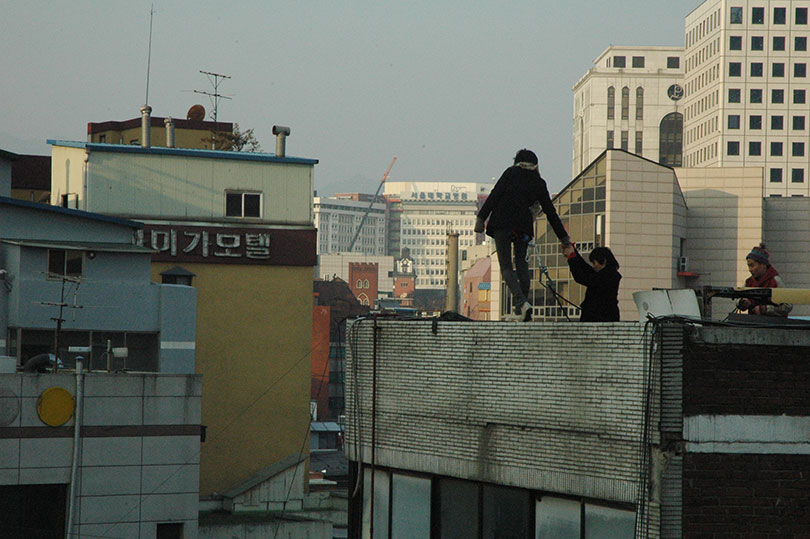 Part-time Suite, 〈Loop the Loop〉 performance recording, 2009. single-channel SD video, sound, 7 minutes and 32 seconds. ©Part-time Suite. Photo© Jaemin Cha
---
〈Loop the Loop〉 (2009) involved the members of Part-time Suite walking in turn along the edge of a rooftop on a December day. The person on the edge would hold hands with one of the remaining two, connected to the other by a rope wrapped around their waist. Three human vertices, each maintaining their point of contact, inched their way down a path fraught with suspense, conveying the collective's shared purpose through the relationship of distance and responsibility and intimating the tension and cooperation between the people that exist in such close-knit circumstances. The eponymous video recording features a soundtrack whose low-pitched melody and unembellished beat plod along in the sunset behind the three people on screen.
---
When it comes to the selection of place and the actions which unfold within those places, Part-time Suite's work often chooses to lean on metaphor and allusion rather than expound on actual events, culminating in a poetic approach to the situation at hand and a means of converting a specific issue into an act of formal practice. The aforementioned poetic quality falls into sharper relief thanks to the straightforward yet evocative configuration of text and use of music which often crops up in the collective's work. Part-time Suite has developed the effective characteristic of editing and juxtaposing a broad variety of scenes as a way of enabling the meticulous examination and consideration of events and circumstances while keeping its distance from tipping over into sentimentality.
---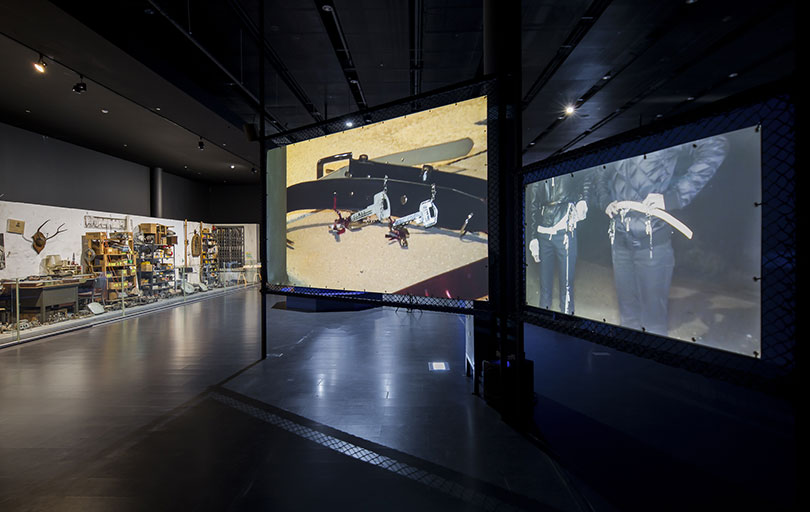 Part-time Suite, 〈The Ballad of Real Estates 1〉, 《#Art #Commons #NamJunePaik》 installation, 2018. Images provided by the Nam June Paik Art Center.
---
The artist's statement for 〈Under Interior〉 on the Part-time Suite website includes an arresting statement based on the landlord's demands prior to setting up the lease on the basement and the collective's reactions to such stipulations. "Drive in no nail yet penetrate. Make no sound yet resonate. Touch nothing yet delineate." This tripartite list constituted a set of self-imposed precepts which would allow the members of the collective to ostensibly adapt to and cope with the rules as imposed, while at the same time essentially reshaping them as their own. The process of penetrating, resonating, and delineating seen in this reverberating manifesto encapsulates the manner in which Part-time Suite's work continues to deal with given environments and the social issues surrounding them.
---
Part-time Suite's work carries within it an undeniable element of resistance, though that resistance has more to do with strategy (i.e., artistry) than it does with force. The collective's aforementioned precepts frame their concept of resistance as a gentle permeation or something akin to a resonance among participants and subjects poised at a fixed distance from one another. 〈March Dance in the 42m2 Club〉 (2015 / 2019)—a live performance of the 〈March Dance〉 video screened at the exhibition for the Hermes Foundation Art Awards—does this by capturing a temporary club in which the performers slosh water, stamp their feet, and dance in time to music played by a live DJ on 42m2 of slow-setting concrete. Multiple individuals come together to march, labor, and frolic, the act gaining further nuance from an intense communal resistance to that which falls under the umbrella of gradual petrification. Part-time Suite's other live performances, such as 〈XXX〉 (2015 / Seoul Art Space Mullae) and 〈Live Editing〉 (2012 / Culture Station Seoul 284), also started out with the basic format of inserting video into a music sequence and having distinct entities share a particular timeframe. Dubbed a "multi-screen synchronized music video," 〈XXX〉 took pieces from five artists designated by the collective and played this motley footage of urban spaces and cityscapes on a single stage. Each work was finished separately with nothing but creative direction and a soundtrack in common. Through their ultimate collision within a shared space, these images produced by disparate perspectives from disparate timelines came to represent the coexistence of different people.
---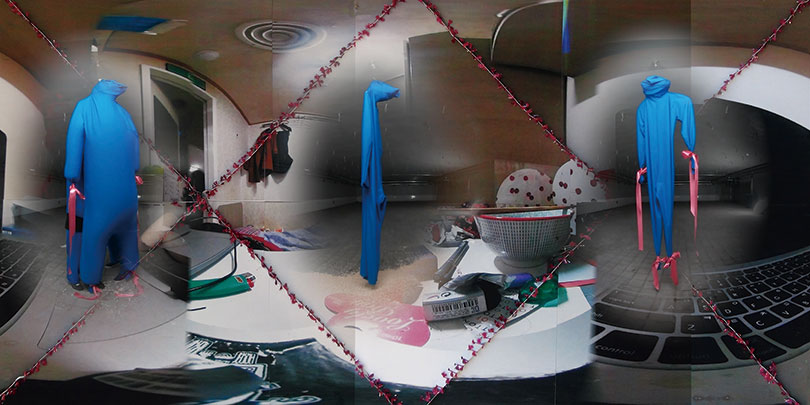 Part-time Suite, 〈Wait for Me in a Crashing Airship〉, 2016. 360° VR video, sound, 16 minutes and 45 seconds. ©Part-time Suite.
---
Part-time Suite's search for substantial means of resistance seems to remain a work in progress. 〈People, the Next People〉 (2017) presented a 21st century interpretation of South Korea's minjung art heritage and minjung song images from the 80s by combining these elements with the voices and turns of phrase common to younger Internet users. Such attempts encompass a keen attention to the course of history and image, a contemporary artistic consciousness of the rift between reality and the digital world, and vital concerns regarding the mass amounts of data bearing down on our everyday lives.
---
Confrontations of the context and history of place stand at the heart of Part-time Suite's work, which inevitably lead to questions of artistic spaces and institutions. 〈Samuso Patch〉 (2011) took over the garage of the two-story building which had housed the curation company Samuso and went beyond the limited functions of the office by putting their own stamp on the re-archiving and distribution of the countless materials stored there. A comprehensive snapshot of art history and artistic institutions as well as the movements and accounts of those who float between such currents, 〈One Opening〉 (2015) drew from the Insa Art Space archives and records (currently relocated to the Arko Art Center), aligning the language and images of the modern art scene in South Korea from 2000 to 2008 with performances from the people who brought the work together.
---
On the one hand, Part-time Suite carries out a vertical investigation as it delves into the physical circumstances and historical contexts of place, while on the other, it moves horizontally in its observation and chronicling of the same. 〈Drop by Then〉 (2010) transmits recitations and performances based on stories heard during a 10-day journey along the Civilian Control Zone, thereby lending depth of language and landscape to places which formerly existed as little more than lines on a map. 〈The Ballad of Real Estates〉 (2015) went from city to city in Spain, recording half-built structures, squatters' plots, and rickety shacks. Both of these pieces juxtaposed continuous wide shots connected by the medium of the traveling car with close-ups of their points of contact in order to reflect the complexities and contradictions of the places that they portrayed.
---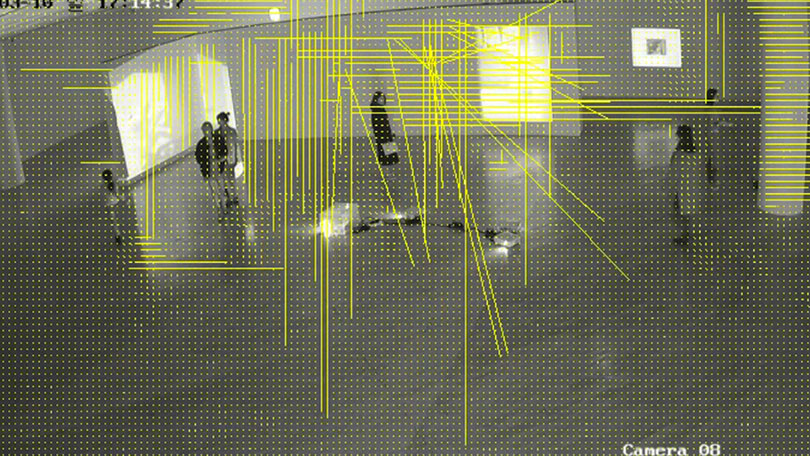 Part-time Suite, 〈Neighbors ver.1.1〉, 《Air》 installation, 2019. Images provided by Hapjungjigu.
---
In their recent work, the artists behind Part-time Suite have redirected their attention from physical place to impalpable space. They examine the images and expressions tumbling about online, identify the insensible sensibilities which traverse 'liking' and 'subscribing,' and consider the intersection between the mechanized human being and humanized data. Their work extracts a space of infinite coordinates and searches for potential connections between that sector and our reality outside the Internet. 〈Wait for Me in a Crashing Airship〉 (2016) used VR technology to represent the emotional sterility of the individual in conjunction with images of a bunker in Yeouido, construction sites, micro-apartments, and plazas. The sheer range of the viewpoint in this piece began down below and swooped upward to unreachable heights—a flawless recreation of contemporary experiences and emotional states as they surge into the zero-gravity of absolute futility. 〈Neighbors ver.1.0〉 (2019) and 〈Neighbors ver.1.1〉 (2019) mobilized CCTV footage drifting through the Internet; 〈Auto〉 (2019) demonstrated the contact and conflict which bridge the most tremulous of bodies and the data intent on capturing their signal. The focus here lies in the friction between the spaces where the physical body has its foothold and the spaces where the mental/visual experience operates.
---
Part-time Suite, 〈Neighbors ver.1.1〉, 2019. real-time video streaming, CV, image processing, Wi-Fi, sound, color, approximately 20 minutes, variable IP camera and calibration board installed (developer: Sanghyuk Jin). ©Part-time Suite.
---
Part-time Suite's work had its beginnings in the lives and places of the city. The ways in which the collective challenges institutions, observes history, devises its modes of resistance, and explores spaces are likewise the product of urban experience. In the collective's linguistic selection and use of media—in the far-reaching refinement and artlessness of its collaborative methods, its community and separateness, its nearness and distance—we find reflected the realities of people such as ourselves as we strap on the sense mechanisms which help us form an empirical understanding of the codes riddling the urban landscape and walk and work and live our way through reality. The resonance of Part-time Suite's work comes as no surprise in light of the grueling and endless process of ethical choice which fuels its retention of the proximal yet transitory nature of its cautious sensibilities and of the perfect distance for settling on and unfolding a theme. Theirs is a struggle all too familiar to those individuals who engage in the sequence of microscopic struggle and resistance within the bond of empathy, reason, and contradiction.
---
---
※ This article was originally published on the November 2019 issue of Misulsegye and is provided by the Korea Art Management Service under a content provision agreement with the magazine.
Haeju Kim
Haeju Kim is a curator based in Seoul, currently working as the deputy director of Art Sonje Center. The exhibitions and performance programmes she has organized have demonstrated her interests in the body, movement, and in memory and the recording of memory.