Rhii Jew-yo was announced the winner of theKorea Artist Prize 2019 Thursday evening.
---
Rhii was one of four finalists for the prize, organized by the National Museum of Modern and Contemporary Art, Korea. The others included Kim A-young, Park Hye-soo and Hong Young-in.
---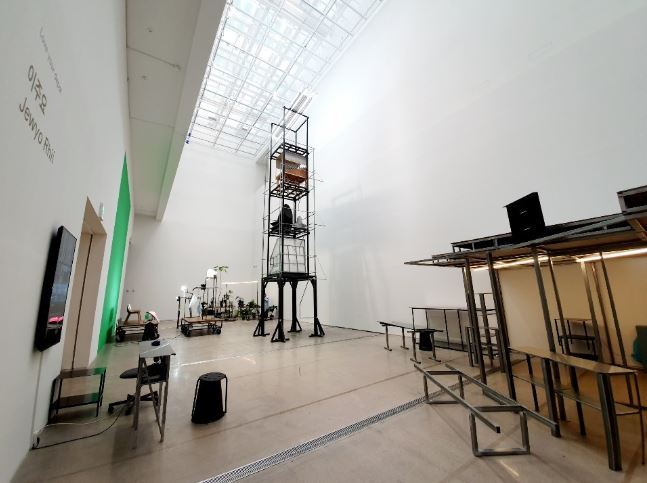 An installation view of Rhii Jew-yo's "Love Your Depot" on display at the National Museum of Modern and Contemporary Art's main branch in Samcheong-dong area, central Seoul (MMCA)
---
Rhii won for her work "Love Your Depot," a storage system that consists of a broadcasting station, media lab, and a five-story tower.
---
Rhii's work is an alternative art storage space conceived after the artist witnessed numerous artworks that are put aside in storage and remain away from people's reach. The storage, which she proposes to build in the near future, is designed to serve as both an artwork storage space, as well as space for art making and performance.
---
A five-member jury consisting of Wiels Contemporary Art Centre Director Dirk Snauwaert, MMCA Director Youn Bum-mo, Busan Museum of Art Director Ki Hey-kyung, the 21st Century Museum of Contemporary Art, Kanazawa curator Hiromi Kurosawa and the former MMCA Director Bartomeu Mari selected the winner.
---
The top prize comes with a cash prize of 10 million won ($8,500), in addition to 40 million won awarded to each finalist upon selection.
---
The exhibition of the four nominees is currently running at the MMCA's main branch in Samcheong-dong, central Seoul. The exhibition runs through March 1, 2020.
---

---
---
※ This article was originally published in Korea Herald (http://www.koreaherald.com) on 29 NOV 2019 and reposted under authority of a partnership between KAMS and Korea Herald.
Shim Woo-hyun
Editor, [The Korea Herald]