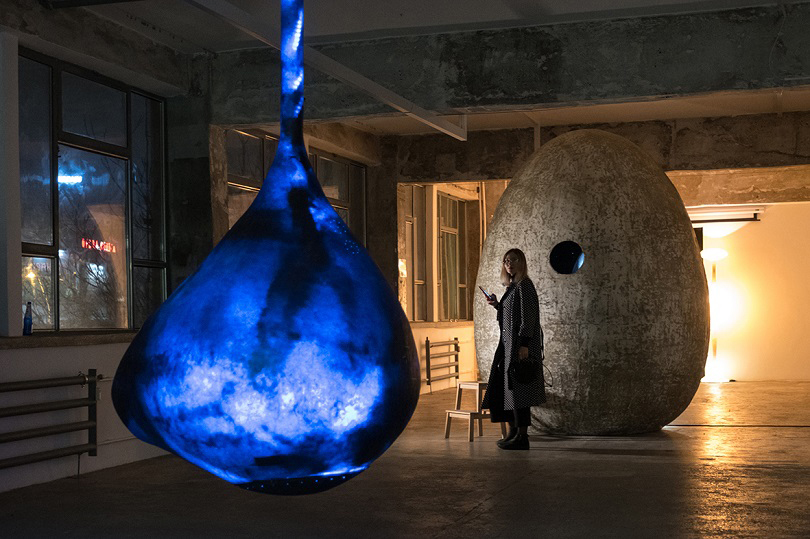 Saint Machine 〈Hybrid Sensorium〉. Image Provided by Public Art
---
Marking the start of the year's final quarter, the month of October is typically a time when people lament the time that has gone by so quickly and the moments they failed to seize. But with 2020 proving more difficult and trying than others, the changing seasons and passage of time come as a great source of solace and strength. In a year that saw so many exhibitions and events cancelled both in Korea and abroad, preparations have finished on a collection of art and culture events in spite of all of the troubles: the Changwon Sculpture Biennale, a festival of sculpture that seeks to combine lightness of form with flexibility of content; the Geumgang Nature Art Biennale, with its opportunities to glimpse nature art and contemporary art practitioners coming together; the Taehwa River Eco Art Festival, with its exploration of the role of visual culture amid rapidly changing new phenomena; and the Gwangju Media Art Festival, a "festival of light" where media art is enjoyed as a game of sorts. "When time bruises, simply make jam with it," the poet Ahn Hee-yeon has written. "Memories can become sweeter when you boil them down for a while over a weak flame."( Ahn Hee-yeon, 「Stollen」, 『Learned on a Summer Hill』, 2020.) Hopefully, our tired and worn-down hearts can draw a renewed spark from the flame of art and culture.
---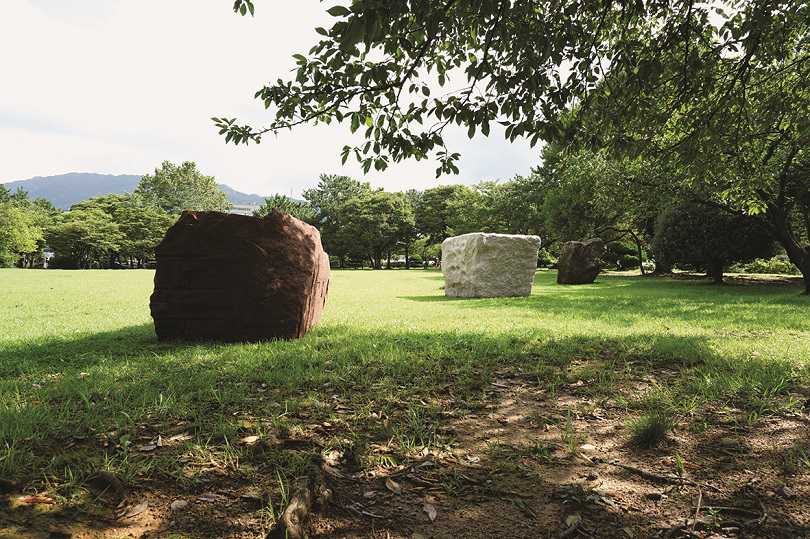 Strijdom van der Merwe 〈EARTH KNOTS (NATURAL CONDENSED EARTH. FOUND OBJECTS.)〉. Image Provided by Public Art
---
CHANGWON SCULPTURE BIENNALE
[2020 Chagwon Sculpture Biennale : From Non Sculpture-Light or Flexible]
9.17-11.1
Seongsah Art Hall, Yongji Park
http://www.changwonbiennale.or.kr/2020/en/
---
People are likely to react quizzically at first to hearing talk of "non-sculpture" at a sculpture biennial. The 2020 Changwon Structure Biennale starts with a story about "things that are not sculpture." "Non-sculpture" may be seen as both a process of sculpture's own self-negation and the result of that process; in simple terms, when we deny ourselves, we come to accept that which is different from us as being the same, in a process that can encompass all manner of concepts besides sculpture, including objects, nature, energy, and art. As suggested by the theme of "lightness or flexibility," the exhibition aims to embrace all sculpture, reaching beyond the traditional characteristics of sculpture – its large size and solidity – that we know so well.
---
At the 2020 Changwon Sculpture Biennale, visitors can see works that connect nonmaterial things like fire, water, air, and wind with themes that extend beyond sculpture, such as ecology, energy, and technology, along with works that harbor a "sculptural nature" as they interact with non-sculptural elements such as installations and performances. As part of its main exhibition, the outdoor-based 《From Non-Sculpture》 explores and practices sculpture in different ways through a discourse of non-sculpture, departing from sculpture's conventional volume and mass. Harmonizing nature, scenery, and architecture, it is organized as a network of space without designating a sequential viewing course. The indoor-based 《To Non-Sculpture》 consists of various forms of installation art, deconstructive sculpture, media culture, and audience-participatory sculpture. As they follow courses from "Step 1" to "Step 7," visitors can discover both a large-scale narrative of human civilization linking nature, the environment, the universe, humanity, and technology, as well as a small-scale narrative of the human cycle of birth, aging, sickness, and death.
---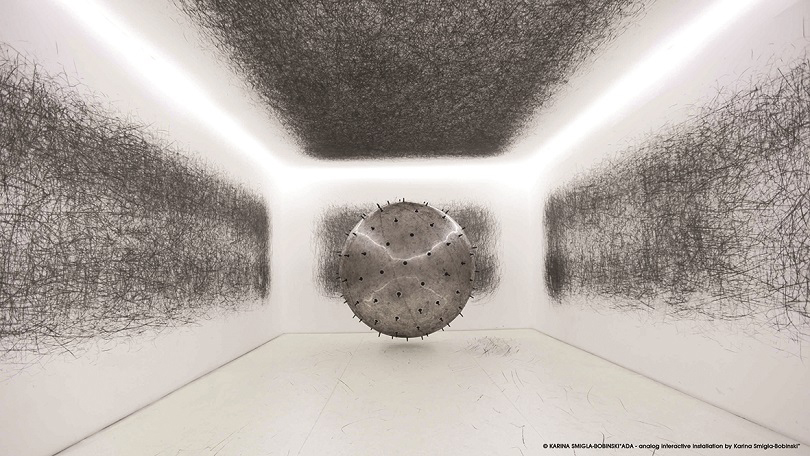 Karina Smigla-Bobinski 〈ADA〉 analog interactive installation © KARINA SMIGLA-BOBINSKI. Image Provide by Public Art
---
As a special exhibition, the event presents 《Seungtaek Lee: Korea's Non-Sculpture》, a retrospective of sorts for the Korean sculptor. For this exhibition, Lee – who in 1980 proclaimed his own work to be "non-sculpture," and who explored "experimental non-sculptural sculpture" in his work – unveils his past experiments using non-sculptural materials to produce sculptures, including rope, twine, fishing nets, rags, fabric scraps, hair, feathers, stones, and buoys. Arranged according to material, motif, theme, and history to encompass the full range of Lee's artistic body of work, the pieces are enmeshed with the physical characteristics of the setting, while viewers can experience their unique aura in the site-specific context of a former wedding hall. Another special exhibition is Asia Youth Media Sculpture, which invites the final team of three young Asian media artists selected from a competition for teams of two or more artists aged 20 to 45 in the South Gyeongsang, Busan, and Ulsan region. It is an exhibition of media sculpture works representing the "non-sculpture" concept, encompassing video art, media art, "new media art," multimedia art, internet art, web art, mobile art, digital art, technology art, and explorations of virtual reality, AI, and robotics.
---
In art history, "non-sculpture" is another name for contemporary sculpture, referring to "post-boundary" sculpture or the expansion of sculpture. Through these exhibitions, viewers can discover the hidden meaning of non-sculpture and its similarity to "diverse sculpture," glimpsing the moments where different artistic values interconnect. The 5th Changwon Sculpture Biennale in 2020 arrives in a year that marks the tenth anniversary of the city of Changwon's consolidation as well as the tenth anniversary of the biennial's establishment. With its "non-sculpture" theme, it attempts a form of self-negation and self-reflection, an examination of the past and present to predict the future from a point 10 years later in time. At a time when the virtues of inclusiveness and tolerance are needed more than ever, these boundary-spanning works of light form and flexible content have the potential to enrich the viewer's life.
---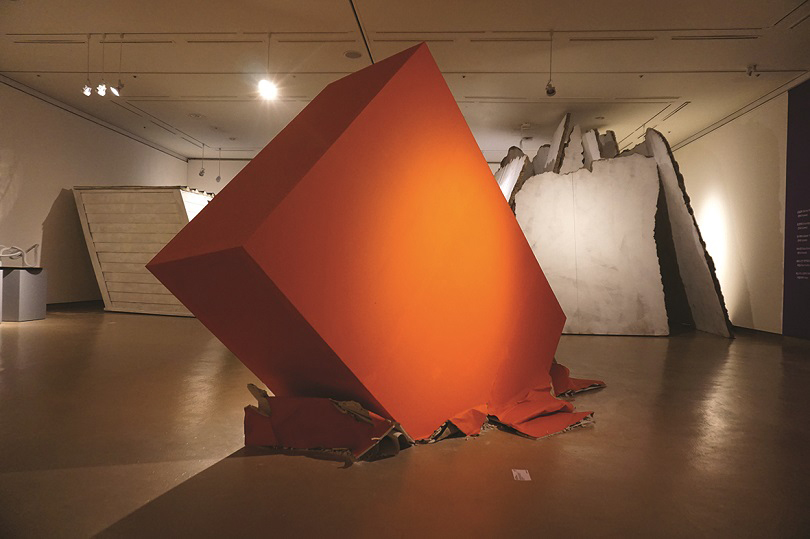 Sebastian Wickeroth 〈UNTITLED〉. Image Provided by Public Art
---
GEUMGANG NATURE ART BIENNALE
[2020 Geumgang Nature Art Biennale : Neomixed Era with Neobalanced Encounter]
8.29-11.30
Yeonmisan Natre Art Park, Geumgang Nature Art Center
http://www.natureartbiennale.org
---
With interest in nature greater than it has ever been before – both by choice and by necessity – there is one unique biennial event that specializes in "nature art." The 2020 Geumgang Nature Art Biennale adopts the theme of "Neomixed Era with Neobalanced Encounter," communicating a message of "hope" and "recovery" as it imagines the Neolithic Era that saw the earliest activities of harmonious, balanced symbiosis and production between nature and humankind.
---
The 26 artists/artist teams from six countries taking part in the main Neomixed Era exhibition spent around one month finishing the production and installation of their work back in July and August. In a time and place where nature art exists as dogma, the 2020 Geumgang Nature Art Biennale shares a new sense of balance and an emotional experience with its reinterpretation of nature by means of contemporary discourse and fresh perspectives. An example of this is Lee Lee-nam 's 〈Gogh-Meet a New Humanity〉, which uses the familiar image of Vincent van Gogh to symbolically represent a "new humanity" where the past coexists with the modern. Its fragments of sculptures, which seem to represent relics from the Neolithic, portray an incomplete modern era, while the capturing of nature in different colors and shades reflects modern society and the coexistence of the analog and digital as they transform with the perceptions of our times. Encountering this alien landscape in the forested heart of nature, viewers have an opportunity to seek their own answers as they confront the confusion of our inner values amid a fast-changing modern society.
---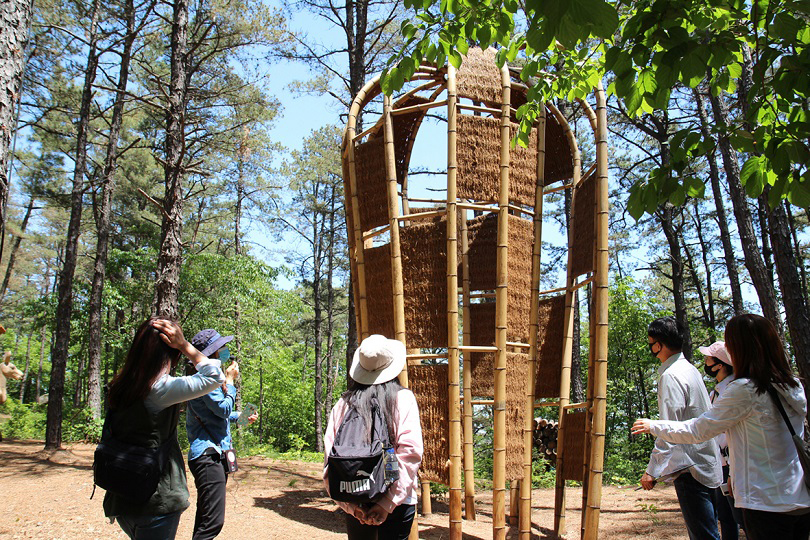 Installation View. Image Provided by Public Art
---
Ahead of the main exhibition, a "Nature Art cube exhibition" titled 《12×12×12+Nature》 was held from June to August at the Geumgang Nature Art Center. Identically measuring 12×12×12cm, its cubes capture the ideas and the different expressive approaches of individual artists toward nature. The nature art cube exhibition debuted in 2017, with this year's event featuring 230 artists/artist teams from 40 countries sharing different artistic messages about nature. Some of the realities we are facing today – such as environmental pollution, ecosystem disruption, global climate irregularities, and global warming – are matters we will need to confront and address both for own sake as people living today and for the sake of all future generations on this planet. Other complex issues and alienation phenomena arising among people amid the rapid changes of contemporary digital culture can also be seen as the result of a lack of connection and communion between people and nature. In that sense, 《12×12×12+Nature》 draws upon the creative concepts, materials, and expressive approaches of participating international artists to awaken a new understanding of the meaning of nature – something that we have forgotten even as we experience it with our being – and share it through distinctive visual messages. Seeking communication and communion through its special theme of "nature art," the nature art cube exhibition is to be presented once again as a visiting exhibition for the month of November at the Chungbuk Education Cultural Center's Yebom Gallery.
---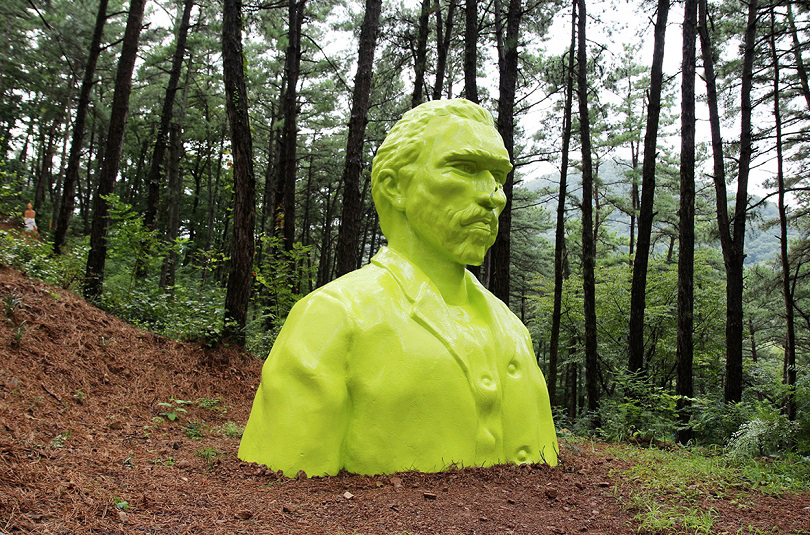 Lee Lee-nam 〈Gogh - Meet a New Humanity〉. Image Provided by Public Art
---
Another permanent exhibition of nature art that combines a natural forest setting with works of art has been taking place since April 25 at Yeonmisan Nature Art Park's outdoor exhibition venue. It includes a nature art video exhibition featuring over 130 selected works from an international competition that are screened over the nature art park's monitors, as well as an academic seminar titled "New Approaches and Visions in Nature Art" that explores nature and the role of the artist in the climate change and pandemic era. It's an opportunity for an up-close look at the ways in which nature art's identity is being upheld and newly broadened and developed with different art and culture infrastructure.
---
TAEHWA RIVER ECO ART FESTIVAL
[2020 Taehwa River Eco Art Festival : An Ore In My Hands]
10.15-10.25
Ulsan Taehwagang Garden
http://teaf.co.kr
---
Cell phones have become an essential part of our lives, capturing our gaze as well as our touch from one day to another. Two of the key materials used to make them are platinum and coltan. These are the materials referenced in 《An Ore in My Hands》, the theme of the 2020 Taehwa River Eco Art Festival. The meaning of "ore" here is broadened beyond its dictionary sense of a "rock with economic value" into the realm of nature and natural objects.
---
While past exhibitions have focused on the importance of nature and its protection, the 2020 Taehwa River Eco Art Festival raises questions about the things produced by the earth (nature) and us (Humanity), and the ways in which humanity can coexist symbiotically with nature in an era where ideas like the "Anthropocene," the "Capitalocene," and "naturalism" have been drawing attention. Rather than simply adopting a pessimistic attitude toward the environment, it seeks to furnish an opportunity to focus on the possibilities of contemporary art and visual culture amid new phenomena and an earth that has been changing the way it operates because of human intervention.
---
Begun in 2007 when Ulsan was elevated to Metropolitan City status, the Taehwa River Eco Art Festival has been staged every year with works of site-specific installation art. Just as Taehwa River National Garden has transformed Ulsan from an industrial city into a waterside eco-garden city and presented a new mechanism model for the natural environment and industry productivity, so 《An Ore in My Hands》 focuses on the ways in which small natural minerals that have been with us since the beginning are used today as key materials in information technology – alluding in the process to the fact that nature and technology are inseparable, and to the need to seek out avenues for co-evolution based on the interactions between the two.
---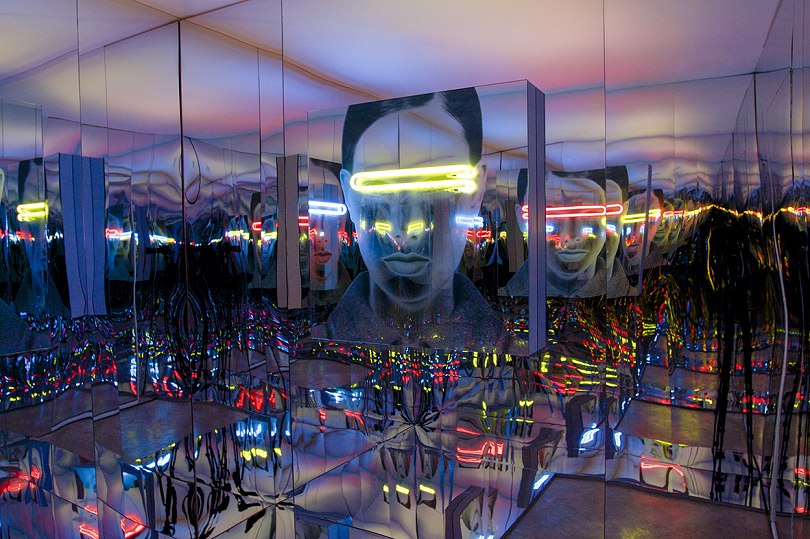 Javier Martin 〈Blindness Alma a Room without Walls〉 2017 mirror, plexiglass, wood, metal, neon, transformers and electronic components 240×240×240cm. Image Provided by Public Art
---
A total of 18 artists/artist teams are taking part in the exhibition from seven countries, including the US, Russia, Spain, Germany, and South Africa. Visitors can see work by such artists as Ben Butler, an American who won a commission project (the equivalent of first-place honors) in a public art competition held by the Memphis Convention Center last year, and Leonid Tishkov, a Russian who has photographically chronicled his installation of hand-made "private moons" in different settings over the past 17 years. From Korea, Hong Soun – who won the 2016 Lee In Sung Art Prize and drew notice for his 2017 Daegu Art Museum exhibition La Vie en Rose – is taking part as half of an artist duo called "Kim Daemon" with Oh Jung-hyun. Je Baak, who presented his work at the 2012 Saatchi Gallery exhibition Korean Eye and was awarded the VH Award Grand Prix in 2016 and selected as a "Kumho Young Artist" in 2017, shares a work that traces and visualizes the trajectory of the human eye's gaze upon an object. The Japanese artist Susumu Kawai produced a work that involved an event for Ulsan residents, with selected participants serving as its models. Science Walden, a research group with the Ulsan National Institute of Science and Technology (UNIST), operates a "convergence community" between science and art, proposing and executing new concepts for resolving societal issues through the meeting of science/technology with humanities/art. Jieun Gu, a researcher with Science Walden, focuses on the different psychological attitudes and realms of modern people as she raises awareness of social issues and seeks out means of communication.
---
Marking its 14th edition this year, the Taehwa River Eco Art Festival was created to restore the river to life with a "public art for life project" that introduces the scent of culture to a river that has been returned to its residents, as well as to provide opportunities for new cultural appreciation experiences. The past 13 editions have benefited from the participation of such artists as Ikjoong Kang, Keun Byung Yook, Kangso Lee, Oksang Lim, Junghwa Choi, Seung-Hye Hong, Frauke Wilken, Maurice Frydman, and Patricia Leighton. It's an opportunity to stroll alongside the Taehwa River amid the autumn air, pondering the role of visual culture amid rapidly changing phenomena through culture and art, as well our own lives and natural environment.
---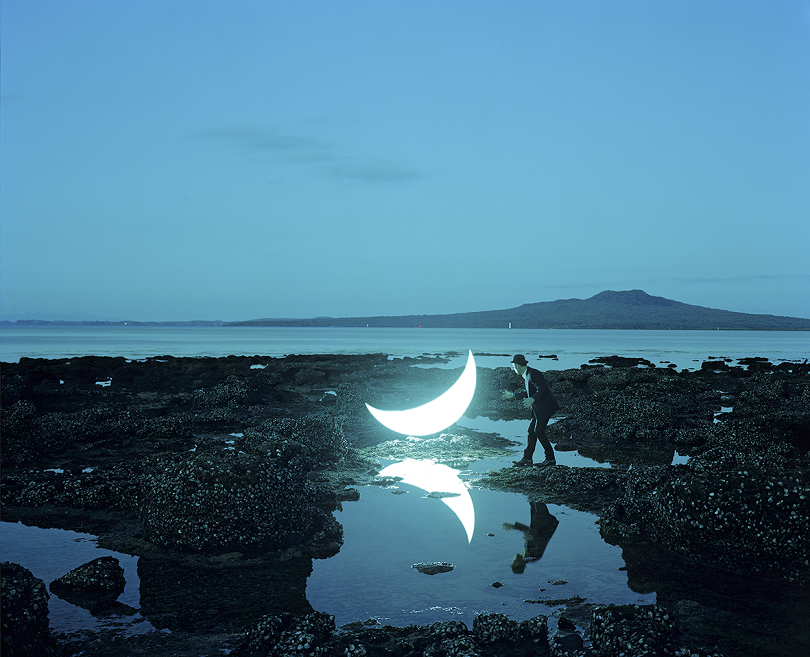 Leonid Tishkov 〈Private Moon〉 2020 acrylic, LED 125×250cm. Image Provided by Public Art
---
GWANGJU MEDIA ART FESTIVAL
[2020 Gwangju Media Art Festival: Aesthetic of Light and Coexistence]
10.6-10.18
Asia Culture Center
https://blog.naver.com/gmaf_official
---
The "Media Arts Creative City" of Gwangju is hosting a festival that focuses on the diversification, expansion, and popular appeal of art. Bearing the subtitle 《Media Art Playground Project》, the 2020 Gwangju Media Art Festival features work by 85 artists/artist teams from 26 countries. Through its main exhibition along with international exchange exhibition and special media façade exhibition events, the festival is to share a media art festival atmosphere in various locations around the city, encouraging active participation by residents as it affords an experience that returns media art and the democracy and peace plaza setting to the public.
---
The main exhibition, which focuses on the theme "Aesthetic of Light and Coexistence," adopts a pavilion format outside the Asia Culture Center as it shows work by Korean and overseas artists that contributes to reinforcing both the ACC's stature and Gwangju's identity as a Media Arts Creative City. Jeong Lok Lee presents a visualization of natural light upon a screen specially produced for the exhibition, while Seon Hooi Cheng, an artist who combines traditional painting with modern technology, contributes a self-illuminated two-dimensional work consisting of a metal structure with a canvas, objects, and LED lighting. Visitors can also see the work of Sanghwa Park, which has been designed to allow an actual experience with a natural forest setting, and AAA, an artist group that explores urban communities and the "private spaces" of people's lives. Kwangsuk Ha, an artist who has pursued an ongoing exploration of "truth within illusion," shares a work for this exhibition in which a screen has been installed on a pyramid structure to show images of nature as they pass through.
---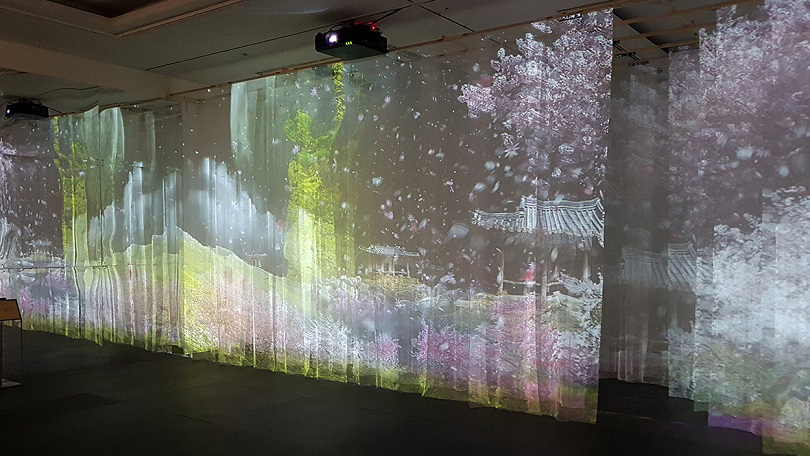 Installation view of Gwangju Media Art Festival. Image Provided by Public Art
---
The international exchange exhibition adopts the theme "Song of Coexistence," with booths set up for different countries in the ACC's open Asia Plaza setting for networking among artists from 16 countries. The special exhibition "Light of Gwangju" is a media façade exhibition focusing on the exterior of the former South Jeolla Provincial Office, with ongoing screenings of works by three artists to suit the image of Gwangju as a city of democracy, human rights, and peace. With the help of the 5·18 Archive, Yonghyun Lim reconfigures images from the May 1980 Democratization Movement (a UNESCO World Cultural Heritage) to encourage sympathies among past, present, and future generations. Seokjun Ha, an artist who actively experiments with new technology, plans to share assembled images of Gwangju's people and nature in different colors and forms, while Data+, a media art group led by Chung-Ang University Graduate School of Advanced Imaging Sciences, Multimedia & Film professor Unzi Kim, uses the latest media façade work combining lasers and projected image to symbolically present Gwangju's identity as a UNESCO-recognized Media Arts Creative City.
---
The festival portion consists of a nighttime "Light Variations" event combining media art screenings, performances, and participatory activities at the May 18 Democratic Plaza, as well as a daytime "Harmony of Light" event featuring a children's media art playground and bouncing playground in the same location. Also being organized is a media art parade combined with media art mapping, with the theme of "Gwangju Colored by Light."
---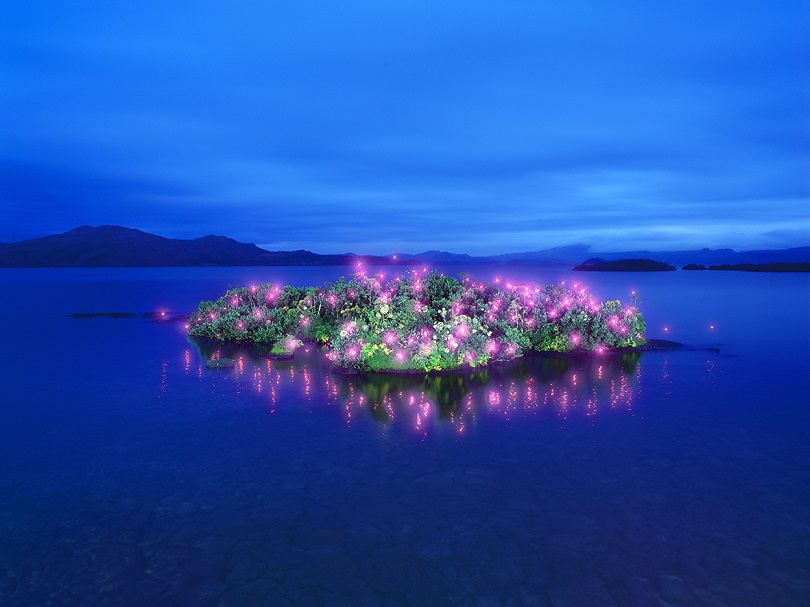 Jeongrok Lee 〈iceland 03-1〉 2020 single channel video. Image Provided by Public Art
---
Additionally, an interactive setting for Korean and overseas artists is to be provided as Gwangju's Art Street, Daein Market, and related institutions and private art museums are linked together under the theme "Light of the World." Other programs including the Rising Light: Rookie Exhibition for emerging and young artists and Light of the Future: Competitive Exhibition, featuring selected works from submissions by university students. A policy forum on the topic "UNESCO Media Arts Creative City and AI" is to bring together officials from Korea and overseas for discussions on convergence-based media art and urban policy.
---
"At a time of growing community anxieties and problems with social functions due to the COVID-19 situation, we pledge to do our very best to ensure a safe environment so that residents can enjoy the events without feeling concerned," said general director Ik Yoon.
---
Following the decision to extend Gwangju's Level 2 social distancing regimen during the last week of September, the indoor exhibition is to take place as originally scheduled from October 6, while the outdoor exhibition will be held a week later from October 14 to 18. Art is the star that shines brightest amid a dark reality. That festival can be experienced right now in Gwangju.
---
Sukjun Ha 2020. Image Provdied by Public Art
---
※ This article was originally published on the OCT 2020 issue of Public Art and is provided by the Korea Art Management Service under a content provision agreement with the magazine.
Mihye Kim
Public Art Editor