"I think that by 2030 it will possible for us to contribute to the international arts community on a global stage in academic or technical terms through archives, rather than simply representing Korean arts. Most of all, I think it will be possible for creators and individual organizations to operate their own permanent archive systems. If we can achieve this kind of systematic archive management, then we'll be able to play a major role in things like determining the authenticity of artwork, publishing catalogue raisonnés for artists, and publicizing the originality of Korean art."
Kim Dal-jin / Director, Korea Art Archive Association Kim Dal-jin is director of Kimdaljin Art Research and Counseling and the Kim Daljin Art Museum, editor of the monthly Seoul Art Guide, and director of the Korea Art Archive Association. He has worked in the archives of the National Museum of Contemporary Art, Korea (1981--96) and Gana Art Center (1996--2001) and served as vice chairman of the Korean Art Museum Curators Association (2011--13). He has written the book Looking at Korean Contemporary Art (1995) and co-written the book Twelve Stories of Art Exhibition Planners (2005). His past honors include the Artists' Day Art and Culture Contribution Award (2009), the Korean Culture and Arts Award (2010), and the Korean Art Publication Award (2014).
Mapping Korean Art Archives in the Year 2030
The KAAA (Korea Art Archive Association) recently celebrated its one-year anniversary. As a commemorative event, a regular symposium was held in November on the topic of "How to Create Economic Value from Cultural Archives," with attendees from different areas presenting their results from the past years and their plans for the future. We decided to visit KAAA director Kim Dal-jin to hear about the role of his organization and its issues and future tasks at a time when interest in art archiving is an all-time high in the Korean arts community. The interview took place at the Kim Daljin Art Museum in Hongji, a neighborhood in Seoul's Jongno district, just after work had finished on relocating archives to the National Museum of Modern and Contemporary Art.
Hwang Jung-in(H) : There's been a lot more interest in archives recently in the Korean arts community, and the launch of the KKAA seems to be a significant step to answer the demands of the times. What do you think is responsible for this interest in archiving? I'm also curious to hear how you view it.
Kim Dal-jin (K) : I think there are two main reasons for this attention to archiving. First, cultural pluralism has made it difficult for specific guiding ideas to take shape today, so artists and curators have been turning to archives as a foundation for creative activity. Second, people want to use archives as a way of looking at the contemporary situation and the process of creation, and grasp artists and their work within a historical context. One benefit of archives is that they can provide a richer sense of an exhibition's depth and content. There are times when they get it wrong -- when they just assemble a bunch of printed materials and books and call that an "archive."
It makes you think that people in the Korean arts community may have the wrong concept of archives, that there's a kind of pathological "fashion" taking shape. When people are showing archives, they often don't include enough of an explanation on the context in which they're being exhibited. So I think you have to distinguish between archive exhibitions and "archive-style" exhibitions. The History of Art Contests (2014), which was done by the Kim Daljin Art Museum, was an archive exhibition. It used books and pamphlets, posters, certificates, plaques, pictures, letters of appointment, and press reports for different contests in Korean history as a way of presenting the changes and context of those contests over the years in terms of major contemporary events and issues. People often confuse archives with simple records. The important things with an archive are the uniqueness and the fact that these are originals. It's not just about showing old records. It's about using the appropriate evidentiary materials to reconfigure past events from a contemporary perspective, so that you're generating a discourse and increase their scholarly value.

H : One of the big issues for the arts communities in Korea and overseas right now is the digitizing of archive materials. It seems like in methodological terms, there would be a lot of different ways for companies to offer their support, in terms of things like technology or specialized support from technicians. It also seems like the KAAA could serve as a kind of "archiving adviser" matching companies with organizations.
K : It would be nice if we could match companies and organizations, but that's not really how it works. First of all, even the KAAA doesn't really have the staff it needs for marketing duties. We see archives as a huge cultural resource and as content, but for corporations, which are obliged to draw clear distinctions between inputs and outputs, they're still going to seem kind of strange. In practical terms, it's not easy to do things simply because of what they represent. The problem is that people recognize the importance of discovering and preserving the historical value of these materials, but they don't see any money in it. With artwork, you can look it in terms of its investment value, but that doesn't work for archives, which means they end up far down on the priority list. Even organizations that specialize in visual arts have less than one percent of their total budget set aside for archive purchases. Their focus is on buying or exhibiting work on a limited budget, and that ends up getting in the way of building an archive.
The things I think of in terms of archiving advice have to do with ideas on records management at the state level, corporation efforts to build history museums, or archive construction for emerging culture or arts organizations. But when you consider what the KAAA's founding purpose is and what kind of membership it has, those kinds of activities are going to be less important that the association's major efforts. I certainly think we'd be happy to participate if there was a request from outside.
H : In other countries, where people have recognized the importance of archiving and worked to develop it, there have been associations and groups formed as alliances which have been busy doing exchanges. In contrast, Korea doesn't have much in terms of archiving organizations, department, and experts, so it's significant to have an organization like KAAA formed by small-scale archivists and experts coming together voluntarily. In that sense, what do you see as KAAA's biggest role?
K : The biggest role that KAAA plays may be as a platform connecting experts who are working in different areas. In Korea, there isn't really a class of archiving experts from culture and arts organizations. And the people who have been recognized as experts and are working today can't really focus on archiving research alone because of a lot of practical concerns. In an environment like that, I think the most important role for the association involves increasing the number of experts and linking them together -- however slow the process -- so that archiving research can take place on an ongoing basis.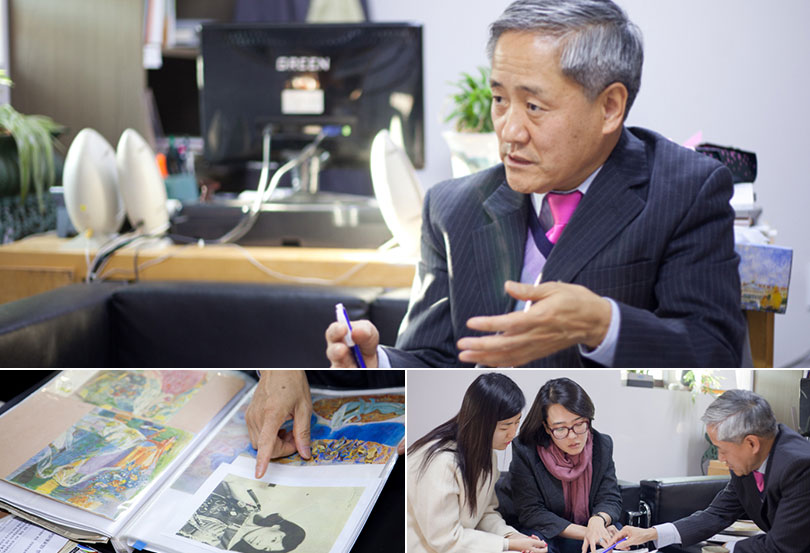 H : If we're talking about art archives, we also have to talk about archivists. I've heard about past and ongoing support programs for art museum specialists, including younger interns, curators, educators, and specialist art commentators. I'd like to hear your thoughts in terms of the need for future support for archivists. Also, what do you think should be given priority consideration in organizational and personnel terms if there is support from the government?
K : The first thing you need in terms of support for archivists is a consensus among all the different departments on the need for archiving. Records and archives are chiefly produced by curating and promotion teams, so it's tough for artists to do meaningful work without support from other departments. That requires a commitment to archive building from the organization head, and it requires practical steps in terms of things like drafting operational manuals for individual organizations. At the same time, the people who are planning to become archivists need professional training in archiving and art history that will give them an in-depth understanding of the organizations where they're going to be working. They need to see archiving as an essential element in broadening the scope of an organization's activities while still honoring its founding goals. As someone working on the ground, the archivist needs to be able to respond quickly to changes in recording media and the web environment as digital technology develops.
I think people in the art community today see archiving as something that is used internally by the organization -- a kind of "finishing-up" process that the archivist does once the exhibition is over. It's important of have a system where each museum has an official archivist position, the way curators were established at art museums in the past. Actually, KAAA has gotten requests from a lot of organizations asking for archive counseling or support in terms of personnel and management.
The most pressing issue when it comes to archive management is standardization. The National Library of Korea has set up the Korean Library Information System Network (KOLIS-NET), which is an integrated database for information on national public library holdings. So what it's done is to create a network for sharing information between libraries. I think art archives need a similar program for integrated management. Right now, the MMCA is managing its archives with an Archive Management System (AMS), and KAAA is talking about possible approaches for distributing and standardizing it. There's a more or less total lack of archivists in Korean arts today, so it's pretty much essential to achieve this kind of archive management and management standardizing by instituting the AMS program. I think that if we can continue parlaying this interest in and support for archiving in the arts community into an ongoing debate, things will improve. State organizations have legal stipulations about the hiring of record managers. In those terms, I think the issue of hiring archivists at art institutions can be handled through government policy and operational support.
H : I'm curious about what foreign associations or groups KAAA is interested in terms of overseas exchange. Do you have any plans for international exchange with overseas organizations?
K : First of all, we're considering an exchange program with the Art Archive Committee of the ARLIS (Art Libraries Society) for the UK and Ireland. ARLIS was launched in 1969, and the Art Archive Committee has existed since 1995. KAAA's academic subcommittee is planning to translate and publish some of its research in the first half of next year, which we want to use in developing greater substance as an organization and gradually expanding our overseas exchanges. We're also considering exchanges with the AAA (Asia Art Archives) in Hong Kong and the Japan Art Documentation Society, which are relatively close by.
H : The booklet for the regular symposium on November 24 included some long-term plans for your future activities. If the different subdivision's plans for the next fifteen years are carried out on a stage-by-stage basis, what kind of changes do you predict for the Korean arts environment by the year 2030?
K : It hasn't been all that long since KAAA first started undertaking the role of platform for Korean professionals. But if the project plans for the different subcommittees do go forward on a fifteen-year basis, then I think that by 2030 it will possible for us to contribute to the international arts community on a global stage in academic or technical terms through archives, rather than simply representing Korean arts. Most of all, I think it will be possible for creators and individual organizations to operate their own permanent archive systems. If we can achieve this kind of systematic archive management, then we'll be able to play a major role in things like determining the authenticity of artwork, publishing catalogue raisonnés for artists, and publicizing the originality of Korean art.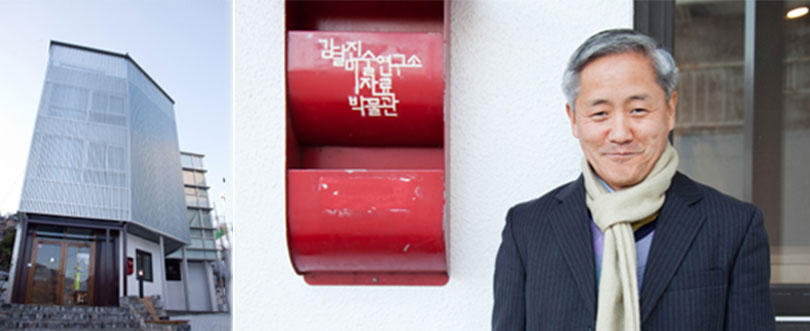 Interview Recorder_Jeong Gong-ju Jeong Gong-ju graduated from Myongji University in art history and majored in cultural resource archiving at the university's Graduate School of Records, Archives & Information Science. She worked as a invited researcher at the Korean Women's Development Institute. Currently, she is an archivist and guest editor for meetingroom's archive section.

Hwang Jung-in / Editor-in-Chief, meetingroom
Hwang Jung-in worked as a curator for Savina Museum between 2003 and 2009. She is currently curator for the Sarubia Dabang and editor-in-chief of the online curatorial research platform meetingroom.co.kr​