Hyun: You had an individual exhibition in the early 1970's and started "Reality and Remarks" in the 80's so there is a certain time gap between the two events.
Joo: Between the two, I had to earn a living. Sim Wu-seong, a high school friend, founded the Korean Folk Drama Institute and I came to work there as his assistant. Working at the institute, I carried out lots of research on folklore documents. I worked on them at the library and I also published pocketbooks. For example, in the frame work of 『The Folklore Studies Series』, I wrote published books about documents, music, literary works, and the Donghak Peasant Revolution. The institute was also frequented by those from the cultural milieu. One of Wu-seong's colleagues was working in the publishing industry and he came to serve as the chief editor of a monthly magazine called [Reading Life] and he asked me to work with him. This was how I started working in the publishing industry. The magazine's articles were very serious so there weren't many readers and the magazine didn't last long. It was very boring to proof read the articles. The work also required knowledge of foreign languages including Japanese. I didn't have that knowledge so it was burdensome. As I was thinking that I would change my job, the first issue of another monthly magazine called [Art and Life] was published in Mapo. I think up to ten issues were made. Dr. Im Young-bang was the chief editor, Seong Wan-kyung, the editor, Yun Beom-moh, the executive editor and the poet Hwang Myeong-geol, the head of the editorial office. The magazine needed a person and I started working there as a journalist in 1977. But the office was shut down a couple of months later due to its financial problems. It was at that time I came to know lots of artists. As I kept meeting with them, I realized that Korean artists have lots of things to complain about. This was how the exhibition《Reality and Remarks》 was created. Professor Seong Wan-kyung, Won Dong-seok, Choi Min, Yun Beom-moh and other producers of discourses greatly contributed to the exhibition as well.
Joo Jae-hwan_A Stowaway's Smile_colored pencil_paper_2000_Reproduced in 2009_Photo by Hwang Sa-ra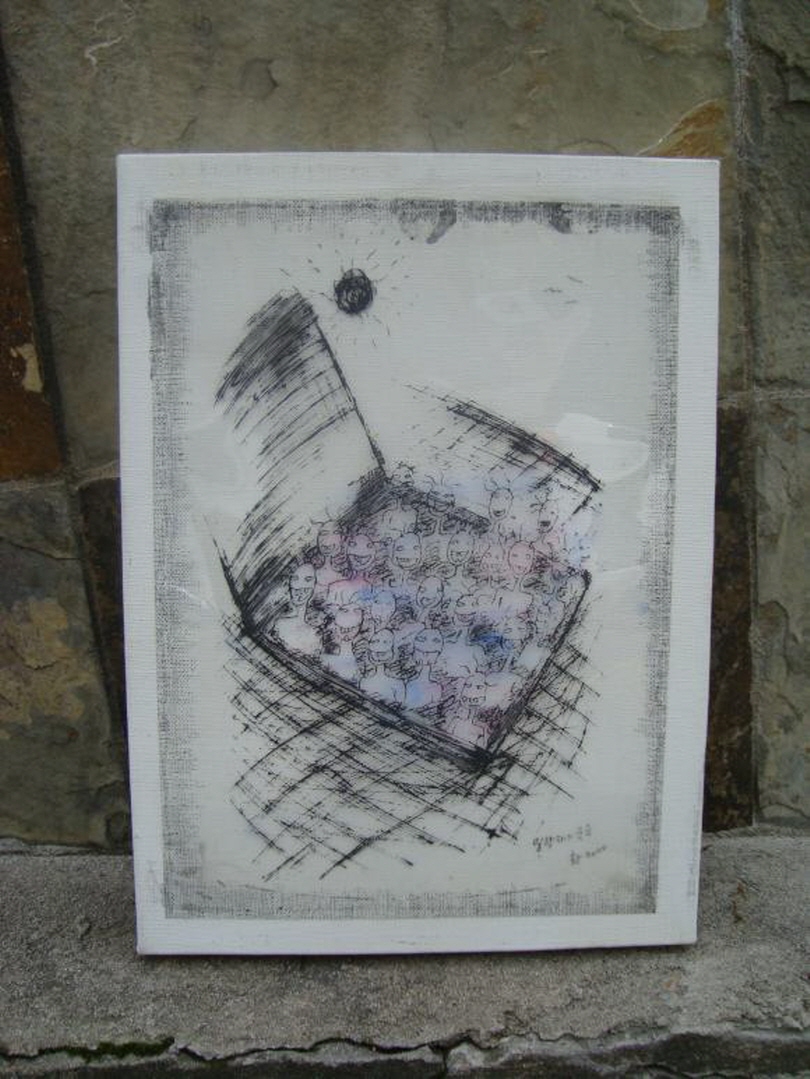 Hyun: Working as an editor or a journalist, did you also draw on the side?
Joo: Yes. But almost all of the works I created at that time were gone. I lost them, a cat bit them or the works deteriorated or were torn. I'm not good at keeping them. In my 50's, I had my own studio for the first time. I dreamed of becoming a painter during my adolescence but if you are over 50, how much would you do? I think that the direction of an artists' works depend on his or her living conditions. If I had been born to a rich family, I wouldn't have drawn such paintings. A person's victim mentality and pent-up anger could be expressed as either sugarcoated pills or raw food. I have gone through life's obstacles, during the Japanese colonial period for example, and my family background is somewhat complicated. Would that be called "trauma"? I feel that it was deep under my skin. For me, drawing a picture is a process of cleaning myself out. Putting paint on the brush could be compared to spitting to clear my throat. In other words, drawing is a sort of a reflex action taken to strike the balance in my body and heart. I'm never a person of esthetics and theories. I started artistic activities on the occasion of "Reality and Remarks." I had my first studio in my 50's so I naturally had my first individual exhibition late in life. I was working in my underground studio in Ilsan and Hwang Se-jun, Baek Ji-suk and Park Chan-kyung from Art Space Pool visited the place often. Thanks to these younger friends, I was able to have my individual exhibition at Artsonje Center in 2000.
Hyun: After having your first studio in Ilsan, you stayed in the area for quite a long time and since November 2011, you have been at the Gyeonggi Creation Center
Joo: It is the first time I've ever used a place like this. It is quiet, the air is clean and I have many chances to meet and network with young artists. I chose the right place. Since the 1990's, exhibitions have tended to be led by exhibition planners. Most of the planners are artists in their 30's or 40's. They would rather focus on their colleagues or younger artists. If you are an artist over 50, it becomes hard for you to draw attention from the planners. If you get older, you have a higher risk of being excluded, though there would be some exceptional cases. If you are excluded, you feel depressed, sad and lose your desire to create. This seems to be a natural process so I suggest that the government or art galleries run a "silver gallery", in an attempt to pay attention to aged artists and to comfort those who have created throughout their life. Simply put, I believe that art galleries should encourage aged artists to create instead of concentrating too much on the young.
Hyun: You could serve as the director of the silver gallery
Joo: Great idea! Hahaha... Great!
Hyun: You could serve as the director of the silver gallery
Joo: This is what I meant. Some intellectuals have led a movement to discourage children from reading biographies of great people. For example, not everyone can be Einstein or Newton. There are statues of Yi Sun-shin and King Sejong but few people take a close look at them. Common people are just too busy making ends meet. But consider this. Someone saves the life of a person falling from the subway platform. Others dedicate themselves to a life in the medical service. To summarize, there are ordinary heroes, ordinary righteous people and those who help the socially excluded throughout their lives. Still others have donated their lifelong savings for a scholarship. Then, how about making a park dedicated to them so people can look at these "ordinary great people"? They would feel familiar with these ordinary heroes whose ideas would be instilled into their mind. It would be a way of natural and live education. I think that we need a park like this to create a ripple effect. Today, we are living in a world where the law of the jungle applies and everyone wants to become the best. My idea is to make a park that would help us calm down under these circumstances.
Hyun: You have lots of such ideas, don't you?
Joo: Yes, but what would I do with those ideas? Putting them into practice requires a network of people. To be more specific, your alumni need to be in diverse key positions. But if a dropout like me suggests an idea, people say, "Who are you?" So it doesn't work. Haha... I suggested to Arko Art Center that it hold an exhibition in collaboration with Seoul National University Hospital and that it should think outside of the box and organize an exhibition not focused on a particular artist. There are many hobbies shown in the TV show "Can It Happen in the World?" For example, some people create something special with matches. I want these works to be exhibited. Sophisticated discourses that you never understand just cause a headache. Those who create as a hobby are all taxpayers and I want art galleries to give them an opportunity to exhibit their works.
Hyun: It would be great if you planned an exhibition like that.
Joo: If I have a chance, I want to do so. I could also collaborate with someone. I want something unconventional and exciting. This is how we can expand the boundary of art. I mean that we need to do away with current practices. For example, we should stop evaluating an artist just by the number of his or her individual exhibitions and prizes awarded. We should not insist only on the current narrow mindset.
Joo Jae-hwan_Pregnancy of a Ghost_black plastic bag, newspaper, three-dimensional structure_2012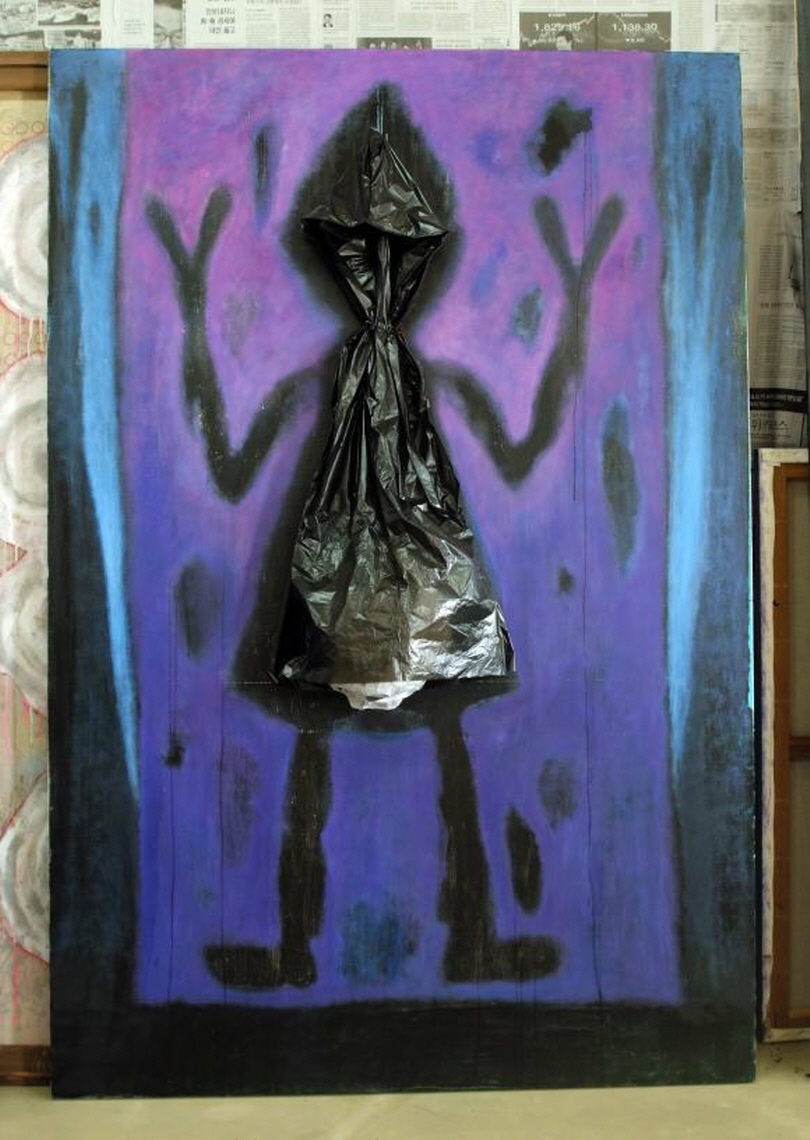 Joo Jae-hwan_Deadly Poison_acrylics on canvas, blue paint, paper cup_2012
Hyun: Your individual exhibition is around the corner. How are you preparing for it?
Joo: The exhibition will take place at Kwanhoon Gallery from November 30 to December 25. There will be old and new works including oil paintings, installation works, Photoshop works, photos, complex materials and paper works. I have also invited other artists. They are the four artists who belong to the Gyeonggi Creation Center. For example, there will be a work created by Kim Tae-gyun to pay his respects to the souls of the boys who regrettably died long ago at Seongamdo Juvenile Hall located across from the Gyeonggi Creation Center. Meanwhile, Park Eun-young will screen a video of butoh, a form of Japanese contemporary dance known as the "dance of death", "Ode to Pure Blood", a poem written by Park Si-gyo, a seasoned poet, will also be exhibited. The three works will constitute a chord to play a kind of requiem. The sound art created by Lee Dae-il will be added to my installation work. Son Min-ah will exhibit a work giving a message about the exorbitant prices of paintings at overseas auctions.
On October 25, 2012, in Joo Jae-hwan's studio at the Gyeonggi Creation Center, there was a new work called "What I Am Proud Is Only the Garbage I Have Thrown Away." There were also newspapers, fallen leaves, oil paints, various books, a newspaper page where Mr. Joo's friend appears and today's memos. For several years, I have wanted to remember what Mr. Joo said and his way of speaking for a long time. Writing down this interview, I came to think that his stories require detailed footnotes.

Seewon Hyun
Working as an independent curator, she plans exhibitions and writes on images and art.