The installation artist Koo Jeong A has wandered the globe creating peculiar "worlds" that look like nothing anywhere. They are places where expressionless characters dance amid fluorescent green and pink lights flickering in the darkness, worlds created by slightly twisting the structures and elements in everyday spaces and by carefully, meticulously rearranging ordinary objects. Her first-ever solo exhibition in Korea, ajeongkoo (Art Sonje Center, August 26–October 22) stealthily reveals her journey, foregrounding the "Ousss" she has explored over the past two decades or so. Used as an affix for specific places and people, this newly minted keyword transports us into Koo's new world of transformation.
Koo Jeong A Born in Seoul in 1967. Solo exhibitions at Art Sonje Center (2017), FRAC Marseille (2016), Yuz Museum Shanghai Project Room (2016), London's Charing Cross Station (ICA Art Night 2016), Korean Cultural Centre (UK, 2016), Pilar Corrias (London, 2016), Everton Park (Liverpool, 2015), Fondazione La Raia (Milan, 2014), and the Dusseldorf Kunsthalle (2012). Her work has also appeared in Mondialite (Fondation Boghossian, Brussels, 2017), So Above, So Below (Museum of Modern Art Ireland, Dublin, 2017), the São Paulo Biennial (2016), Take Me (I'm Yours) (Kunsthal Charlottenborg, Copenhagen, 2016), and The World in 2015 (Beijing UCCA 2015).
Koo Jeong A has created her own unique worlds by capturing scenes from daily life and rearranging the structures and elements of everyday objects in meticulous and detailed ways. The name of her first Korean solo exhibition ajeongkoo is both a reversal of the elements in her name and the name of a "zone" (koo in Korean) of unreality conjured up in the artist's imagination. On display for the first time are her Dr. Vogt series, consisting of pen drawings around the surrounding walls of a gallery floor lit in fluorescent pink, and the new 3D animation works MYSTERIOUSSS and CURIOUSSSA, in which characters resembling fetuses swim through space above a massive LED panel. I see Koo Jeong A's work as rejecting a world of transparency and universality and sharing her own unique transformation stories within the dynamism of life as created through relationships. In this essay, I will use "0" to refer to Koo's artistic journey and "1" to refer to the theories and stories of philosophers, curators, and the artist herself. In establishing a dialogue between "0" and "1," I attempt to give shape to the connection with the different worlds the artist pursues.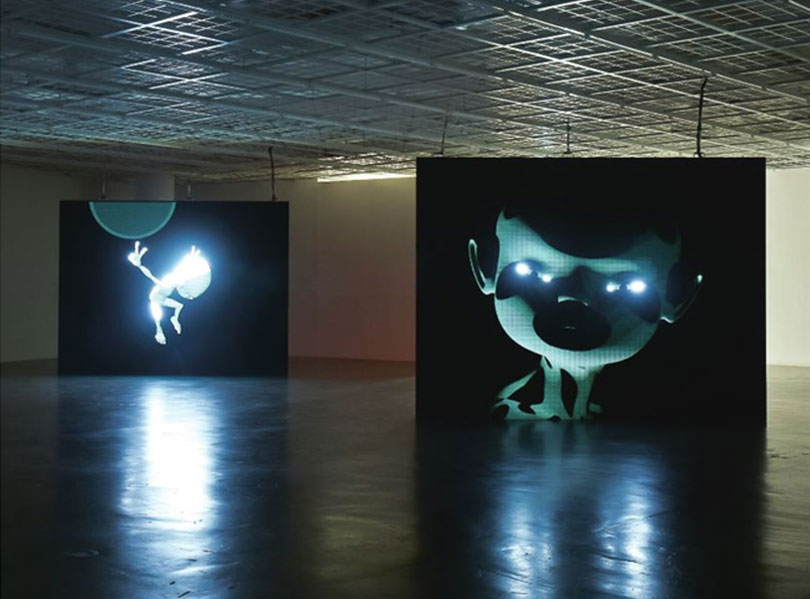 0. "Ousss" is both root and affix. At the same time, "ousss" is a stem and a suffix. It is formed and used. There was no way of knowing what it was when it first emerged in 1998, but now we may be able to call it an unseen reality. It is both matter and energy—and a certain state. It is shorthand for the sound of breath coming all of a sudden, the breath we catch as we try to gather our senses. Simultaneously, it is like a sign of approaching some indescribable dream. But there is no way for anyone to know this. It is the mark of a world that exists contrarily in the cracks of our own world, one that has never been realized but cannot be realized. It may be space that is not space, a world that is not a world, a person that is not a person. "Ousss" flows like a cloud in the sky, and goes to work when it is perceived within someone.
1. Georges Perec discusses approaching the everyday from inside rather than outside in his 1973 work "Approaches to What?" (1973). He urges us to pay heed to our own everyday habits rather than the external stories we glean through the media. He speaks no longer of the "exotic," but of the "endotic." Perec asks us to "question our teaspoons," viewing the everyday neither as ordinary or without value nor as anything astonishing or marvelous. It is not extraordinary, perceived from outside (exo-), but infra-ordinary, discovered from within (endo-). He also asks us to create our own private anthropology.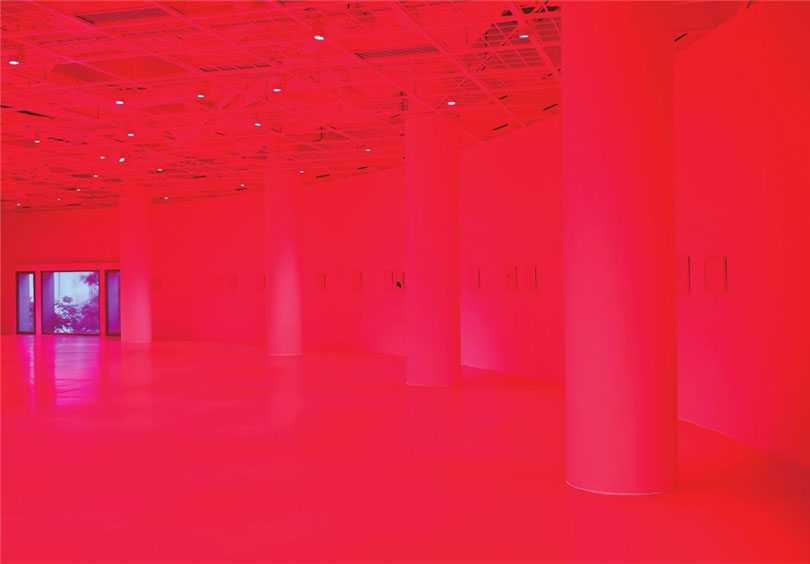 The Infra-Ordinary Found Within
0. Koo Jeong A previously presented over 700 works of photography with her 2004 works Club Koo and Wednesday. Taken between 1992 and 2004, the photographs show traces of both her artistic and personal lives. Though not explicit, it becomes the story of the similar yet different lives that she and we lead. In 2009, she laid over 100 paintings on the floor under the title New Song, O, allowing viewers to encounter the works while walking through their midst. Fragments of the everyday emerged like phantoms, as a melody played from a flute without holes.
1. In The Poetics of Space, Gaston Bachelard tells us that there are "no houses in Paris." Intended as a critique of the apartment as residential mechanism, his words point to the raggedness our lives come to assume, stripped of the private values condensed within the house in its traditional sense. To Bachelard, a house was neither a way of showing wealth nor simply a designed physical space. Instead, it was the only place capable of giving us the courage to face the world, of creating a reason to live in the world, and thus a place for discovering our own reason for being. But now, he says, there are no houses.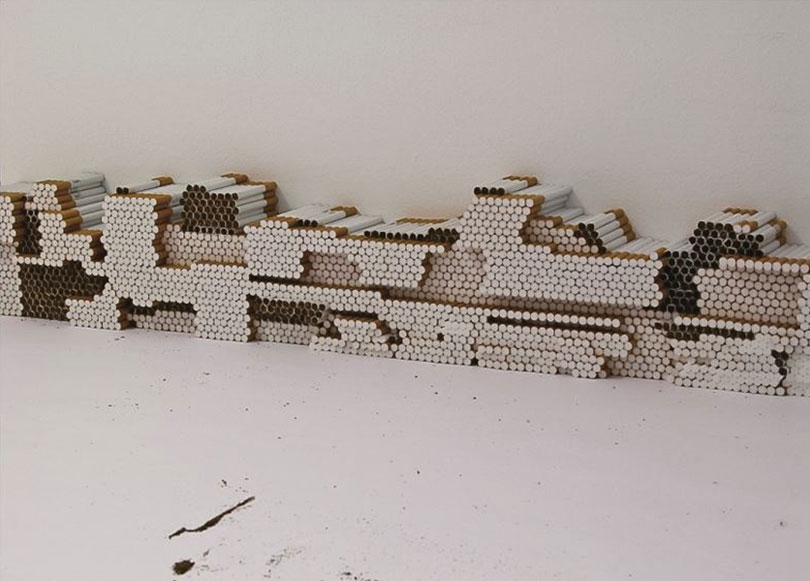 1. In Inside the White Cube, Brian O'Doherty criticizes the white spaces of galleries and art museums. Invented as the religious spaces of contemporary art, they are places without exteriors, devices created purely for art. Exhibition mechanisms as worlds without an outside, the white cubes reveal only the work's independence and purity within an insular eternity, cultivating artistic transcendence. They hold an allure in the way they transcend history and time, yet they admit no one. Whiteness exalts that. Here, there is no specificity of life.
0. Ahead of the opening of an exhibition at one Vienna gallery, Koo Jeong A had herself live in the space for 24 hours, rearranging and installing the by-products of her experience. Placed in small groups within the space were works of what might be called art, together with the by-products used to make the artwork. It was unclear whether it was a gallery or the artist K's workshop. The space of utter whiteness conflicts with the exhibition remnants. The remnants harbor her secrets, yet do not speak. Piles of cigarette butts, cigarette packs rearranged at one corner of the floor, plastic covers, wrappings—the moments of the day that she spent. At this place of incongruence, we experience a different time. A new space is created between the traces of the time that she spent and the time when we are standing there. It is not clear why she chose to call the exhibition 3355; it could be a code name for entering that space, or it could mean "threes and fives" in the sense of the remnants' autonomous gathering.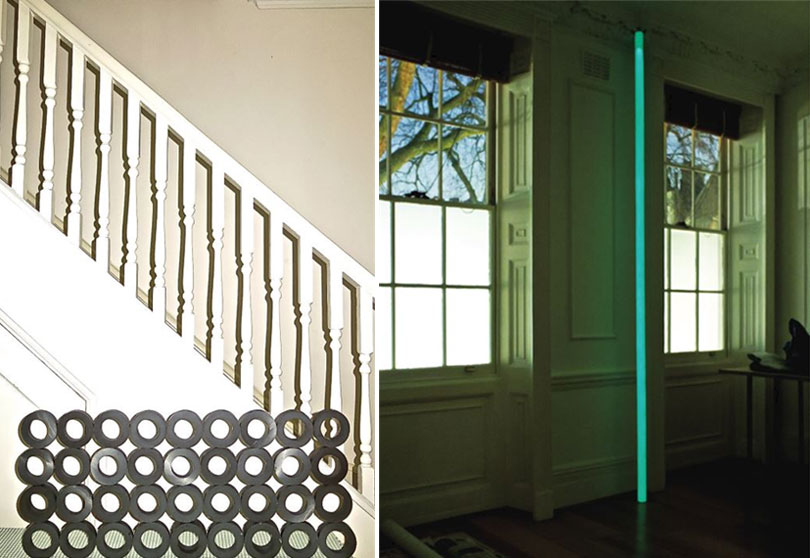 1. In 1919, Marcel Duchamp produced Air de Paris, a sealed glass container containing Paris air. His poetic praise of Paris was forever sealed away.
0. In 2008, Koo Jeong A invited people to Saturn with the scent of naphthalene. The naphthalene evaporates and disappears forever—as does one of Saturn's fifty moons.
1. Man Ray's photograph Dust Breeding (1920) shows layers of dust on the lower back surface of Marcel Duchamp's Large Glass (1915–23). The dust particles on the back of this work—also known by the title The Bride Stripped Bare by Her Bachelors, Even—are recorded in a two-hour exposure. Showing what seems like some old South American ruins or the surface of the moon, the picture was taken before the dust was fixed to the back sheet of glass. In a note, Duchamp is said to have written, "To raise dust on Dust-Glasses for 4 months, 6 months. Which you close up afterwards hermetically."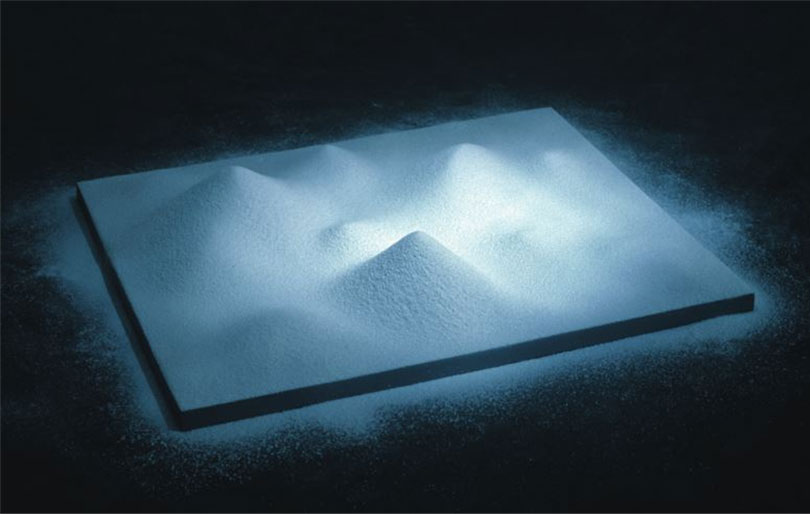 0. Koo Jeong A grinds aspirin into a fine powder and slowly pours it onto a low cuboidal platform. Layered like the texture of time, the fine powder becomes mountains, hills, a snowy field under the blue lights. With this powder, produced by grinding down dust and rock that have been gathered over time, she poses a fundamental question about mountains. Yet the mountain does not vaunt its presence. A massive chandelier, created for the exhibition by the artist and a local artisan, is installed on the floor of the sealed space; hundreds of candles are lit. Throughout the exhibition, the candles emanate scents of smoked wood and mushroom. Wax drippings flow down and form layers on the floor, the spreading soot in the art permeating the ceiling, walls, and ground. We need to hear it with our eyes, smell it with our ears, see it with our nose. Everything is unclear.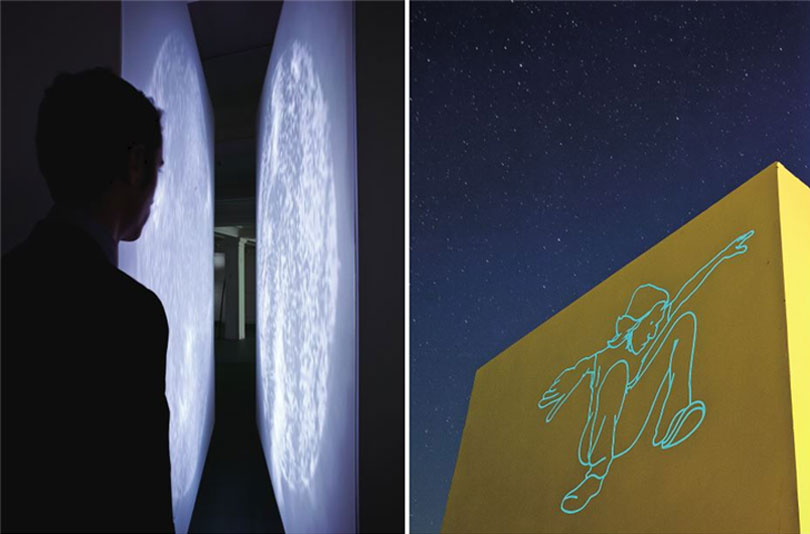 0. We still have no way of knowing what exactly "ousss" is, but it is the name for world that is the same yet other, differing in time and space like a parallel universe. It is also a story of the future and something tied to dreams. It interests us because the future and dreams never do come to pass, nor could they ever. It is not merely a matter of wordplay—and what if it were? In the artist's self-made dictionary Flammariousss, "ousss" is defined as follows.
0. Dr. Vogt is an ophthalmologist who lived in Zurich in the 1930s. He was one of many ophthalmologists who examined and operated on James Joyce's eyes. Dr. Vogt was also one of many doctors. "Oussser" emerged one moonlit night 16 years after the uncharted territory of "ousss" first became known. At first glance, it looks like someone riding a surfboard; look again, and it resembles a skateboarder. Whoever it is, he emerges not as a boy collapsed on the ground, but as the image of a boy in flight—soaring somewhere beyond.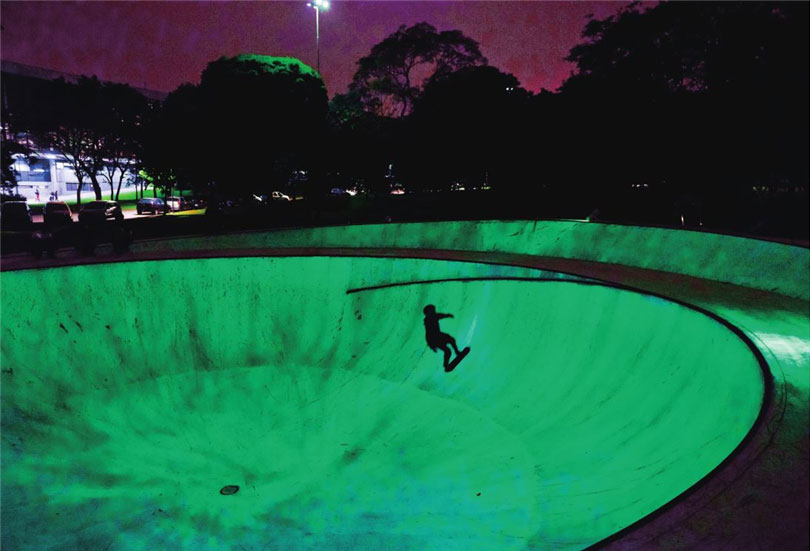 "Objects" That Are Both Places and Sculptures
0. These three objects give off their own light in the darkness. This is a place and at the same a sculpture. It is also a skateboard park. OTRO is situated on an island in a lake. Delving below the earth's surface, it creates a space as its ovoid curves form rises and falls. EVERTRO is a sports park in a poor urban neighborhood. Seemingly surging above the surface, it reveals its physical presence. RROGATION is situated in the central park of a big city. ARROGATION burrows below the ground like a diamond mine. Countless "Ousssers" gather here, and a new "Oussser" is born. They amplify their freedom between darkness and light, and then they depart for a different world.
0+1. We have talked before of "ousssology" and "ousssgood." The artist has described "ousssology" as a pleasant cultural event and an invitation to produce meaning. I thought the "good" was more interesting than the "-ology" suffix. Nevertheless, I expected that the two worlds could reinvent different layers of meaning between adjective and noun.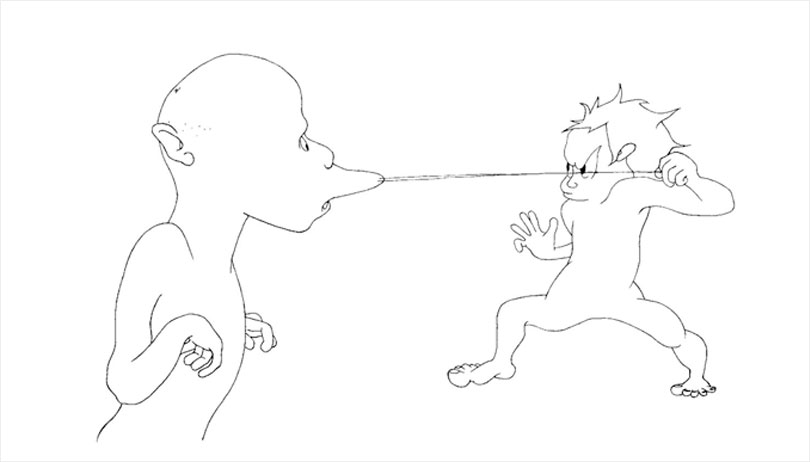 Koo Jeong A also made reference to Goethe as a botanist. Finding a rose with a new stem growing where a stamen should have been, Goethe described the flower as a transformed version of a leaf. Seeing this plant transformation, he called for a new union between science and poetry. The meeting of two mysterious and special words, he said, would guide us to a new, never-before-experienced dimension. Then, he believed, we would be able to write shared poetry.
Koo Jeong A's worlds are not unitary. They are vague, receding as we approach them. A mysterious lack of transparency is ever present in her work. But it is not something special and divorced from us—it is discovered within a certain strangeness and illusion, an imagination and wonder that accompany reality. In this sense, we should recall the words of Edouard Glissant, who writes in his book Poetics of Relations that "one who is errant (who is no longer traveler, discoverer, or conqueror) strives to know the totality of the world yet already knows that he will never accomplish this—and knows that it is precisely where the threatened beauty of the world resides." If the world's beauty is under threat, it is because of the desire for identity among those us of seeking to see the world clearly. Glissant's wanderer does not pursue that identity; he tries to find the meaning of creation in the chaos and newness of relationships forming, uprooted. He is neither original nor regressive. He creates his own song through experiences in an unpredictable world. And he forms new, future relations there. This is where the world's beauty may lie.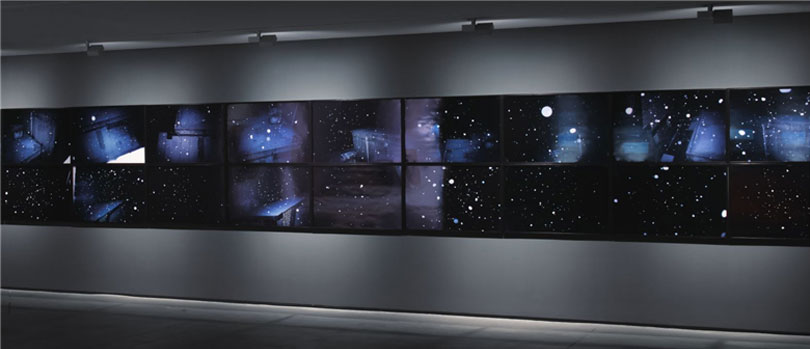 The artist has said that she lives and works "somewhere or everywhere." The reason this is not mere rhetoric is because she confronts the world through chains of relations, and thereby shapes an identity of wandering or drifting. On one hand, this is a rejection of a world of guaranteed clarity and universality. Yet it can also be described as her story of transformation amid the dynamism of life created by relationships. This is by no means reductive. Instead, it is fantastic. She remains within the non-transparent, rejecting the unseen violence wrought by homogeneity and delving into the hybridism through the medium of relationships.
※ This article was originally published in Art in Culture magazine (November 2017) and reprinted under authority of a MOU between KAMS and Art in Culture.


Kim Jang un / Art Critic
Jang Un Kim is a curator and art critic. After studying art theory and cultural theory, in 2000, Kim started working as an editor for the monthly journal art (now Art in Culture). Kim has served as curator of Art Space Pool (2001–2002) and Anyang Public Art Foundation (2006–2007), Position Papers' curator at the 7th Gwangju Biennale (2008), adjunct professor at Kaywon University of Art and Design(2011-2014), and Senior Curator, the head of Exhibition Team 2 at National Museum of Modern and Contemporary Art, Seoul (2014–2016). His curatorial projects include World of Xijing (National Museum of Modern and Contemporary Art, Seoul, 2015); Asteroid G, a collaboration with Sora Kim, Choon Choi, and Lee Juna (Geumseong Drain Facility, Gongju, 2013); Fiction Walk: National Museum of Contemporary Art (National Museum of Modern and Contemporary Art, Gwacheon, 2012); Yiso Bahc: Lines of Flight (co-curator; Art Sonje Center, Seoul, 2011); The Adventure of Mr. Kim and Mr. Lee (directed by Chung Seoyoung; LIG Art Hall, Seoul, 2010); and the distribution for the illegal at Platform 2009 (Kimusa, the site of the former Defense Security Command, Seoul, 2009). From 2005 to 2008, Kim was a member of the collective Friendly Enemies with Hyunjin Kim, Haegue Yang, and Jewyo Rhii, and from 2004 to 2008, of Pidgin Collective with Frédéric Michon and Minouk Lim. In 2009, he formed normal type, an independent contemporary art lab which continued until 2013. His essays on art are published in the book On the Shores of the Contemporary Art and the Politics (Hyunsil munhwa, 2012).