Minjung Kim is a female artist actively producing works in Europe.
She majored in Oriental Painting in South Korea before heading to Europe to learn of the Western arts. Immersed in the connectivity between the fundamental elements of Western and Oriental art, she was able to finally establish a methodology of her own. She would burn hanji to create ink lines, before placing the pieces of hanji in a collage to create a minimalist abstract. She featured papers and ink as the source of her art, while infusing some more contemporary traits. Essentially, her art centers around the practice of fusing together the East and the West to represent the best of both worlds. Her private exhibition, 《The Memory of Process》 (Jan. 26 to Mar. 10) at White Cube, London, illuminates upon Kim's artistic approach and mindset.
---
Minjung Kim
Born in 1962 in Gwangju, South Korea. Received Bachelor's Degree from the College of Fine Arts at Hongik University, then Master's Degree at Brera Academy in Milano, Italy. Hosted private exhibitions at White Cube London (2018), Gallery Hyundai (2017), Fondation d'entreprise Hermès Singapore (2017), Patrick Heide Contemporary Art London (2017), OCI Museum (2015), MAXXI Rome (2012), Fondazione Palazzo Bricherasio Torino (2006) and more. Partook in group exhibitions, such as 《The Mulberry Forest Becoming Ocean》 (Esther Schipper Berlin, 2017), 《Viewing the Past Thru Modern Eyes》 (Kang Collection Korean Art New York, 2016), 《Prospects and interiors-cultors drawings》 (Henry Moore Institute Nice, 2008), the 《5th Gwangju Biennale》 (2004) and more.Currently works in New York, USA, and southern France.
---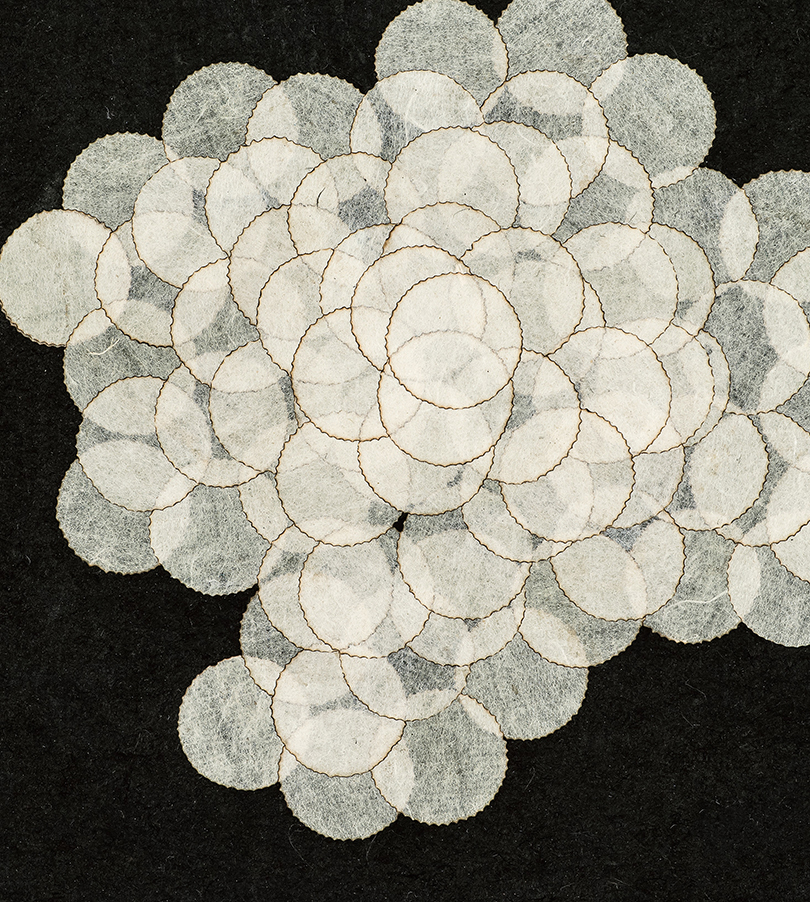 〈Petal〉, 2017. Mixed media on Hanji, 25.5 × 27 cm (partial)
---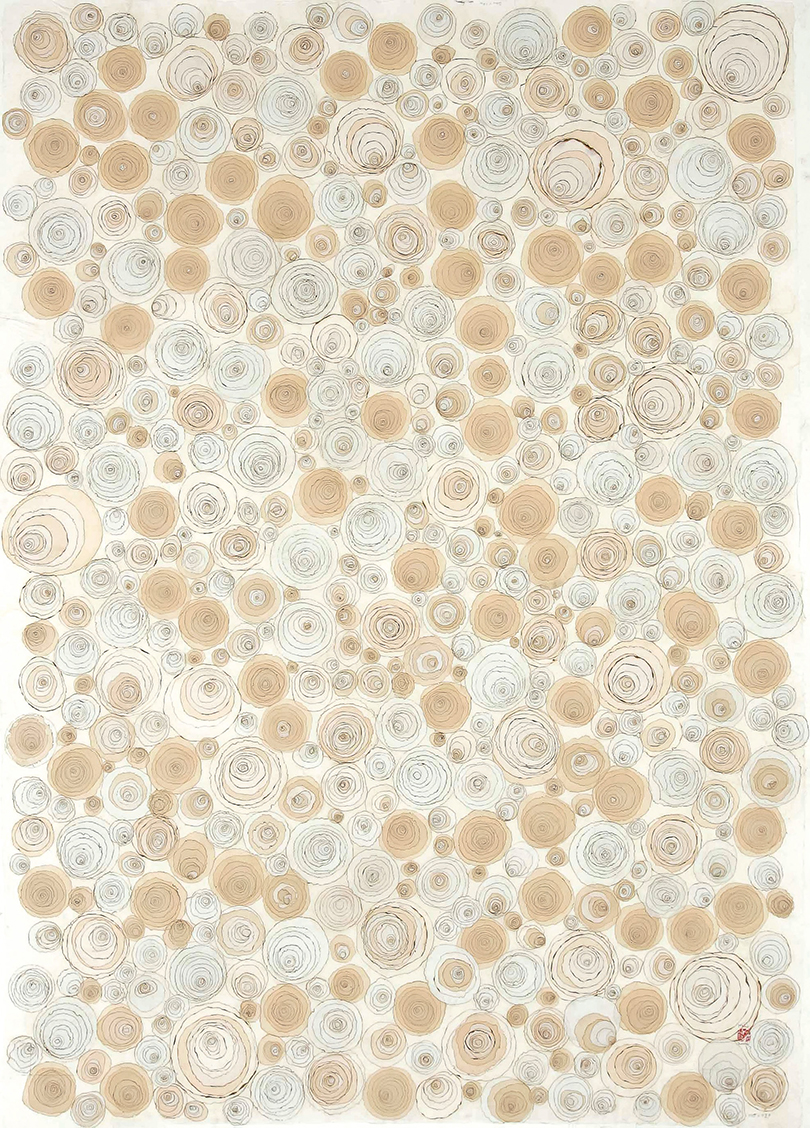 〈Fullness on Fullness〉, 2006. Mixed media on Hanji, 195 × 139 cm
---
---
Exemplary Model of "East Meets West" in the 21st Century
---
#. Integration of the Oriental Mind with Western Form
---
Art At her solo exhibition at White Cube London, Minjung Kim featured a retrospective set of works, from 〈Void in Fullness〉, created in the 2000s, to 〈Mountain〉, 〈The Room〉, 〈Dobae〉, and other recent works. In her early days living in Gwangju, Minjung was trained by the watercolor artist, Yeongyun Kang, and established her foothold in the traditional arts by acquiring the fundamentals and knowledge of both Oriental art and calligraphy at Hongik University. In 1991, she moved to Italy to attend Brera Academy in Milan. It was here that she actively embraced the use of Western modelling methods, while devoting herself to discovering the connectivity between the Oriental and Western approach. The last 30 years of artistic work that Minjung has produced emulate the transcendence of the East and West dichotomy, demonstrating the inherent beauty of fusing these opposites together. Most notably, she conjured the approach of burning Hanji with a candle to produce burnt traces as ink lines, creating a collage from these pieces of Hanji. She uses paper and ink as a medium to establish her own cultural uniqueness while simultaneously incorporating them as a means of capturing more contemporary traits. She was able to successfully depict her pride in her Korean background, as well as its regional culture, and characteristically melded international contemporary traits into her artwork. Her art, itself, reflect a genuine demonstration of vernacularism and globalism at work. In fact, the variation of this combination received positive feedback, both domestically and internationally, through which Kim was able to rise as an internationally-renowned Oriental artist, a rare case within today's modern society.
---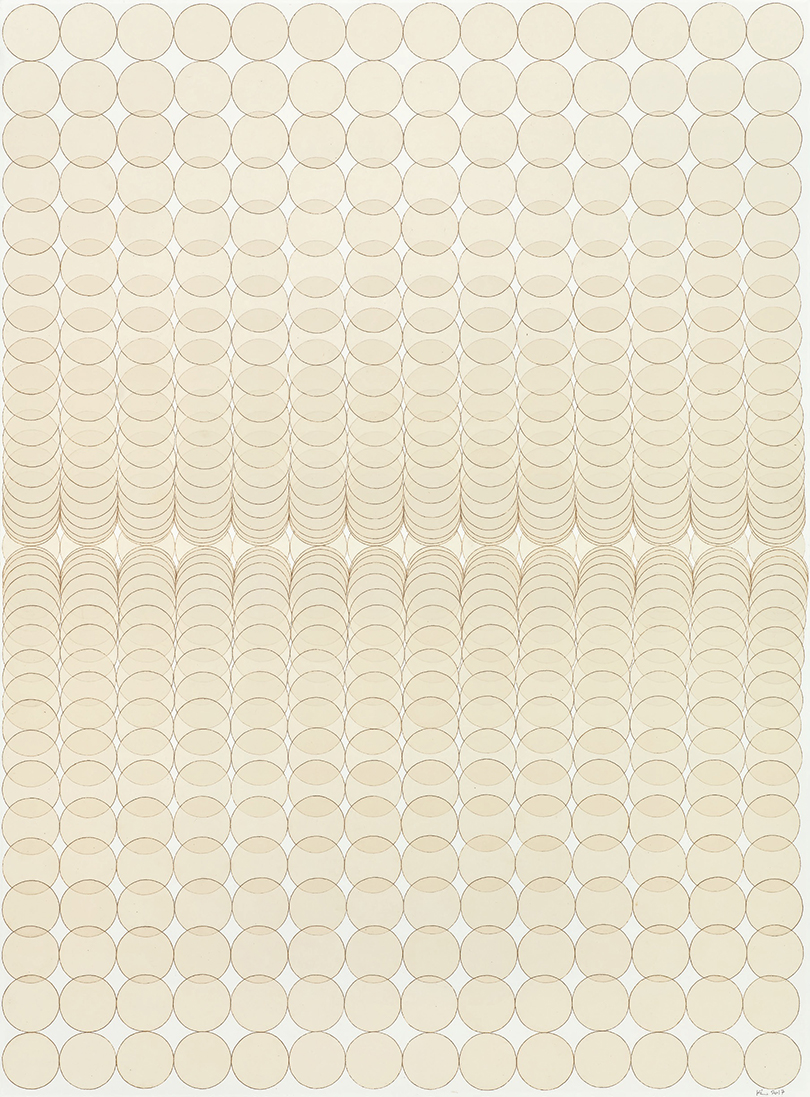 〈Insight〉, 2017. Mixed media on Hanji, 193 × 142.5 cm
---
Minjung Kim During my time at undergraduate school, I tried a hand at practically all types of art mediums, from sculpting to oil painting, yet the only mediums that ironically was able to resonate with me were paper, ink, and brushes. These seemingly ordinary supplies enabled me to capture my life as a lost, wandering stranger, which I believe is attributed to the portability of supplies with papers simply rolled up. This allowed me the freedom to work whenever and wherever I so desired. An artist, from the way I see it, must do what she does best, using supplies as an extension of her own body. This ultimately optimizes the delivery of the artist's message through her works. Creating such works, in fact, begins with the purchasing of supplies, of which the quality is reflected heavily in the final product, so selecting adequate supplies is an essential first step to creating a masterpiece. Once the paper has been carefully selected, it must be cut, and during the process of cutting, there is an odd sense of satisfaction that comes with cutting the paper with a cutter, as it requires a certain level of boldness and accuracy in applying pressure on the knife to perform a single clean cut. Just as how one must be bold in cutting ties requires steadfast precision, when I cut paper, I feel as if I am also cutting ties with anything toxic in my life. Once the paper has been cut, I light a thin candle, on which I burn the thin, flat paper edges, and it is in this moment that I find peace as I fall into a meditative state. Before trying to achieve evenly burnt lines, I first take a big breath. While holding this breath in my lungs, I use that tension to incorporate the same amount of strength and focus on the fire in order to create even lines. The moment my concentration breaks, however, the paper burns to ash. This forces me to forget about everything else, before moving on to create a collage out of these pieces of paper. Ultimately, I make it a rule to not have them in contact with one another.
---
Enrico Lunghi Minjung Kim's works are composed of paper, ink, and fire; more specifically, burnt imagery and traces of unprocessed, natural materials. The handmade papers, hanji, are made in Korea, just like ink. Kim's love for traditional supplies comes not only from her artistic education background, but also her life. Kim's father even owned a small print shop, and ever since she was young, she was immersed in the rich history of paper within Asian culture, as well as in the history of paper, itself.
---
Sook-kyung Lee 〈Fullness on Fullness〉, a work featuring a stack of circular hanji, and 〈Fullness of Emptiness〉 reflect Minjung's cyclical focus on the ideas of being and non-being. Such forms can easily be misinterpreted as flowers, especially when they are composed of colored paper. Though extravagant at first glance, once the audience realizes the delicate form of the work, they notice the stark traces of burning. She says that Lucio Fontana's works of ripped canvases perfectly capture the powerful tension between that of fullness and emptiness, and as with Fontana's ripped canvases, Kim's papers had to undergo the physical process of "emptying" beyond its surface in order to capture a negative presence, an element of non-being. It is within this critical process that the juxtaposition of emptiness and fullness is fully expressed. That is to say, until the elements of emptiness and fullness are negated by one another, they remain indistinguishable.
---
David Jaffe In Minjung Kim's works, the burning process is a part of creation. Technically speaking, the process of burning tress creates charcoal, a supply used for drawing, making it an already very familiar process to artists. The acidic ink that burns into the paper weakens the corners. Heat, in fact, was an essential element even in the days of old, utilized when making earthenware in Ancient Greece or producing enamel materials during the Renaissance. Her approach of holding her breath while burning the edges of the paper provides a sense of just how intense the process of creating such lines really is.
---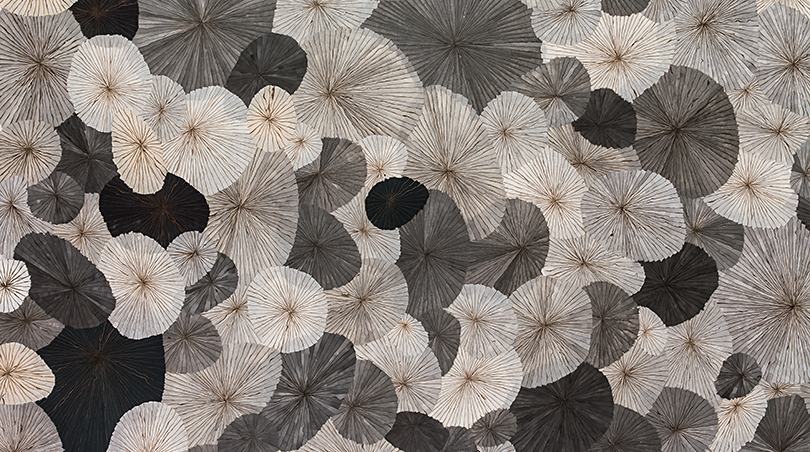 〈The Street〉, 2015. Mixed media on Hanji, 140 × 200 cm (partial)
---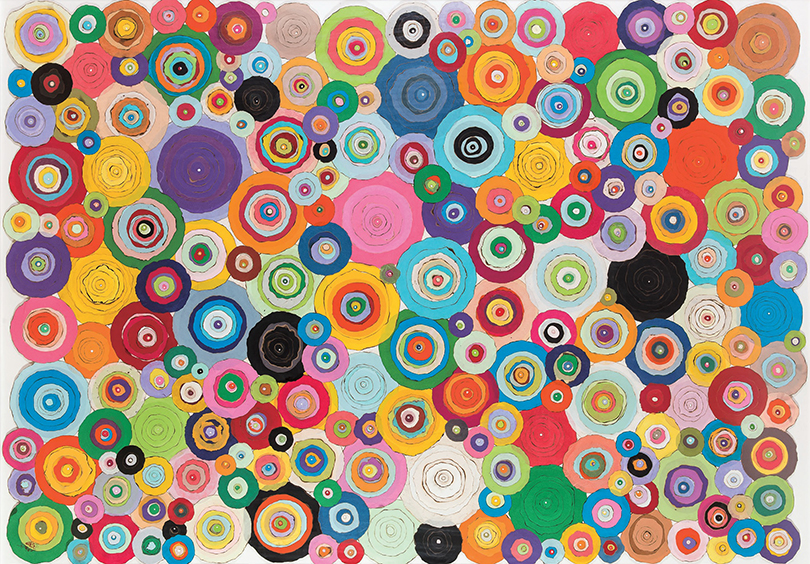 〈Pieno di Vuoto〉, 2010. Mixed media on Hanji, 140 × 200 cm
---
#. Hanji, Ink and Fire
---
Art The soft, monotone colors, delicate and layered texture, repetitive forms, simple patterns, and endlessly multiplying imagery are among the formative elements of Minjung Kim's works as minimalist abstract paintings and all-over paintings. She incorporates hanji in a way that's both physical and psychological. The artist burns a layer of hanji to express emptiness, but also expresses fullness by placing a layer of non-burnt hanji. Her works, through implementing the elements of emptiness and fullness, find the delicate balance between light and dark, order and chaos, movement and stillness, and expression and restraint. Unlike the cold, formative artworks, however, her art reflects the commonality of daily life among everyone. As reflected in titles like 〈The Street〉, 〈The Room〉, and 〈Dobae〉, her artworks shed light upon her own contemplation on the philosophical aspect of daily life. The works resemble flower petals scattered on the streets, walls painted with clay, and mountains after mountains with each peak towering over another. Essentially, she takes you on a journey to a mysterious world that either peers in microscopically, or broadens the horizon entirely. In particularly, 〈Dobae〉 is inspired by the process of adhering wallpaper or weather stripping, an extremely familiar process to all Koreans, yet the delicate layers of Hanji portray a built-up sense of tradition for a nostalgic effect.
---
Sook-kyung Lee Many of Minjung Kim's works create a sense of orderliness, or continuity, with their grid structure, similar to minimalism. 〈The Room〉 is an example that demonstrates such a structural feature. Featuring straight lines and bold perspectives, the artist creates dense layers of burnt Hanji. These lines created through the burnt edging of Hanji create a sense of equality while reflecting the artist's interest in the proximity between the visual and the auditory. The dense layering of hanji, resulting in one thick layer, accentuates the materialistic and three-dimensional elements of the surface of the work. There are several two-panel works displayed among with 〈The Room〉. These works are installed to face each other from the opposite corners of the walls. The bold composition of the work and its installation emanates the same kind of tactile and spatial effect as sculpted works. Furthermore, these labor-intensive works demonstrate, not only the art of meditation in repetitive tasks, but also the physical process of creation, resembling that of the laborious daily lives of people.
---
Minjung Kim My inspiration for art comes from nature, but that does not mean that spending hours looking at nature will give me the inspiration to create. Rather, ideas spontaneously arise when I least expect it, weeks and months later, either while enjoying a meal or in the midst of conversation.. However, looking back, I think most of my inspirations came from when taking breaks from meeting with people and escaping the mundane, everyday life. I believe that to rest is to empty self, and that very emptying process gives space to fill, before that filled space leads to the desire to empty once more. This process of emptying and filling ourselves is part of the natural cycle of the universe. We, as humans, creatures housing galaxies within our own bodies, also go through this natural cycle. We are also creatures, specs of dust that are a part of this galactic cycle – a cycle absent of any defined beginning or end, yet when I create art, I feel like I am leaving a spec in the universe. Then why do we need to constantly empty ourselves? The reason we feel pain is because our bodies are weighed down by gravity. Our bodies are composed of a weight we must bear, and for myself, art materials function as an equivalent. During the process of creating art, I use materials that finite in quantity. Yet, at the same time, the materials are filled. It's as if being emptied while being filled. Being emptied essentially refers to either existence before birth, or after death. In that aspect, I am uninterrupted, undisturbed, yet changing. Reaching that level of being is essentially the core focus of my artistic approach.
---
Sook-kyung Lee Minjung Kim's 〈Dobae〉 focuses on the concept of labor that is both naked to the eye while being ordinary. By cutting up a large piece of hanji into small squares to carry around with her, Minjung enabled a module system that can be reconstructed even further. Each unit is divided into two elements: shape and background. She burns the small pieces of hanji, making small holes, then cuts them into circular shapes. She then reuses the leftover hanji from cutting the pieces into circles to create a work of emptiness. This process ultimately leaves nothing wasted, while everything fulfills its purpose in this duality of emptiness and fullness. Minjung jokingly remarks that this process of reusing everything is a habit of a frugal housewife that refuses to waste anything. Such honesty, rather than beautifying her artistic motives with fancy jargon, captures the worldly nature of her art, as well as herself. The title, 〈Dobae〉, comes from the process of plastering walls in Korean tradition, approaching the audience with a taste of familiarity with their everyday lives. Traditionally, Korean houses have used hanji for doors and walls, and every spring, many families plaster new hanji on the doors and walls as a part of their spring cleaning routine.
---
David Jaffe The essence of her artwork can be found in the delicate patterns and their intentional placement. The layers of paper in her works come from the practice of plastering multiple layers of hanji, or mud, to fix walls in Korean traditional homes. Her works comply with these traditional practices of paper art, while presenting their own unique artistic element. 〈The Street〉, an artwork that has precisely measured umbrella patterns, has perfectly measured margins and scales, reflecting Kim's determination and passion for paper art. 〈The Room〉, on the other hand, has a subtler alignment of lines. The scalded corners of the paper create a texture like trees, yet the endless number of these paper lines converge at different points. Such analysis, however, may not be accurate, as we are trying to understand a Korean element of the art through a Western lens. Though we cannot exactly understand her artistic perspective, we cannot forget about her delicate and precise placement of lines, an essential element to her art.
---
Enrico Lunghi In 〈Phasing〉, the first layer of hanji shows a calligraphic stroke that is perfectly restrained without being able to be imitated in exactly the same way. Since the ink often draws unrestrained traces that resemble ink splashes, such strokes feel even more authentic. On the second page, the artist uses a candle to trace the first page and cuts away where the ink traces are. This works as a negative to the first page to a certain extent, but technically speaking, it demonstrates a person, who is able to fill herself yet contradict herself at the same time. This is the principle of light and dark, a principle through which Westerners often are able understand the entirety of the Oriental approach to art. In another work, Kim cuts circles out of black hanji and aligns them like constellations, instead of expressing through the bodily movement. The process of this art is the same. She moves the circular composition onto the second sheet of hanji, then creates holes using candles. Kim creates a beautifully connected structure by allowing the overlapping parts of the figures as they are letting each pattern overlap one another. The two pieces of hanji are not perfectly aligned, adding a rhythmic element to the piece. The rhythmic element is even more accentuated amid the artist freely drawing out her art, while trying to achieve her initial purpose, which is process I'd like to describe as "musical."
---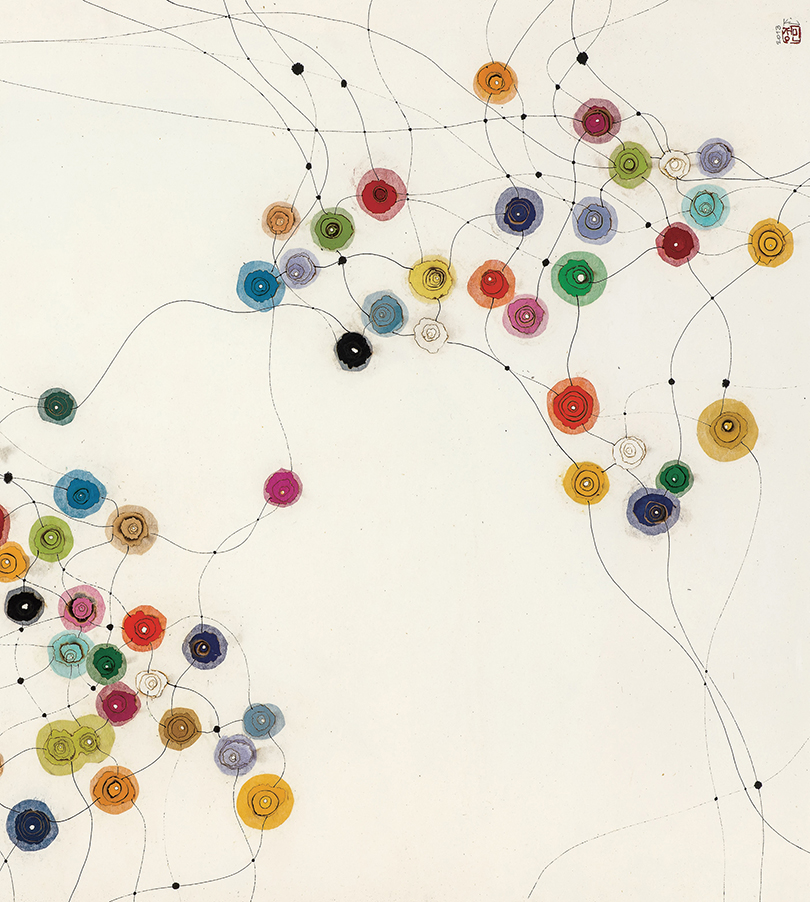 〈Predestination〉, 2013. Mixed media on Hanji, 74 × 115 cm (partial)
---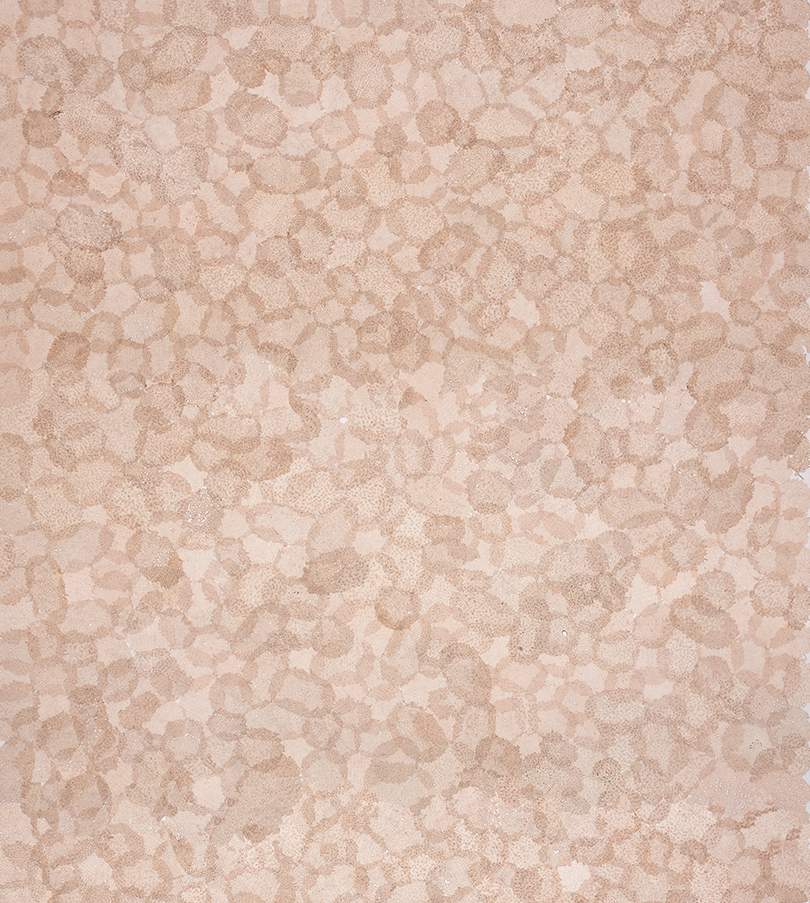 〈Dobae〉, 2015. Mixed media on Hanji, 400 × 200 cm (partial)
---
---
#. Emptying & Filling - The Nature of Nothingness
---
Art Minjung Kim makes a full use of the characteristics of fire in her art. She creates lines by burning pieces of hanji.. Her process of creating art can be interpreted as a time of meditation through burning fire. For Minjung, fire is an unfixed medium that brings out the hidden feature of material, itself. She burns the edging of hanji to an even degree, all the while holding her breath, as if training her mind. Then she glues on layers of burnt paper by hand in repetitive fashion. This repetition takes her art beyond the strokes that she intended, following strict rules as if practicing the art of calligraphy. She explains that as she began to incorporate fire, another sense of restriction came over her that was not limited to the power of nature. Instead, this artistic act of creating strokes through the burning of hanji is relevant Oriental philosophy. The art of emptying and filling the self through her art is her way of incorporating Taoist philosophy. Tao strived for the nature of nothingness, or non-being, rather than anything artificial. This is also similar to the Buddhist philosophy of nothingness, which states that it is a person's duty to strive to achieve such a state of being. For Minjung, her process of creation is an act of meditation, an act of which visualizes the Zen or Taoist philosophies. In this context, the artist confessed that her process of creation plays the same role as a priest illuminating upon the greater meaning of life.
---
Minjung Kim What is my Zen? That is a question that I have been asking myself for a long time. When one looks at Michelangelo, Leonardo da Vinci, or another masters' drawings, the distinctive personality becomes visible. Thin or thick, slow or fast, when I draw lines according to my will, I feel that I am limited in my expression. So then, how can I draw lines, while relying on a power beyond the limitation of a human? When I looked at the traces of a burnt piece of paper, I realized that the trace had no speed, nor intention. As my will slowly dissipates, this invisible and non-physical element of fire and a physical element, otherwise known as paper, created art while in a symbiotic state. The lines that these two elements create together are beyond what I can create on my own. The burnt edging of hanji also bestow an overflowing, very real taste that resonates with me. It is as if the burnt traces themselves call upon new traces.
---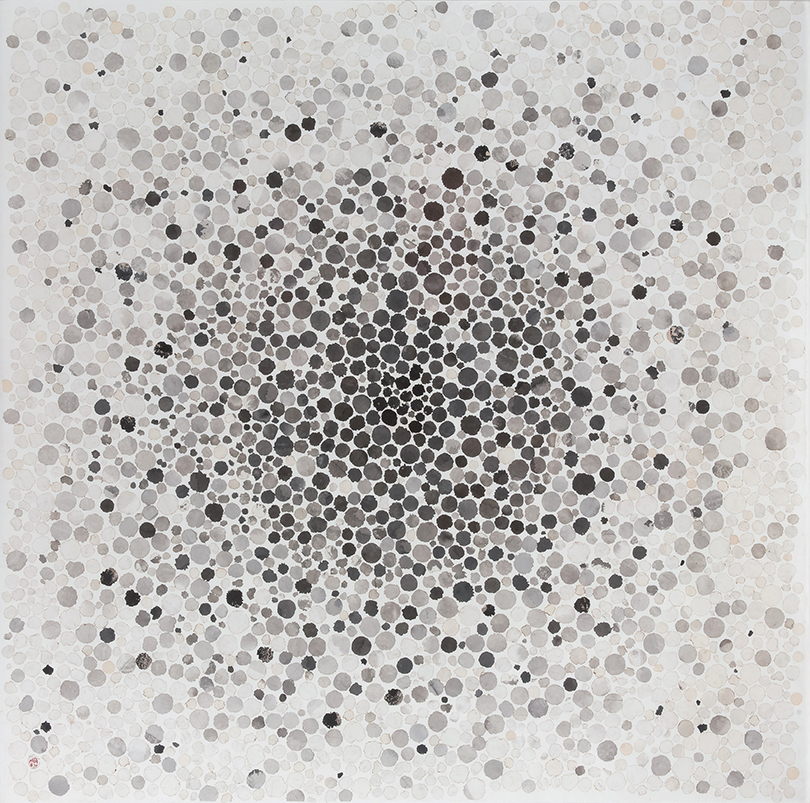 〈Grey Snow〉, 2009. Mixed media on Hanji, 142 × 142 cm
---
David Jaffe For an artist that never stops pushing the limits, an experimentation on the physical lines that she created herself is absolutely essential. 〈Nautilus〉, a work of spirals, is an example of such. The spiral movements emit a different kind of energy. The work of visualizing a crooked room is also a challenge to the existing notion of space. Her work, that feels like a half-performance art, almost seems as if she tried to visualize a five-dimensional world beyond that which we can see.
---
Sook-kyung Lee Minjung's works are based on her personal experiences and memories, but rather than functioning as a direct inspiration, they simply compose her artistic identity. Her artistic upbringing, centered around Korean traditional arts and calligraphy, has gifted her with a deep understanding of Korean philosophies, be it Buddhism and Taoism. In this context, yin and yang, nature and culture, order and chaos, light and shadow, and other principles are dualistic yet constantly interact with one another while maintaining a state of transformation. Her artwork reflects her interpretation of such subjective ideas and beings. Yet what makes Minjung's explanation of her art richer and more holistic is actually her educational background in Europe, where she learned European art, art history, and contemporary art. Unlike artists preferring to incorporate only one culture into their art, she explores various cultures, absorbing and improving an array of different cultural heritages. The artist approaches these various cultural heritages, not only with an abstract knowledge of it, but with an embodiment of them through her personal experience, and when it is not her own personal experiences, she experiences it through the lens of others.
---
Enrico Lunghi When I look at her works, I sense an ambience of fundamental respect toward the nature of each element incorporated in her art. This comes from Taoist and Zen teachings that provide knowledge on the life of coexistence. Ultimately, I think this is an approach to understand coexistence with the universe. Such ideas can also be found in Western philosophies, prior to Socrates' arrival, that look at all knowledge through the soul, in platonic interactions.
She essentially is an artist that sees what cannot be seen and understands the rules of what is invisible and intangible. To go a step further, she is an artist that visualizes such intricate rules; that is, rules of the universe that can be felt and understood by humans. Is this not the sole purpose of being for any artist?
---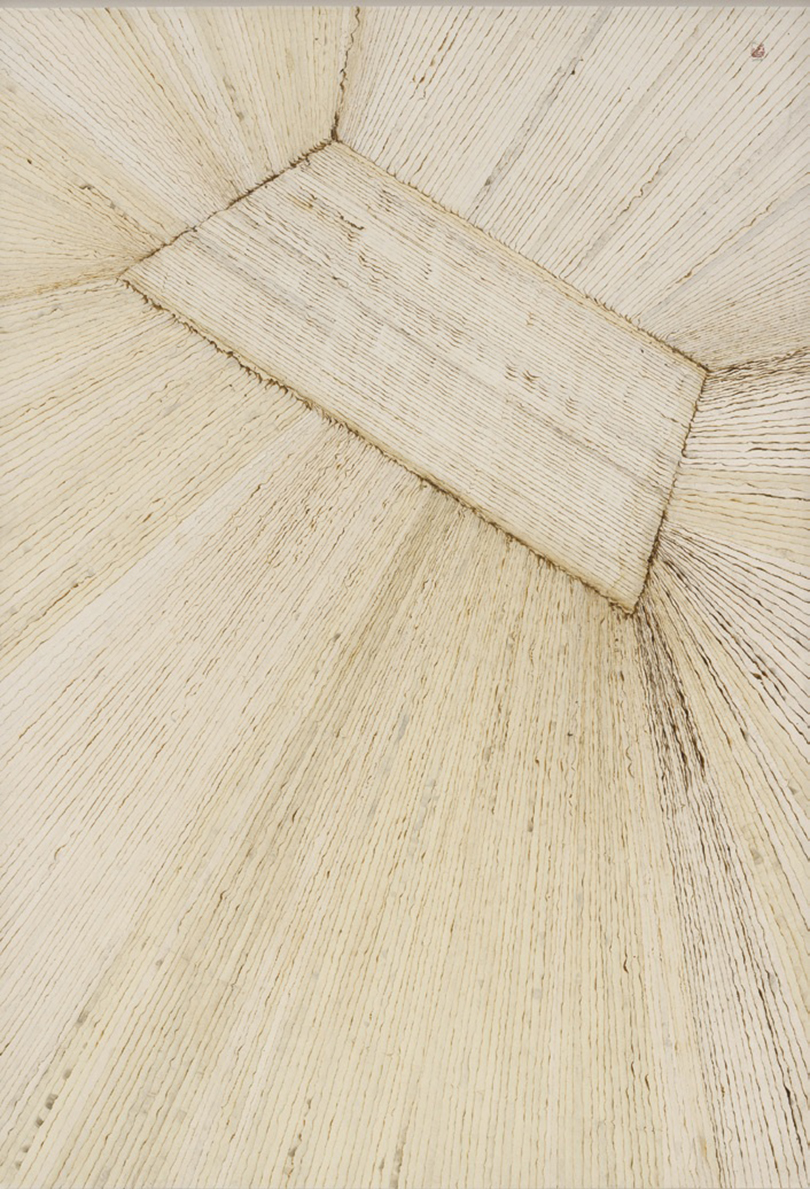 〈The Room〉, 2006. Mixed media on Hanji 211×146cm
---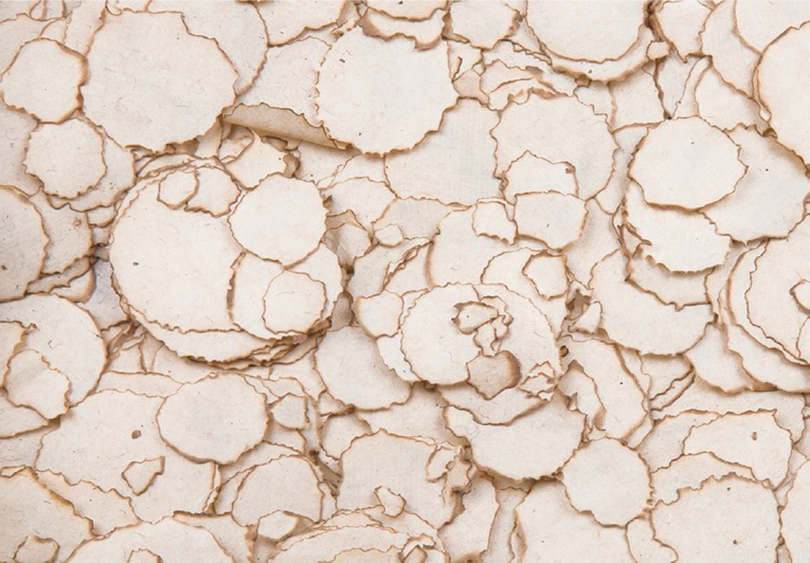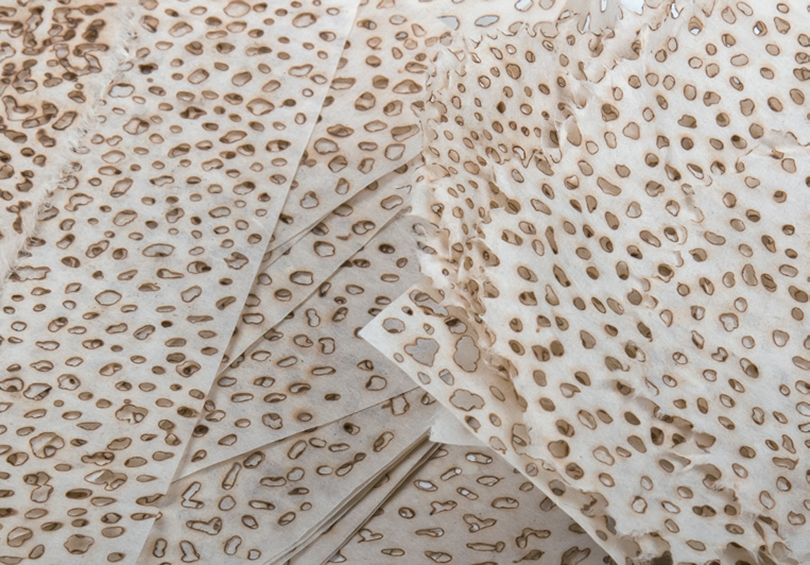 Minjung Kim uses candles to burn off the corners of Hanji or makes holes on Hanji with incense, making art with the burnt traces.
---
---
* The content source is based from reviews and interviews featured in Minjung Kim's books for her exhibitions with citations listed below:
---
Enrico Lunghi (the former Director of Mudam, Luxembourg). Catalogue from 〈Paper, Ink and Fire: After the Process〉, 《MINJUNG KIM》, Solo exhibition at Gallery Hyundai, September 1, 2017 to October 8, 2017.
---
Sook-kyung Lee (Curator at Tate Modern Museum, Great Britain). Catalogue from 〈The Gaze of Orpheus〉, 《TRACES》, Solo exhibition at OCI Museum, November 5, 2015 to December 27, 2015.
---
David Jaffe (former Curator for National Gallery London). Catalogue from 〈Korea to Milan an Attentive Eye〉, 《The Memory of Process》, Solo exhibition at White Cube London, January 26, 2018 to March 10, 2018.
---
Minjung Kim. 〈An Interview with OCI Museum〉. Video interview for OCI Museum solo exhibition.
---
---

---
* This content was first published in the March, 2018 release of Art In Culture and has been re-published on TheARTRO.kr after a negotiation was reached between Korea Arts Management Service and Art in Culture.