---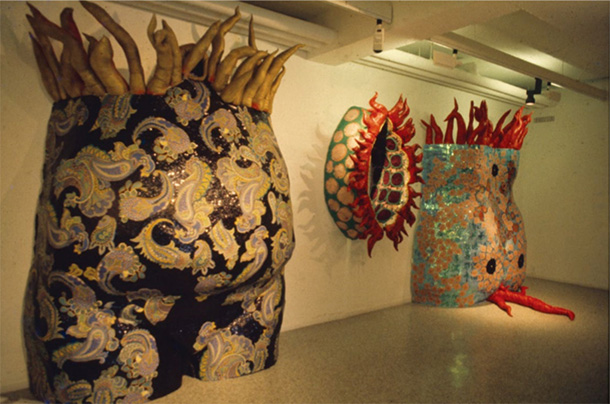 Lee Bul's exhibits set up for 《Sunday Seoul Exhibition》 by the Arts Collective Museum
---
The 1990's, the last decade before the new millennium, was a turbulent period, surpassing any other turn of the century in terms of major upheavals. Large changes occurred across the board, at all levels of society. In the art scene, some of the changes witnessed in this decade were momentous enough to profoundly affect the course of contemporary art history. As a matter of fact, many of the current developments in art can be traced back to the 1990's. This series of articles is a retrospective on the art of the 1990's. It was born out of a sense of urgency to look back at this stormy but productive period while it is still fresh in our collective memory. Each installment in this series will be devoted to one particular artist. The goal is to bring to light the diversity and the individuality that characterize contemporary art, as well as to testify to the fact that "the Artist" is alive and well even in this age where "the Author" has been declared dead. Some of the artists discussed in this series are still active, while others are no longer active. Regardless of their current status, the work of each of the artists will be reviewed in their relationship to current developments in the art scene. A number of art reviews and critical essays dating from the 1990's, that vividly capture the mood and perspective of that time, have been included after appropriately revising them to reflect the present perspective. It is hoped that this series will inspire efforts to look at art within an historical continuity and thereby help add breadth and depth to the history of contemporary art.
---
The body used to be something relegated to the periphery of art history. Art being the product of a "great human intellectual endeavor," the body was long considered a mere tool instrumental to this endeavor. The rise of modernism in the 20th century further cemented the exclusion of the body from art through its emphasis on the intellectual and the spiritual.
---
The body, thus relegated to the fringes, only regained its visibility after the 1960's when modernism and spiritualism started to lose their hegemony. The body began to emerge as flesh and bone, and not as a mere shell for the mind, with attention now paid to the various meanings it is charged with. Notable examples were performances in which the focus was shifted to the body itself or the body was used as a social and political metaphor. Such examples were also encountered in Korea, starting in the late 1960's. However, the body still remained invisible for the most part. This was the case in the 1970's, under the sway of Dansaekhwa (monochrome painting) and its intellectual bent, as well as in the 1980's, dominated by the social realism of the minjung art. It was only from the late 1980's when the worldwide postmodern current reached Korea that the body was finally brought into view in the domestic art scene.Lee Bul was precisely among the first to reclaim the body as a subject of art in Korea of the late 1980's.
---
Lee who exhibited works based on the human body, both as a medium and the subject matter, understood from early on its potential as a symbol that could help reveal a complex network of meanings. Her production in the 1990's consisted of sculptures with a gentle silhouette in the image of a human body and performances using her own body as a medium, the examples of which range from Cyborg to Monster and Karaoke. All these works were part of a process of bringing to light a crisscross web of meanings and challenging preconceived notions and traditional concepts through the thus unveiled web of meanings. For Lee, the body is a kind of projection screen for issues of gender, race, class and even post-human conditions. The body is not a transparent receptacle that reveals what is inside it, but rather an opaque shell that reflects back the various gazes it receives.
---
Lee's relationship to the body is quite obvious already in her early works where the body is literally a hollow shell. The work shown at the exhibition by the new-generation Arts Collective 'Museum' (1987-1991) is a fine example. The odd figure, resembling the oversized buttocks of a woman, is lavishly decorated with surface patterns, with tentacle-like appendages hanging down from it. This incomplete and grotesque body thwarts and mocks the fantasy of a perfectly-proportioned woman's body, thus shattering the phallic fairytale notion of female beauty. Showing a monstrous body, body parts or bodily secretion is a kind of strategy of the abject to resist modern Western idealism and the spiritualism and phallocentrism that underlie it. Moreover, the use of oversized body parts is a feature of the aesthetics of the grotesque, aimed at inspiring fear by magnifying the grotesque and maximizing disruptive effects. Lee followed up on this work with a series of other works based on the transformation of the human body and body parts. A notable example is 〈Plexus〉(1997), which features a hollow, headless body, filled up with sequins. By contrasting a terrifying severed body with sumptuous decorative elements, the artist underlines and intensifies the abject and the grotesque.
---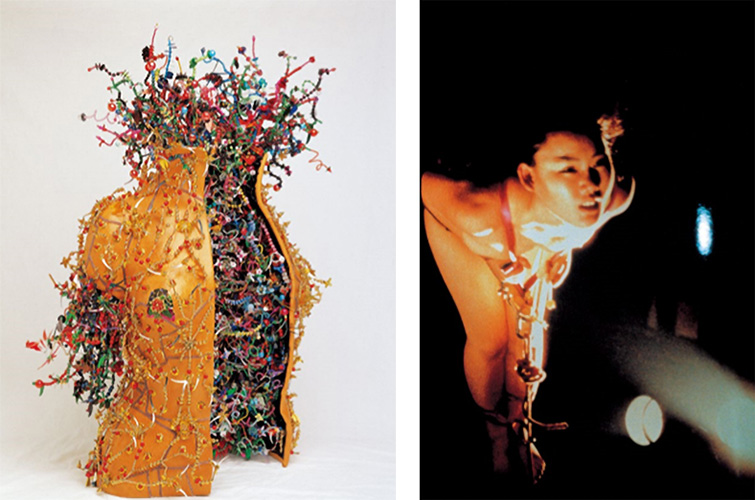 (left)〈Plexus〉 Leather, velvet, sequins, beads 95×80×35cm 1997~1998 Photo courtesy: Studio Lee Bul (right)〈Abortion〉 Still from original performance 1989 Photo courtesy: Studio Lee Bul
---
Lee also put on a series of unsettling performances wearing a costume that looked like a body suit. After the initial performance in 1989 in which she roamed across an open field in Jangheung, wearing a freakish costume, she carried out similar performances during the following year, in Seoul and Tokyo, in places like airports and streets. By becoming herself a monster, she personally acted as the agent of grotesque aesthetics. The artist at the same time reveals and breaches the boundary between the human and the monstrous, to thereby resist traditional dichotomies between beautiful and ugly, the mind and the body and between male and female. What she attempted was an assault on the notion of the perfect body, a lingering myth in the history of art, and a protest against the underlying violence of this myth, as well as an act of exorcism. Her performances were in a sense those of a shaman who both challenges the existing system and heals it.
---
As Lee thus used her own body as the medium of her art, in 〈Abortion〉(1989), she went as far as to perform naked. As though performing naked wasn't provocative and disruptive enough, when Abortion was performed in 1993, the artist hung herself upside down, with a shackle around her neck as though a slave, to further stress her subversive message against an oppressive system. A noteworthy embodiment of the worldwide performance trend of this period, characterized by personal autobiographical experiences and acts of sadism performed on the body, this work was also a powerful feminist performance that left a mark in the history of Korean contemporary art.
---
With the 〈Majestic Splendor〉 series, which began in 1991, Lee started also using bodies that are other than the human body. Fish brilliantly decorated with sequins are placed in a plastic bag. The fish thus exhibited gradually rot and the exhibition venue is filled with stench from their rotting bodies. The decaying process and the foul odor of putrefaction are the integral part of these works, through which Lee's interest in the body is extended to include all living things and embrace the question of life and death. By contrasting living things with manmade objects, and decaying things with ever-sparkling artefacts, the artist produces an allegory à la Vanistas. The sequins used in this series are those used by small home-based businesses to make tawdry accessories; hence, a symbol of cheap female labor. By juxtaposing this symbol of women's labor and poverty with the rotting flesh of an animal, she evokes a real-world issue of social inequality above and beyond the philosophical dichotomies between natural and artificial and between fleeting and permanent. One of the works in this series was exhibited at MoMA in 1997, but was removed shortly after, sparking widespread controversy. Ironically, this incident helped vault her into the club of leading contemporary artists of this decade. Lee's reputation as an artist of the abject who brazenly embraces the decaying process of living things and even the foul odor of decay as part of her art was cemented at this time, as well as the perception of her as a process artist who incorporates time in art as an aspect of being.
---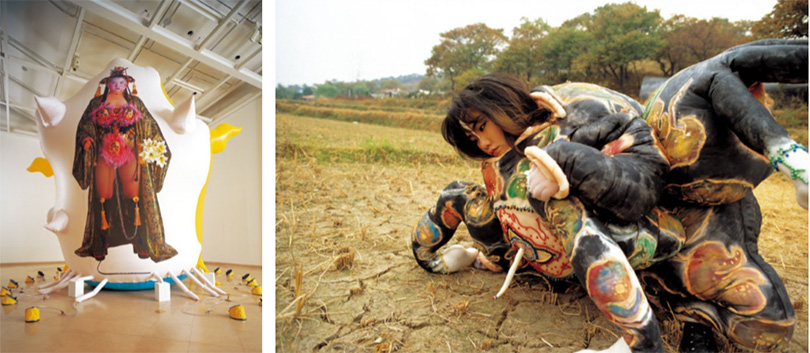 (left) 〈Monument〉 Photo print on vinyl, air pumps 600(h)×450cm diameter at base 1998 Installation view, Rodin Gallery, Samsung Museum, Seoul, 2002 Photo: Kim Hyunsoo Courtesy: Samsung Museum (right) 〈Cravings〉 Still from original performance 1989 Photo courtesy: Studio Lee Bul
---
Together with such works, Lee also exhibited, starting in 1994, gigantic balloons displaying images of women, floated in the streets like advertising balloons. From 1996, these gigantic balloons bore her own images. In other words, she again set out to use her own body as the medium of her art. But, in this case, she used her images rather than her actual body. She made herself up to look like Western men's stereotype of an Asian woman, but who is also highly sexualized and voluptuous like a femme fatale, as the title 〈Hydra〉 suggests, and had photos taken of herself. The photos were then inflated exaggeratedly to emphasize their artificial and unnatural quality. In a shape reminiscent of a phallus, the balloon now expands, now contracts in a comic encounter of feminism and post-colonialism. The artist adds an extra layer of meaning by linking these issues with popular cultural elements. This picture of a Western-style female warrior donning Oriental-style clothes and accessories, displayed as though an iconic advertising image of a third-world megalopolis, is a symbol of multinational capitalism and the cultural melting pot this has engendered.
---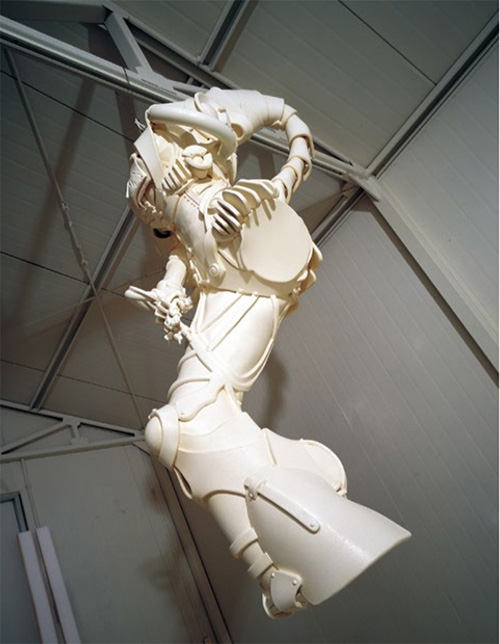 〈Cyborg W5〉 Hand-cut polyurethane panels on FRP, urethane coating, 150×55×90cm 1999 Photo courtesy: Studio Lee Bul
---
Hybridity, between the East and the West and between the public and the elite, is also an important motif in the 〈Cyborg〉 series begun in 1997. In the cybernetic life forms featured in these works, with bodies perfect like those of machines, there are undeniable echoes of the iconography of female warriors in Japanese anime. Through this overlap between cybernetics and the female body, and more particularly, the body of a young girl, Lee now gives the new context of technological culture to her feminist inquiry. The new contextualization of feminism is done with flair, as technological culture is seen through the prism of a popular cultural expression, in other words, anime, with an added emphasis on Oriental elements. These bodies displayed as though representations of ideal beauty, either placed on a high pedestal as though the statue of a Greek goddess or suspended from a height, are in reality bodies made in plastic. They are either parts of a machine like a robot or maimed bodies with missing parts. These organic forms produced by technology, having the body of an Asian woman with Western proportions, reveal the "Western mainstream male vision of the female body"—which has become dominant also in Asia by way of popular culture that became adopted by elite culture—as illusory.
---
Lee's Cyborg in many ways reminds of 『A Cyborg Manifesto』(1985) by Donna Haraway. Lee is aware of this essay, and there is also a certain parallel between her works and Haraway's views. However, this does not mean that Lee's Cyborg series was directly influenced by or emulates 『A Cyborg Manifesto』. Lee's works are at a remove from the kind of concrete and subversive feminism as practiced by Haraway, who sees the cyborg's identity with a blurred gender boundary as a path to the liberation of women, including women of color. For Lee, cybernetics is not a tool for resistance but instead a mere starting point of a discussion. As a being with an imperfect body, the cyborg is not an efficient tool, but rather an object of criticism, as far as Lee is concerned.
---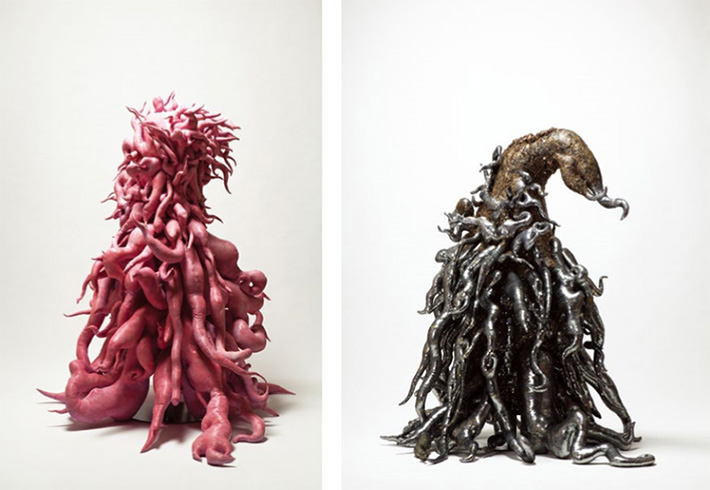 (left) 〈Monster: Pink〉 Fabric, fiber filling, stainlesssteel frame, acrylic paint 210×210×180cm 2011(reconstruction of 1998 works) Photo: Jeon Byungcheol Photo courtesy: Studio Lee Bul (right) 〈Monster: Black〉 Frame, acrylic paint Fabric, fiber filling, stainless steel 217×187×171cm 2011(reconstruction of 1998 works) Photo: Jeon Byungcheol Photo courtesy: Studio Lee Bul
---
Her difference from Haraway becomes yet clearer with 〈Monster〉, a work unveiled during the same year as Cyborg. This unknown life form, resembling a human internal organ or a tree root, is quite a change from Cyborg insofar as it is organic and presented as alive, and not mechanical. At the same time, much like Cyborg, Monster is the visualization of a cybernetic space in the space age, even though it emphasizes organic aspects rather than technological aspects. The viscous substance that evokes space life forms is a visual representation of a cyberspace consisting of flexible, interconnecting segments.
---
Meanwhile, the pink and black monsters, which, soft like human flesh, squirm sensually, simultaneously arouse desire and fear in the viewer, thereby exposing the two mutually contradictory facets of the male gaze. As the title has it, this is yet another version of the image of a woman as a monster. It is moreover an embodiment of a post-human identity in an era when "totality" has lost its relevance. Just like the cyborg, which is a body without organs, the monster, which is an organ without a body, is a representation of post-human conditions, which resist the notion of a permanent identity as exemplified by a human body with a clearly-defined boundary. These bodies, which are in reality fragments of a body, constantly remind the viewer of boundaries, as they freely cross all sorts of bounds, between male and female, between the human and non-human life forms and between technology and nature. Through this instable identity, Lee creates a world of floating signs and symbols.
---
Past the late 1990's, Lee's work on the body and its varied forms began to take on the mood of the age of technology. This new technological turn, which started to be palpable with her Cyborg and Monster, became all the more obvious with Karaoke. This work in which viewers go inside a capsule, a second layer of the body, to sing while watching a video of moving figures brings together technology and popular culture, two themes Lee has previously explored, but in a new form. Here, the body is not a tangible reality, but only manifests itself through images and movement. An indefinite group of people walk about, and both the people in the video displayed on a screen and the viewers become cyborgs in a virtual space, as the karaoke (meaning 'without an orchestra,' hence a fake orchestra) music plays on. All become elements of a digital world, like pixels on a computer screen, where the traditional sense of time and space has vanished.
---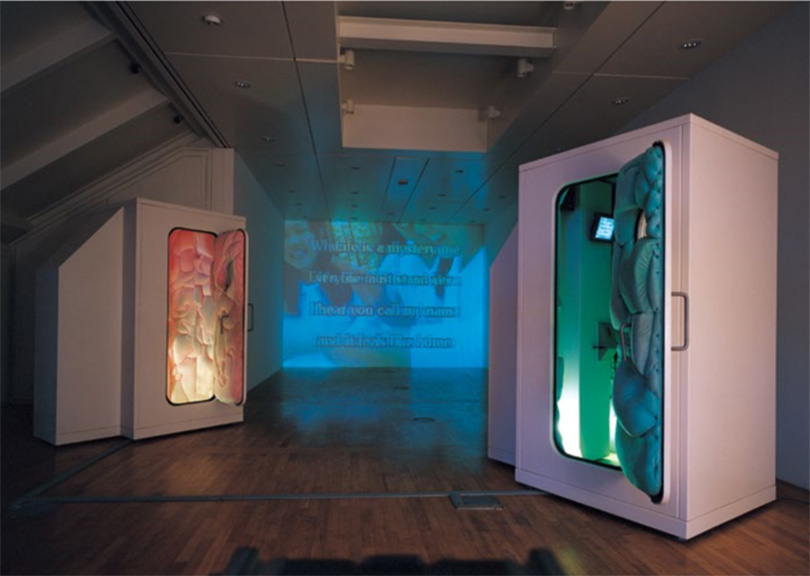 48th Venice Biennale Korean Pavilion Installation view 〈Gravity Greater Than Velocity I and II with video projection Amateurs〉 Polycarbonate panels on steel frame, velour, electronic equipment 1999 Photo: Rhee Jae-yong Photo courtesy: Studio Lee Bul
---
Since Karaoke, Lee's art has increasingly become a critical reflection on modernism as the ideological origin of technocracy and utopianism which is an offshoot of it. Her works in the past ten years are exemplified by structures with a dilapidated appearance, created using building materials like glass panes or steel frames and other various objets. Some of them are large-scale deconstructionist structures. Lee has thus extended her inquiry into the body to include structures and spaces that serve as containers for the body and the ideology underlying these structures. In this futuristic urban space, reminiscent of a kaleidoscope displaying repeated images in an infinite loop, which is the home of confused and lost crowds, there is no longer a clear boundary between the self and others, and time ceased to unfold in a linear fashion. This is a world of illusion, a twisted underbelly of the modern utopia. This ruinous technological landscape is the end-point of the idealism of a modern space, which, pushed to an extreme, paradoxically cancels itself out; in other words, a postmodern space.
---
Since the late 1980's, Lee's art has consistently been an inquiry into the body. The body in her art has been at times her own body and, at other times, has been bodies like cyborgs or monsters. The concept also includes clothes as the envelope for the body and even capsules and structures housing the body. Through this continuing series of other bodies she creates, Lee has exposed and called into question the meanings that are projected onto the body. The body according to Lee is an opaque shell which reflects back the various gazes laid upon it; in other words, a projection screen. By continuously drawing our attention to meanings that are projected onto the surface of the body, the artist has resolutely denied it an interior. Such a deconstruction of the body as a material substrate constituting the transparent external envelope of being has been, in a sense, Lee's own way of proclaiming the "death of the subject" or the death of logocentrism that defines our time.
---
However, this emptied-out body is paradoxically full of meanings. This body that declares the death of the subject also announces the birth of a new subject. This subject is a multilayered subject which constantly shifts its position within the web of floating meanings. Such a concept of subject provides Lee with both the opportunity and the means to deconstruct the phallocentrism that underlies modernism. What Lee has practiced is best summarized as a body politics, which is however quite distinct from the politics of minjung art. Not only has she reclaimed the body as a subject and medium of art, but she has also incorporated craft and decorative elements into it. Lee has made bodily senses such as touch and smell an integral part of her art and made use of the aesthetics of the abject and the grotesque to shock and more effectively convey her messages. In this sense, her politics may be said to be a "feminine politics," far removed from the visually-driven masculine politics of minjung art.
---
※ ※ This article was originally published on the JAN 2020 issue of Wolganmisul and is provided by the Korea Art Management Service under a content provision agreement with the magazine.
Nan Ji Yoon
Art Historian