---

---
This month, TheArtro presents a special feature series titled "How to Win Global Art Market," that is essential for Korean Contemporary Art's competitive stake in the Global Art Market. The series, starting with an article by the curator Daehyung Lee, interviews leading journalists, art consultants and art market and marketing specialists from around the world. Discussions on global art marketing trends and strategies over the past ten years are coupled with expert inputs on institutional support to strengthen the international competitiveness of Korean Contemporary Art. Experts interviewed include Carsten Recksik, the publisher of art magazine ArtReview and ArtReview Asia, Jane Morris, Editor-at-Large of The Art Newspaper, Partner of Futurecity, Sherry Dobbin and Louise Hamlin, founder of Art Market Minds, which is a leading platform for art business conferences. In addition, James Green, Director of the David Zwirner, Jagdip Jagpal, Director of India Art Fair, David Field, Freelance cultural communications consultant, and Jesse Ringham, Head of Content at the Serpentine Galleries also accepted our requests for interviews. These privileged insights from the insiders of the global art market surely deserve our undivided attention as Korean art sets sights on broader horizons.
---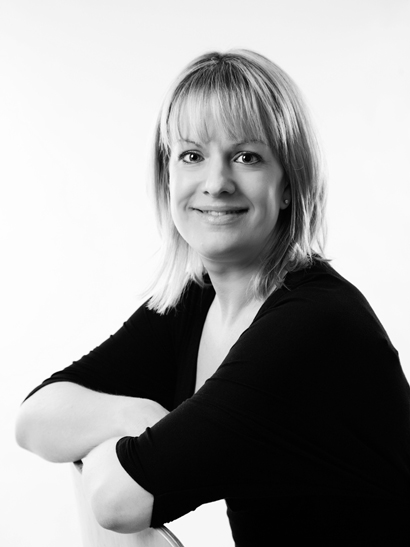 ---
Q : In the last 10 years, what major changes have there been in global marketing strategies? What kind of roles are being shared and collaborated in global and local media?
---
Louise Hamlin : The last 10 years has seen the realisation, growth and consolidation of the art market from a local and regional market to a truly global one. Marketing has played a huge part in this, and in particular, the rise of Instagram and other social media platforms to market art on an unprecedented global scale. Ultimately, global marketing strategies, through social media, have enabled the art market to reach new collector bases.
---
In terms of media, I would like to focus my response towards art media in particular:
Today there still exists specialist and regional art media, who are more focused towards the lower/mid-market coverage in their geographical area. However, they are still able to access a global readership online through social media and SEO searches.
---
There are other larger art media specialists in the west, who are perceived as more global in their art market coverage and reach such as The Art Newspaper, Artsy, ArtNews, Artnet etc, but in my opinion a high percentage of their content is still focused towards readers in London & New York. At this level, the degree of collaboration between them is small, as these media are ultimately competing for the same paid audiences, often producing competing reports on the art market and collecting based on their own research and data sets.
---
Q : We are experiencing a rapid change in platform from offline public relations to digital and mobile marketing. How are digital strategies changing, and how do you see its future?
---
LH : Although there has been a big increase from offline to digital and mobile marketing, this hasn't directly translated into a huge increase in online sales. And although there is a steady increase in online sales as recorded by the annual Hiscox online report; the percentage of sales at the higher end of the market remains relatively small. Ultimately, with Covid-19 this now means a greater reliance on digital strategies, online meetings, making online a crowded experience. The art world is built around trust, carefully cultivated face to face relationships and connoisseurship, so although there may be an initial surge now towards digital strategies, this will level out again.
---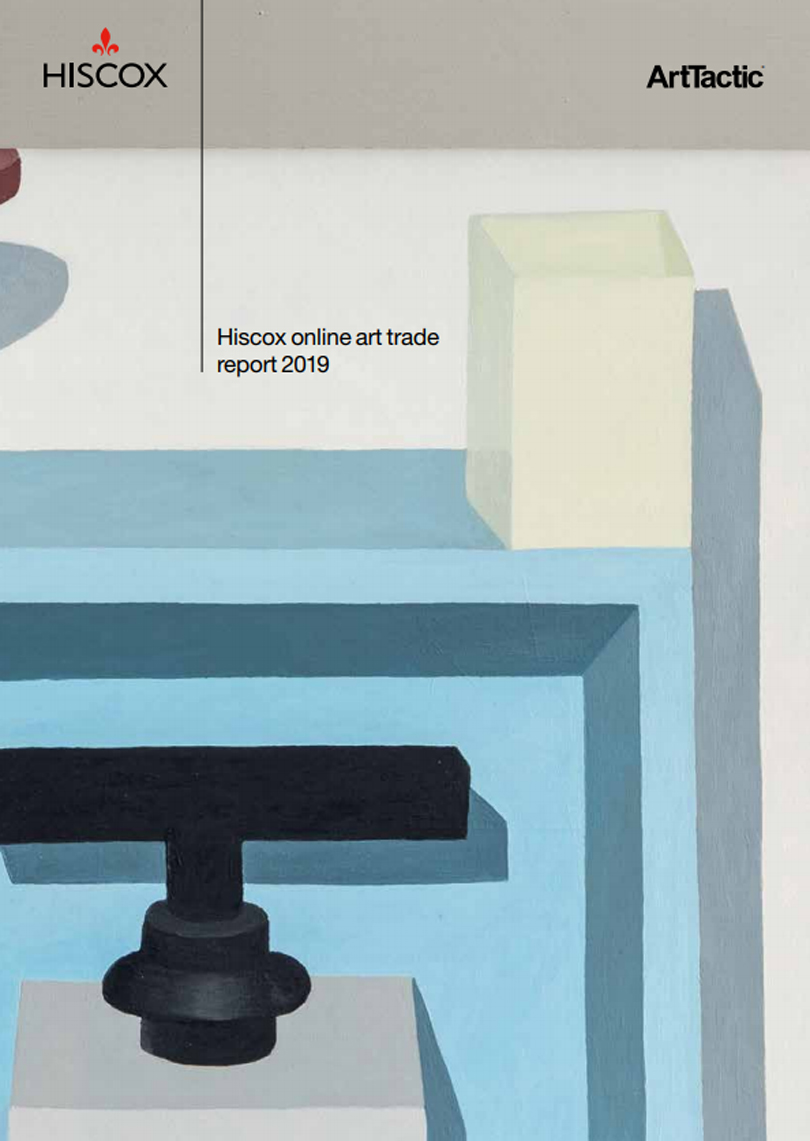 ---
Hiscox online art trade report 2019(www.hiscox.co.uk)
---
Q : Why do you think online sales have not experienced much increase despite the increase from offline to digital marketing? How do you think online marketing could lead to online sales more efficiently?
---
LH : Pricing transparency online has been a challenge for the industry. Collectors ultimately want to gain expertise & knowledge, to enhance the buying experience in order to understand the provenance or artist's motivation in creating an artwork, and also ultimately to negotiate on price! Currently, online marketing is the new 'shop front' for a gallery or art business, but online cannot yet quite replace stepping foot inside the 'shop' floor and directly engaging with the experts.
---
Greater investment in online marketing could lead to more sales online to create a deeper collector engagement that could convert to direct sales online. It is clear that just posting a PDF online is no longer sufficient. Those art businesses who are prepared to make greater investment in online technologies and solutions to create more visually appealing digital content with engaged narratives, I am sure will convert more sales online.
---
There are also some interesting new technologies working to create a more seamless approach to buying art online, which could again speed up the online buying process and attract more online collectors.
---
Q : What are your thoughts on the impact of technological development (ex. Big data, A.I., etc.) to art market?
---
LH : The art world has been universally recognized as slow to adopt or acknowledge technological development in comparison to other industries. And although there are now dedicated organisations that analyse 'big data,' it will never be a complete or reliable source given the high volume of undisclosed private sales. Similarly, there remains skepticism on blockchain and similar technologies primarily around who will control the data (purchase price and ownership information). Even in the current climate, I can see these challenges continuing without resolution for some time to come.
---
However, I think there are some positives, the potential of AI and exploring additional funding/research into this for taste-making for collectors, such as the Artsy Art Genome project, has such great potential for new and existing collectors. And secondly, during this time of social distancing, is the potential of VR & AR. However, it is widely acknowledged that it is not currently advanced enough for universal art world acceptance and credibility and, that there are limitations. Again, funding, development and research here to expand AR & VR capabilities, could offer huge potential & engagement for the global art world, and I see this is a potentially very important development for collectors.
---
Q : There has been a long history of academic research to strengthen global competitiveness of Korean contemporary art. There is an absolute shortage of publications, journals and channels in English. What policy and institutional support do you think are required for the Korean government to overcome this?
---
LH : You could look to partner with an established international art publisher or one attached to a highly regarded art history university department.
---
In this instance, I think it would be most prudent to explore a partnership with an art market, art history and art business publisher, recognized in both the UK & US with an Institutional teaching partner of art market courses.
---
And since the development of the Covid-19, I would like to start an online campaign to rewrite a new global art history. This is the perfect time to rewrite a global art history and to ensure that Korean Art History becomes an essential part of this.
---
Q : The idea of starting an online campaign to rewrite a new global art history sounds very interesting. Could you share more about this idea - what form would this take and what are some of the expected outcomes?
---
LH : I should have more information to share on this in the next few weeks, but ultimately during a time of collective reflection, this could represent an opportunity to review and write an inclusive global art history.
---
Q : Art fairs are overflowing, from affordable art fairs with limited price ranges to photo-centric fairs. Nevertheless, various attempts are being made to create a new kind of art market. What kind of art fairs do you think Korea needs?
---
LH : There will be a consolidation of travel plans, and visitors will want to condense experiences into shorter more meaningful periods of time & engagement. There now hangs a question mark over the viability & sustainability of art fairs in the longer term. And ultimately, halls with rows upon rows of galleries and art hardly conjure a meaningful experience, and potentially a daunting one for new collectors. There are new initiatives underway such as The Eye of the Collector (postponed by Covid-19) who are seeking to change this dynamic. My recommendation would be a new vision of an art experience, which is a combination of art fair, biennale, a comprehensive talks/conference, matched with a digital art, VR & AR experience programme, and also an opportunity for all of the corporate and private art foundations in Korea to actively participate too. I think one collaborative and bespoke event, as an expression of all of Korea's rich and diverse culture would be a big draw for international art collectors and art businesses.
---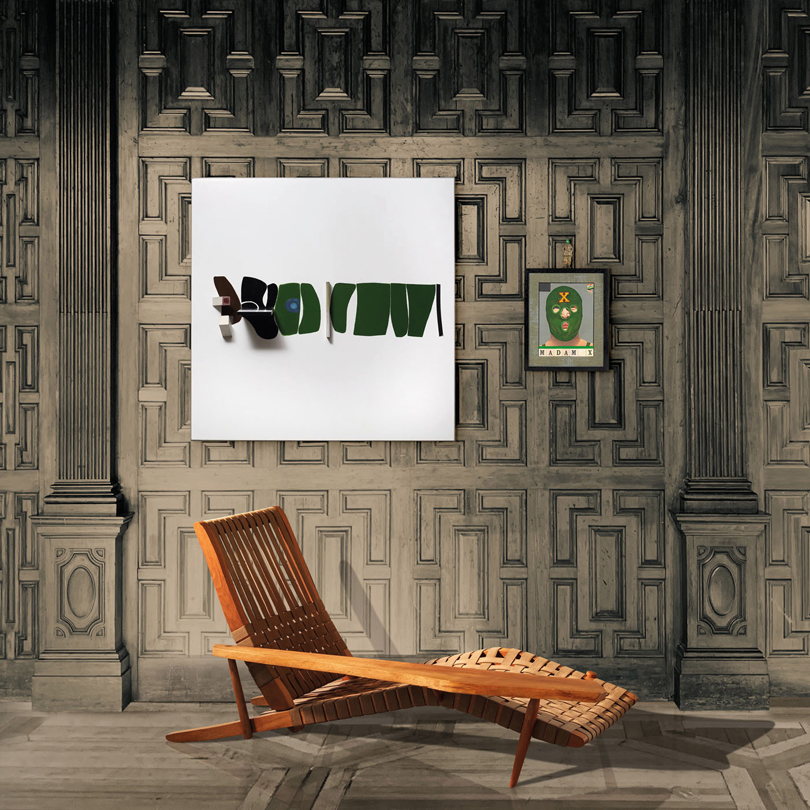 Victor Pasmore (1908-1998), Points of Contact, Green Development, 1966, Marlborough Gallery, Sir Peter Blake (b. 1932), Madame X, 2002, George Nakashima (1905-1990), Lounge Chair, United States, 1960, MORENTZ. From the Eye Viewing Room at eyeofthecollector.com, 12-31 May 2020. Image Provided by Eye of the Collector
---
Q : How much are you familiar with Korean art history? Which Korean artists do you know, and from what route and point in time were you able to find out about them?
---
LH : I am not familiar with Korean art history, but would be very interested to learn more.
---
The Korean artists I am familiar with are those who have had major exhibitions at the leading art museums, commercial galleries or reached record prices at auction.
---
As the world has become more global, so too has the way in which our children are educated and the educational syllabus. The appreciation of global cultures, opens up the opportunity for a new generation worldwide to learn about Korean art, starting even with Manhwa, and groups like BTS working with artists can only help to encourage and foster a future generation of art lovers. I have this on good authority from having consulted with my children!
---
I would love to see a platform for emerging Korean artists. There are some really interesting online platforms now championing young emerging artists and it would be great to see Korean artists included in their portfolio, or an altogether new online platform dedicated to this.
---
Q : What role do you think your current work plays in terms of the overall art ecosystem? And with what areas do you find collaboration important?
---
LH : By founding the Art Business Conferences in London, New York and Shanghai, my mission was simply to bring together art businesses together for networking and thought leadership on the global art world. Also, to educate on developments in the art market and encourage best practice and due diligence for art businesses. Ultimately, when setting up the conference, I saw that there were many different sub sectors of the art market, and wanted to create a conference to bring the different sectors together and create a more united art world.
---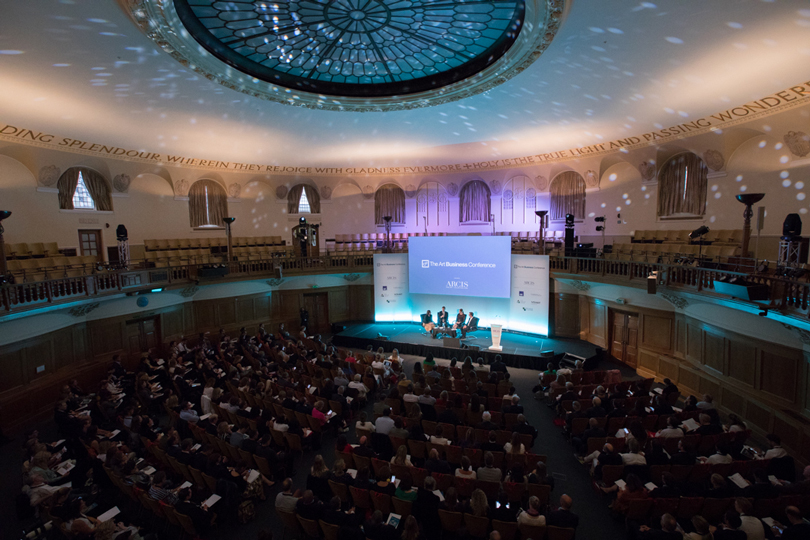 The Art Business Conference London, September 2019, photography David Owens. Image Provided by Art Market Minds
---
Q : Could you elaborate in what ways the Art Business Conferences work to bring together different sectors of the art market and create a more united art world?
---
LH : The art market is a collective term for a number of different sub-groups or categories that define this collective term. For example, within the category of gallery or art advisor there are specific areas of subject specialisation, and they will often be defined by the price points at which they deal in art. Similarly the differentiation between regional auction houses and top tier global ones. However, the conference focuses on technological developments, emerging markets, best practice, due diligence and legislation which are universally important to most art businesses. For this reason, the conference brings together art organisations that might not meet or do business regularly and offers new networking opportunities and a greater art world connectivity and cohesion.
---
Q : Various programs for securing new collectors are evolving in different ways. What aspects of Korean contemporary art should be strengthened in order to appeal to global collectors? What has changed in the criteria for collectors that they find most important?
---
LH : As outlined above, I think a series of books, publications on Korean art together with an art history programme online would be vital to strengthening engagement with collectors. Collectors are more engaged and informed than ever before, through data and online resources, but a more educative approach through online resources, live events, and print materials including books and artist catalogue raisonnés to offer a deeper engagement and greater connoisseurship of Korean art.
---
Related Articles
How to Win Global Art Market by Daehyung Lee
How to Win Global Art Market - An Interview with Carsten Recksik
How to Win Global Art Market - An Interview with Jane Morris
How to Win Global Art Market - An Interview with Sherry Dobbin
How to Win Global Art Market - An Interview with James Green
How to Win Global Art Market - An Interview with Jagdip Jagpal
How to Win Global Art Market - An Interview with David Field
How to Win Global Art Market – An Interview with Jess Ringham
Louise Hamlin
Louise is the founder of Art Market Minds, a global events organisation, dedicated to creating conferences for the art world. In 2014, she launched the flagship conference, The Art Business Conference in London. She later launched the conference in New York in 2017 and now both conferences have become part of the annual art world calendars in the UK and USA. And in 2018, Louise also launched the Art Business Conference in Shanghai.
Louise's main passion and focus is on educating her audience on the dynamics of the art market and art collecting, and building a global networking platform for all those buying and selling art.
The conference is attended by art world professionals including collectors, museum
directors, auctioneers, gallerists, advisors, policy makers and those advising the industry. The last conference in London welcomed just under 400 attendees from 225 art organisations from across the UK, USA, Europe, Asia & the Middle East. The conference has established a strong brand reputation on delivering engaging content with important updates on legislation & technology, together with insights from industry thought leaders, an essential combination for navigating the global art market.
Louise is a graduate of the Courtauld Institute of Art in London and has over 20 years'
experience in the art world. Prior to setting up Art Market Minds, Louise worked for The Art Newspaper. During her tenure, the company expanded its global network by establishing a Russian and Chinese edition plus the highly well-regarded and respected daily news editions at Frieze & Art Basel.
www.theartbusinessconference.com