People / Critic
Gosari : The Erasure and Preserve of Traces, Somewhere in Between
posted 03 July 2020

---
How would one feel to live with a name that is unforgettable? In Korea, it was popular to give names in difficult Hanja 1) characters to newborn babies before the 1980s. Then, around the 1980s, names in pure Korean words became popular. People usually used charming words like 'Chorong' (meaning a silk-covered lantern), 'Narae' (wings), and 'Songyi' (a bunch of flowers or fruits). Here, however, we have a person with her name in a Korean word that gives a slightly different feeling. Her name is Gosari, and she is an artist.
---
Gosari (a Korean word for fiddlehead fern) is a name of a pteridophyte that has been in existence since the prehistoric period with dinosaurs. It is also the name of a wild vegetable that Koreans like to eat. The name is given to a salubrious plant that tastes plain yet possesses a unique aroma that no other plants have. It is a name that is often suspected of being a pseudonym; the artist's father came up with this name impromptu while eating fiddlehead ferns at a restaurant. The name, however, suits the artist well in many ways.
---
The perspective on things that have been discarded, things that have become old, and things that do not shine and glitter anymore and her attitude to calmly embrace those objects and their surrounding environments are what stand out the most in Gosari's work. 〈An abandoned diary〉(2009-2010) is a collection of photographic records of the artist's daily waste. In this work, she photographed waste that she had produced for her daily life - yogurt containers, ice cream packs, and peanut shells, among others. Living through one's life is to take what one's body needs and discharge the needless into the outside of one's body and her environment. Although the amount of waste that the artist produces might have been smaller than the average, as she lives by herself, it makes one feel somewhat uncomfortable to see the record of her daily waste. It is because of the very fact that one needs so many things to live through each day and that so much plastic and vinyl waste, which would not easily decompose, is sacrificed to maintain our day to day life.
---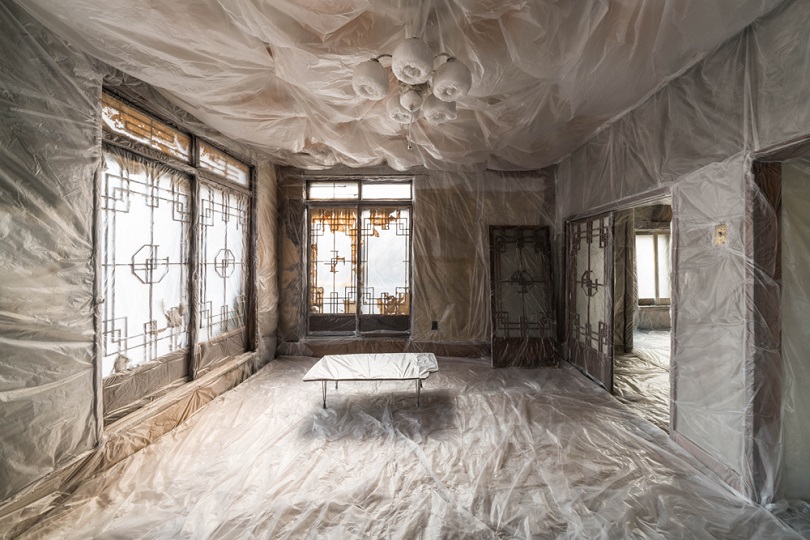 Gosari, 〈Moving in〉, 2018, vinyl, installation, 260㎡ (An empty house in Seongbuk-dong, Seoul)
---
The 〈Moving in project〉, staged two times in a tenement house in Deungchon-dong (2017) and a detached house in Seongbuk-dong (2018), exemplifies Gosari's artistic orientation and characteristics. In one unit of a tenement house that was to be demolished for redevelopment, the artist meticulously wrapped and covered the empty house with rolls of vinyl sheets. Covered with the translucent vinyl sheets were not a particular building but the rooms, kitchen, and living room of an uncharacteristic unit of a tenement house. Although it seems that they are wrapped in vinyl to block moisture and wind from outside, it also appears in a curious way that they are well-arranged in order to keep the exhalation of the vinyl-covered house and the warmth of the place from slipping away. The project seems to be an act of keeping and caring of what the house remembers - the memory that is to be disappeared without any trace once the construction waste is removed. In the meantime, the detached house in Seongbuk-dong is a house with a long history spanning a hundred years. It had been kept empty for about twelve years before the artist held her project there. The thin vinyl sheets then covered the house from which people had left long ago and the warmth had been taken away. It seems that the project talks and gives a breath to the space by covering all the corners of the house. As if to softly caress the body of a person who had been lying by herself, the project reanimated the empty house.
---
Gosari has a peculiar sense of minutely observing and sensitively studying the space, traces of those who had stayed there, and objects that remain in the space. Her mother, the artist says, ran an accommodation business, cleaning and organizing rooms as guests came and went every and each day. On the other hand, her father was working in the construction business and piled various things that he had collected in one corner of the house. The artist saw the two extreme ends of action in her everyday life – emptying rooms as if no one had occupied them and keeping things while being told by others to throw them away. In fact, these two extremes are basic actions that every person repeats in his or her life. We swing somewhere in between the erasure and preserve of traces.
---
Settling down at MMCA Residency Goyang, the artist is trying to become familiar with the spaces in and around the residency. She climbs hills around Gwansan-dong in the night with lanterns, together with other residency artists; she grows vegetables in a plant garden in front of the residency building; she also gathers small flies and ephemera in her studio often when they are trapped by the mosquito net in the window. Although the place is not a famous tourist destination or a place of scenic beauty, the artist takes walks, tend the vegetable garden, and greet the people in order to stay in a place, which she built a relationship with for slightly less than a year, in full. And she will have to start preparing for leaving the place. It is likely that she will tidy up the place for the next person to use it well. Although it is the first for her to live in Goyang, she will permeate through the place as if she was a person who had been living there. And she will make herself comfortable after unpacking her small parcels in the next place to which she moves, discovering the characteristics and stories of the place. As she does not yearn for opportunities of exhibitions and projects, as she will make her 'work' when she encounters a space or object that talks to her or when she finds a space to which she wants to talk, Gosari will not become a prolific artist with many works. However, her stories, which she embraces with her whole heart at the very moment when she encounters them at her own pace without haste, will not easily be forgotten. It is the same with her name, which is plain but difficult not to remember.
---
1) Hanja is the Korean name for Chinese characters, which are borrowed from the traditional Chinese and used with Korean pronunciation.
---
※ This content was first published in 『2019 MMCA Residency Goyang: A Collection of Critical Reviews』, and re-published here with the consent of MMCA Goyang Residency.