---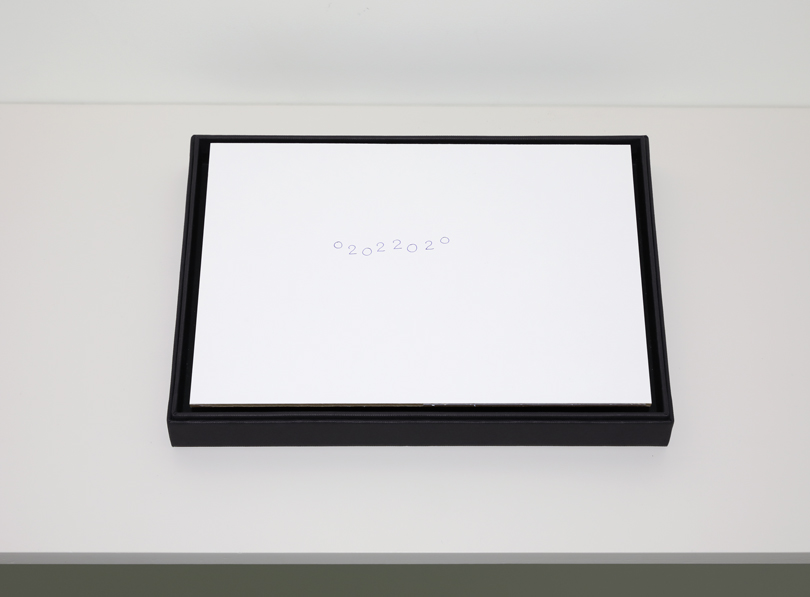 Koo Jeong A, 〈O2O22O2O〉, 2020, 33x25x3(h)cm. Image Courtesy of PKM Gallery
---
For Koo Jeong A, a diaspora artist who has lived a vagabond life adopting the whole world as her stage and place of residence – from the Centre Pompidou in Paris and Dia Beacon in New York to the Kunsthalle Düsseldorf and Moderna Museet Stockholm – the exhibition 《2020》 at PKM Gallery is both a completion and a comma, an occasion for redefining the common links among her past works. 〈02022020〉(2020), for which she inscribed numbers onto smelly strawboard paper, offers a keyword for the exhibition as a whole, taking the form of a palindrome, or a phrase or number that reads the same backwards and forwards. The palindrome encircles the exhibition like an incantation, questioning the meaning of the totality of experience that can be referred to under the same "senses," the things we are perceiving and cognizant of here and now. The ambivalent materiality exuded by Koo's objects deduces the meaning of the present and contemporary through textures of affect and the marks left by the volatility and scattering as they encounter momentary networks; these in turn are positioned throughout the exhibition setting like puzzle pieces.
---
The graphic number model of Koo's 《2020》 reads both as material time rooted in diachronicity, as well as the subversive prelude to a post-COVID contemporaneity marked by indeterminacy. The images in the drawings – two-dimensional symbols in which ellipses and circles are twisted together into something resembling a Möbius strip – become transformed and presented with different forms of materiality throughout the gallery. We see this in the 〈Your Tree My Answer〉 series (2020), in which the artist in transit freezes a specific temporality in place with ink marks on her hanji paper surface and juxtaposes emotional moments through archiving, or in the night-and-day temporality of the glow-in-the-dark skate park, where outside and inside appear connected like a Klein bottle: the exhibition substantively and virtually expands a mobility of thought that slides away from flat, abstracted, static landscapes by means of the five senses, rearranging them into a temporal and spatial field that allows for improvisation.
---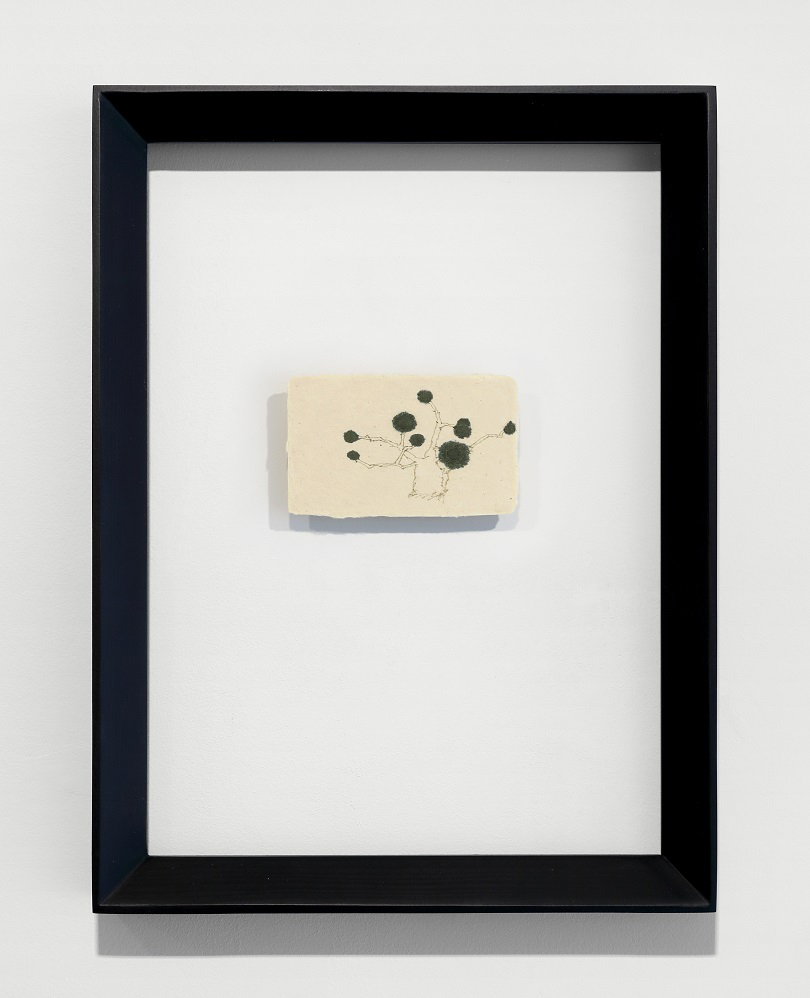 Koo Jeong A, 〈Your Tree My Answer〉, 2020, 5.7x9.2cm. Image Courtesy of PKM Gallery
---
With her past work, Koo Jeong A has clearly presented artistic questions that manifest behind ordinary materiality, above familiar spaces, and within comfortable routine, as well as a poiesis – a will to create new things as she responds to her given conditions. She has explored an aesthetic of contradictory and ambivalent signs and their vague borderline qualities: things that are imaginary yet real, invisible yet seen, nonexistent yet present. To this end, she has engaged in an ongoing examination of multilayered displacements of objects, experimentation with physical qualities and substance, and artistic methodologies concerning abstraction and reality. In particular, she has taken it upon herself to invert the temporal and spatial positionality of the viewer to explore the transformability of time immanent within objects – as in her skate park series, which visually embodies an actual interactive experience by means of an interface between subculture and pure art – and used non-material inflection points to deliberately transform spaces, thereby eliciting existential questions with regard to the subject. This reads as the artist's pronouncement that certain signs from the contemporaneity in which we live today can only be understood through an ambivalent obscurity of time and space, which may be both imaginary and real, as we encounter phenomena which, like parallel universes, are at once invisible and visible.
---
This shares parallels with the train of logic associated with planetary thinking, which suggested that art in the Anthropocene era could take a step beyond existing concepts concerning humanity and the environment, with human activities now eliciting unpredictable results and the non-human potential of the planet seen as capable of permeating and becoming radically reflecting in the familiar human socialization process of "spatial ordinariness" based on planetary community perceptions. In his 『Pandemic!』 (2020), Slavoj Žižek states that the task facing us now is one of reinventing desire and restructuring desire's coordinates.1) As though reacting to and reveling in the unfamiliar spatiality represented by sculptures and phosphorescent paintings projected within momentary darkness arriving every 12 minutes, Koo manifests parallel universes as a different time and space existing beyond the visible world in collapse due to the pandemic, with its removal of ordinariness as possibility. Her aim is to render the setting thickened or unfamiliar through momentary phenomena, projected within the space in exceedingly subtle and intricate ways, and to apply a layer of the extraordinary within ordinary objects. Taken together, these actions converge for Koo upon questions as "subjunctive mood" and artistic acts as a pure form of play in executing them. As though to underpin these transitional approaches by the artist, Koo now expands the concept of installation art – aesthetically connecting subtle changes in the environment with the various fine-grained, invisible constellations of dynamics that they radiate, while at the same time constantly dividing and emanating them.
---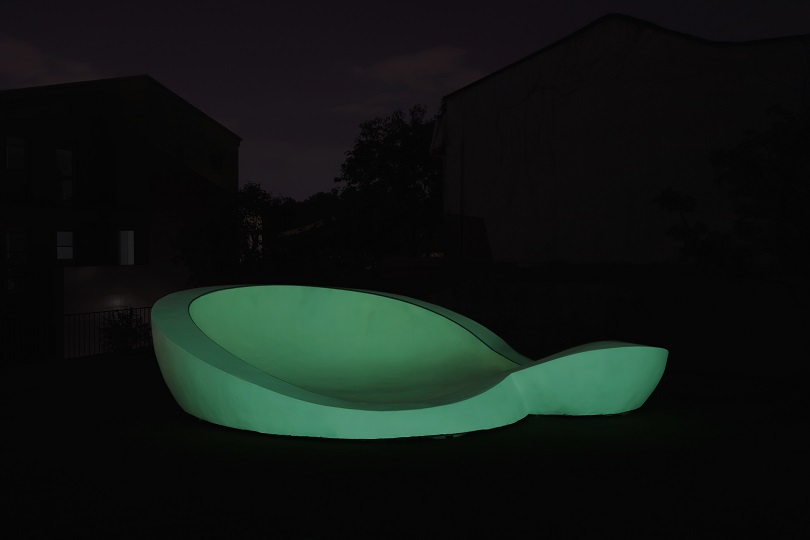 Koo Jeong A, 〈resonance〉, 2020, 620x810x70(h)cm. Image Courtesy of PKM Gallery
---
Consisting entirely of new works, the PMK Gallery exhibition 《2020》 featured around 30 previously unseen paintings, drawings, and sculptures along with a skate park outdoor installation, which drew a strong response at international events such as the Triennale Milano and Liverpool Biennial. Set up in the garden of the gallery's annex was 〈resonance〉(2020), an aboveground skate park newly constructed for the exhibition setting as a variation on the work 〈OooOoO〉, which was previously shown at the 2019 Triennale Milano event as part of a skate park project initiated in 2012 to promote regional renewal on the Isle of Vassivière and encourage younger people to visit. These works introduce a new element of fun into ordinary spaces, helping viewers to experience fantasy through art as they both ride and record real skateboards within the phosphorescent light radiated by the glow-in-the-dark paint. Noether's theorem states that every symmetry of physical action has a corresponding law of conservation.2) This means that as a skateboarder skates down along the curves, their speed becomes a conservative quantity; since their mass does not change, this speed increases, and there is ultimately a fixed conservation with a symmetrical quantity of speed as they go up the other side and slow down. Established to "explore mutual physical and bodily response" during the digital era of "untact" interaction, the skate parks are manifested through the beautiful movements of the body choreographed by the skateboarders on the ground, the dizzying sense of pace evoked by their movements across and over the curves – the single intention of "fun," rather than some performance or choreography for the sake of aesthetic representation, and the movements of skateboarders as an effective means of achieving this. Through conceptual, non-material "materials" (speed, mass, phosphorescence) rather than fixed objects, the installation is a presented with a minimalist presentness that emphasizes the surrounding situation and the role of the viewers over the artwork itself; it reconfigures space into time, purely representing the relationship between object and movement.
---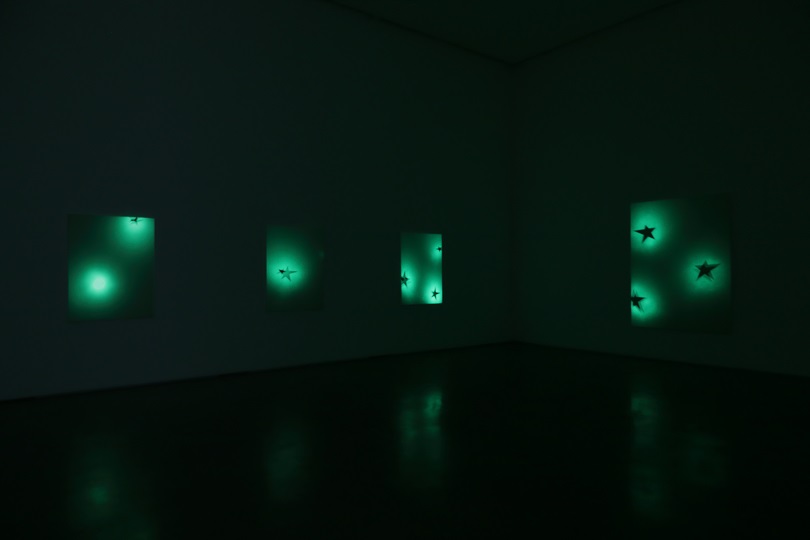 Installation view of 〈SeventStars〉 series of Koo Jeong A at the PKM Gallery's 《2020》exhibition. Image Courtesy of PKM Gallery
---
Koo Jeong A's visions for this sort of interactive public art had previously been manifested through different digital media such as virtual reality, augmented reality, and mixed reality. For the augmented reality-based 〈Prerequisite7〉(2019) in her Acute Art project – which appears to represent a more advanced form of collaboration between art and technology – she produced 3D renderings of five cartoon images taken from her drawing book 〈Nomos alpha〉(2018), including a crouching frog, a floating translucent block of ice, and a woman flying through the sky. She then used these to produce images within an actual setting that can be fully refracted and reflected in any location or surroundings. In addition to being a work of art in its own right, it also illustrates the transformability of art through different acts of subcultural communication by means of actual application users, as well as a two-dimensional reconstruction of social networks and interactive media.
---
Within the gallery, Koo presents us works of painting (〈SevenStar〉, 2020) and sculpture (〈Gossura, Tacit Truth and Intrinsic Virtue〉, 2020) coated in glow-in-the-dark paints, achieving ambivalent textures with paintings that alternate between 2D and 3D with the degree of illumination and affording moments that are both familiar and strange, woven together with ordinary phenomena and evanescent wavelengths of visual perception. What this shows is not the "uncanny" in the Freudian sense – a feeling of ambiguous terror that is both familiar and strange – but a new immediacy and potential for aesthetic subversion based on an artistic perspective toward the phenomena already immanent within the properties of existing objects, with its rhythms of separation and hybridity, disguise and juncture. For a period of time, the lights go out in the gallery and green phosphorescent constellations radiating a sense of three-dimensionality are displayed over a light-green acrylic canvas recalling the work of the Mono-ha movement. This glow-in-the-dark technique is achieved through a two-part process of absorbing light and then releasing it again within darkness after time has passed; in the process, it goes beyond the idea of the "artist creating work," projecting and accentuating the artist's intention upon materiality by means of the inherent characteristics of the object itself, and thereby reconfiguring the constrained "white cube" exhibition setting with an expanded form of synesthesia.
---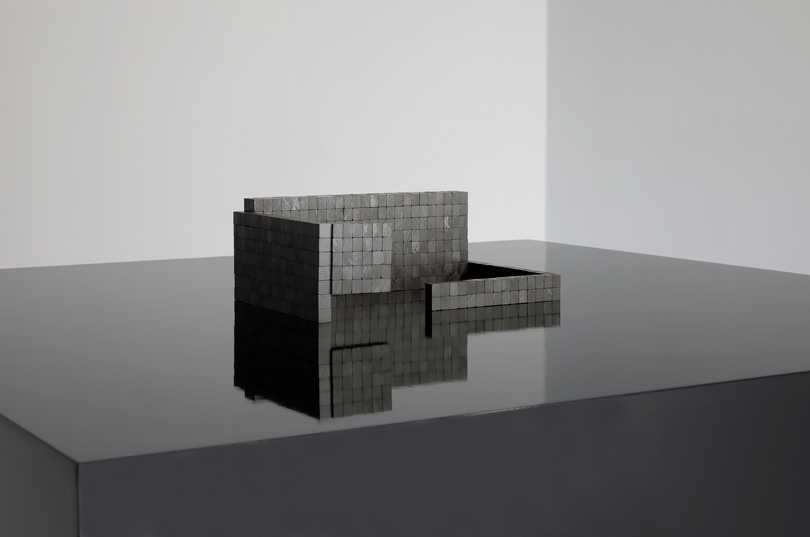 Koo Jeong A, 〈625〉, 2020, 25x15x12(h)cm. Image Courtesy of PKM Gallery
---
In this way, Koo Jeong A shows all the flexible and rational detail of a prominent artist, generating a poetic punctum evoking powerful stimuli that arrive momentarily through the interlinkage of perception and memory, order and disorder, the practical and the artistic, as they extend beyond the ordinary means of understanding within the essence of form to form connections with individual taste, experience, and unconscious. Just as the emission and absorption of speed and light are ultimately conserved in equilibrium, the new works 〈88〉(2020), 〈518〉(2020), 〈625〉(2020), and 〈911〉(2020) – inspired by Cedric Price's 〈Magnet〉 project – represent an improvisational displacement of spatiality through magnet sculpture with numbers (e.g., 〈88〉 is made up of 88 magnets) and total quantities that are determined by the preservation of magnetic attraction and repulsion. Price spoke of spatial variability based on temporary, mobile, structural adjustments and discussed the possibility of a new form of spatial expansion based on open structures that change in real time; with Koo Jeong A's series of ferrite ceramic magnets, his ideas are transformed and expanded into a concept of historical variability and the potential for arbitrary design of magnetic time based on attraction and repulsion. Through variations in intensity, shading, size, and time within the gallery, a panorama is formed by the condensed temporality, the materiality of substances reduced to their minimal levels, a lyricism that projects the artist's world view in concise and compressed form, and the contemporaneity of an artist interpreting the space and time of the present.
---
Layering and unfolding the gallery space through works at once material and non-material, the 《2020》 exhibition is a playground that uses time to fragment space, applying different textures to the same work to raise questions about the unidirectional indicator that is space-time. Koo Jeong A's artwork combines the evidence left behind by transformable objects – the afterimages of movement, the mental images evokes by sounds – as she employs disparate media to explore perceptual manifestation and response based on the nonmaterial dynamics of gravity and magnetic fields, fluorescence and phosphorescence, wind and sound, as well as the micro-scale effects they have on our perception and cognitions. At the same time, it also serves as a showcase for the humorous and clever worldview evoked in the process.
---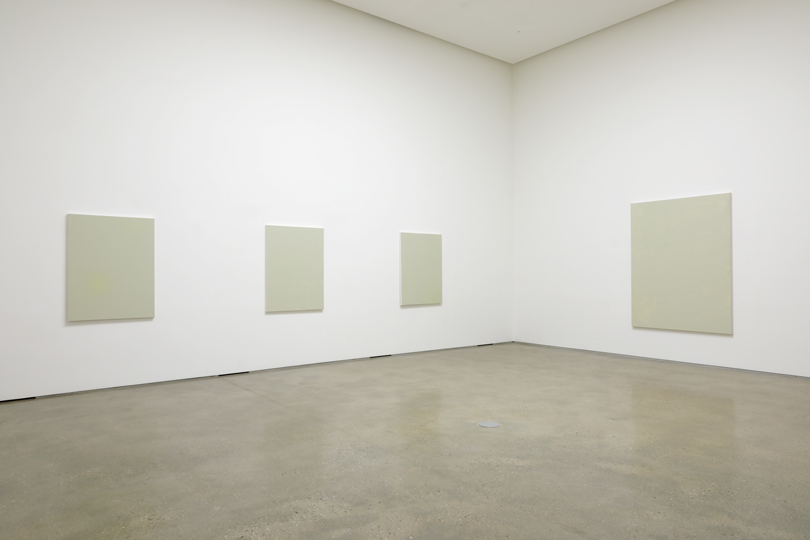 Installation view of 〈SeventStars〉 series of Koo Jeong A at the PKM Gallery's 《2020》exhibition. Image Courtesy of PKM Gallery
---
1)Slavoj Žižek (2020). Pandemic! : Covid-19 Shakens the World, Polity
2)Emmy Noether; Mort Tavel (translator) (1971). "Invariant Variation Problems". Transport Theory and Statistical Physics. 1 (3): 186–207. Taylor & Francis
---
※ This work was supported by the National Research Foundation of Korea Grant funded by the Korean Government (2017S1A6A3A01079727)
---
Related Article
Koo Jeong A: Stories of an Ambiguous World Transforming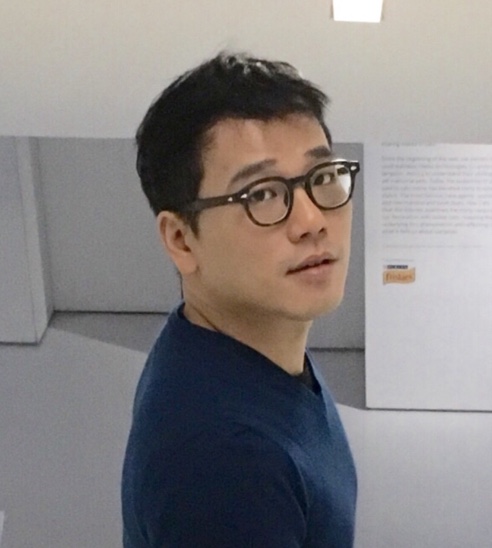 Yongwoo Lee
Yongwoo Lee is a media historian and cultural studies scholar, currently affiliated as Research Associate Professor at Sogang University's Critical Global Studies Institute in Seoul, Korea. He has taught critical media and cultural studies of modern Korea, visual studies, film theory and popular culture in East Asia, intellectual history of wartime Japan and postwar Korea, Korean contemporary art, postcolonial memory, historiography and translation at New York University and Cornell University. He has also served as guest curator for 《Asian Diva: The muse and the monster》(2017, Seoul Museum of Art, co-curated), the 《1st Anren Biennale》 (2017), and Para Site's 《Soil and Stones, Souls and Songs》 (2016-2017) and 《Robert Mapplethorpe Retrospective》 (2021, Kukje Gallery). His writings have been published in a number of books, journals and catalogs, including 『Superhumanity』 (University of Minnesota, 2018), 『2 Oder 3 Tiger: Koloniale Geschichten, Medien Und Moderne』 (Matthes & Seitz Berlin, 2017), 『Suki Seokyeong Kang : Black Mat Oriole』 (ROMA publications, 2019), 『Divided We Stand: 9th Busan Biennale 2018』 (Sternberg Press, 2019), 『MMCA Hyundai Motor Series 2020: Haegue Yang―O₂ & H₂O』 (Hyunshil Publishing, 2020), 『Community of Parting』 (Archive Books, 2020), 『Hyundae Munhak』 (現代文學, 2017), and Asian Cinema journal